A couple of things just don't happen very often at CycloneFanatic.com…
1)   Three Royce White headlines in a row in his post-playing career in Ames during the month of July.
2)   Multiple NBA topics being featured in Monday Musings.
What has this world come to?
If you haven't heard by now, Royce will return to the YMCA Capital City League this Wednesday according to league director Derek Hannah.
White, one of the most talented players in Iowa State history, has also had one of (probably the) most controversial NBA "careers" of any former Cyclone too.
If you're hanging out at this website, it is likely that you know how White's rookie season went down. After being drafted in the lottery by the NBA's Houston Rockets, White went toe-to-toe with the franchise for 365 days about a number of topics surrounding his very public anxiety disorder.
That battle finally came to an end on Friday night when the Rockets signed superstar Dwight Howard and shipped White off to Philadelphia on the same night via a trade involving future draft picks. The NBA however still has not deemed this trade official, which means that White cannot participate in summer league action until next week. 
So why not stop off in West Des Moines for some old school summer league action? That is exactly what White will do on Wednesday and now the obvious question has to be asked: What will his reception at the Valley Southwoods Freshman High School Gymnasium be like?
Prediction: Cyclone will show up and applaud one of the all-time greats to dawn the cardinal and gold. That is what you do. Regardless of how you feel White has handled himself over the last calendar year, Iowa State fans are too classy to show up and boo one of their own. In fact, it's borderline ridiculous that I would even hint that such a thing could potentially happen. I realize this.  
But there are going to be people in attendance who feel like some of the ones making their presence felt in this thread about Royce's return.
The, "He can't show up for a D-League game but he can make it to the Capital City League?" crowd will be represented. Something tells me that Wednesday's "game" will be a bit of a media madhouse. The question above will be asked, as will others. 
I just don't see a round of softball questions heading Royce's way this time.
There is no doubt that Royce's road since leaving Ames has been rocky. I also find it hard to imagine a better scenario out there for him than to be traded. Things clearly weren't going to work out in Houston – for anybody. The franchise is tired of its name being drug though the mud on Twitter and White didn't appear to be anywhere close to giving in. He is a man with a cause. 
While I don't claim to be an NBA expert by any means, two things about the 76ers deal encourage me for White's future. 
1)   Philly's new GM, Sam Hinkie, was Houston's assistant GM when they drafted White last June. He obviously knows quite a bit about White and his condition still wants him on the 76ers roster despite everything that has gone down. That should tell us something…
2)   It is a fresh start for the former Cyclone. New faces and new scenery should be good for him. In times of need, it is for anybody.
Like all of you, I hope this whole deal works out for White, the human being. But selfishly, I REALLY want to watch the most fascinating athlete I've ever covered in the NBA for the next decade. Few players in the history of the sport possess the skill-set that White has. As Fred Hoiberg used to commonly put it, "He's a 270-pound freight train bringing the ball up the floor."
Leading up to Wednesday, that is what I'd encourage Iowa State fans to think about. White is coming back to the Capital City League as an all-time great Cyclones. Of course it is impossible to blank the last year out of your mind, but it still doesn't take away from what White did during his time in Ames. He had a magical season, put Iowa State basketball back on the map and gave you fanatics of the world some great memories along the way.
I say, receive Royce as you'd receive any former Iowa State great. And I assume that you will.
More on Royce's return…
A few details…
*** Royce will play for the Walnut Creek YMCA team coached by league director Derek Hannah. He will team up with future Cyclones K.J. Bluford and Dustin Hogue and go head-to-head with Percy Gibson and Bubu Palo.
*** K.J. Bluford will have a massive opportunity to go off in this one. I'm talking 10-plus threes for the JUCO with White distributing the rock. 
*** This game will begin at 5:30 inside of the Valley Southwoods High School Gymnasium. I would suggest getting there as early as possible. The place will be packed.
Celtics hire Stevens…could have been Hoiberg
Wednesday was nerve-racking.
When I first learned of the Boston Celtics interest in Iowa State head coach Fred Hoiberg, I wasn't as quick to shake it off like many of you on our forums. Hoiberg hasn't given Iowa State fans reason to worry about him leaving. In fact, he's done the opposite by signing a new contract and knowing how these things work, Hoiberg has probably shot down jobs that the media and fans know nothing about. But Hoiberg's new contract at Iowa State hasn't scared anybody away from trying to lure him away from Ames. If you think that, you're mistaken. 
But let's pretend for a minute that the Boston Celtics actually did come in and offer Hoiberg a similar contract (six-years, $22 million) that they gave former Butler coach Brad Stevens. 
This is the BOSTON CELTICS we're talking about here people. A guy can make an argument that is the most prestigious basketball coaching job in the entire world. 
Luckily for Iowa State, the search never got to Hoiberg Boston's top candidate, Stevens, signed on the dotted line. Who knows what Fred would have done should Boston have made a serious run at him? This isn't the Suns or the Bobcats we're talking about here. Rebuilding or not, this is the Boston Celtics.
We will never know how it would have gone down, but I sure am glad that Stevens took the job. By going after Stevens first, Boston was obviously targeting a young head coach. Going off of that and multiple media reports about the franchise's interest in Hoiberg, Iowa State might have dodged a bullet with this one. 
Before we move on, let that sink in. The Boston Celtics were interested in hiring Iowa State's basketball coach. The Boston Celtics. If that doesn't make you feel good about the guy in charge of Cyclone hoops, I don't know what will.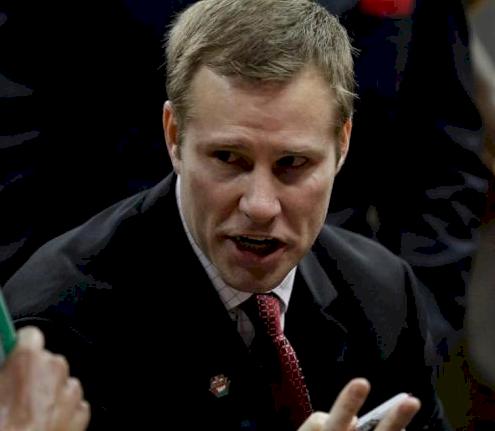 *** Unlike many pundits out there, I actually feel like Stevens will make a fine NBA head coach.
Unlike other college coaches who have failed in the NBA (Rick Pitino & John Calipari to name a few), Stevens is a basketball guy first. He isn't overly charismatic, which is why I always thought it would be hard for Stevens to go lead a high-major basketball program in college to the promise land. At that level of the college game, charisma and the ability to bring in blue-chip recruits is 80 percent of the battle.
But in the NBA, as long as you have a GM with half of a brain, you're going to have talent at your disposal. You need a basketball guy and leader to show the way. Stevens has proven time and time again that he is a basketball genius. While the Celtics have a rebuilding job ahead of them, they are stocked with draft picks and should be able to add quite a bit of talent in little to no time at all. As long as Stevens can demand the respect he deserves from his future players, I see no reason why he can't win in Boston. 
To me, this feels like a better fit for him than a job like UCLA that he was connected with via the rumor mill earlier this year.
One more thing…
Believe it or not, two weeks from today marks the start of the Big 12's football media days in Dallas. I'll be there covering the event for Cyclone Fanatic so don't worry – your football fix is about to be cured. Kickoff to the 2013 season is 54 days away.