Cyclone Fanatic's coverage of the 2013 YMCA Capital City League is brought to you by our good friends at Heartland Finishes. Are you in need of skilled craftsmanship, reliability, and excellent service for your commercial drywall, framing, or painting project? Give our friends at Heartland Finishes a call today! 
Georges Niang's Capital Orthopedics and Sports Medicine team might not be the front-runner to win the 2013 YMCA Capital City League championship anymore.
On Sunday night, Niang scored 47 points in a 111-109 loss to ADIO Chiropractic, a team led by Iowa Staters Naz Long and Abdel Nader. Nader just arrived in central Iowa last week and since then, his team has gone 2-1 including last night's win over the league's top team. 
The Long/Nader combo combated Niang's 47 points with 25 and 26-point performances of their own. Nader snagged 13 rebounds as well.
After last night's action, Niang extended his lead in the league's scoring race and is now averaging 44.5 points per game. Long currently sits behind Niang in second at 39.2 points per game. Neither of the league's third and fourth place scorers, Sherron Dorsey-Walker and Matt Thomas, participated in Sunday night's action.
Notes…
*** Iowa State center Percy Gibson wasn't in attendance on Sunday evening either but that didn't stop his Coca-Cola team from routing Renaissance Granite anyway. Gibson's teammate Bubu Palo recorded yet another triple-double with 14 points, 22 rebounds and 10 assists in a 114-94 victory. Palo dished out the majority of his assists to former Hoover High School/Cal St. Fullerton and current member of the Premier Basketball League's Bloomington Flex, Ray Miller, who scored 42 points on a 20-for-25 night from the field. Miller had 18 rebounds as well.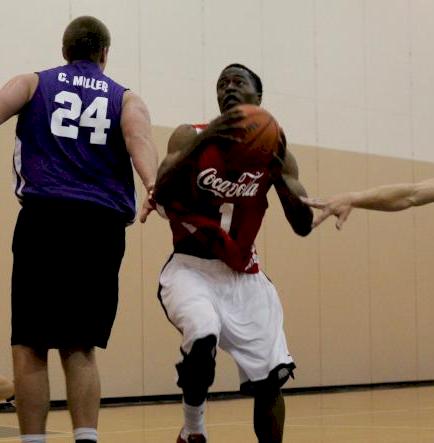 *** Amongst the "regulars" in the Capital City League, Palo currently leads the way in both rebounds and assists per game.
*** The Palo/Gibson, Coca-Cola bunch is now tied atop the league standings with Niang's Capital Orthopedics squad. Coca-Cola will face a tough task on Wednesday night at 5:30 as it is set to go head-to-head with the YMCA team that will feature former Cyclone Royce White along with future Cyclones K.J. Bluford and Dustin Hogue. 
*** The rim was not kind to future Cyclone Monte Morris on Sunday night. In his team's loss to Palo's bunch, Morris went 1-for-10 from 3-point ranged. He ended the evening with 26 points, seven rebounds and four assists. Morris' teammate, Daniel Edozie, was not in attendance on Sunday either. The Morris/Edozie team is currently 2-5 on the season, tied at the bottom of the league with the Dorsey-Walker/Thomas combo.
*** As mentioned above, neither Matt Thomas nor Sherron Dorsey-Walker were in attendance on Sunday, which made things tough for team Phoenix Renewable Resources. Without its two Iowa State players in hand, Phoenix lost to the Walnut Creek YMCA by a 108-71 final. 
*** Bluford went 6-for-16 from 3-point range and scored 30 points to lead the way for the YMCA. Hogue scored 10 points on 5-for-12 shooting with nine rebounds, give steals, three assists and a block stuffing his box score.
*** Wednesday's action will mark the final night of regular season play. The playoffs will begin on Friday at 5:30.