Confidence is killer. If it's your golf swing, public speaking or even a job interview, confidence is critical.
Finally, Bubu Palo has it and by golly, he has a lot of it. 
For one reason or another, Iowa State's senior point guard has always seemed to be a hot topic of conversation at CycloneFanatic.com.  
When he elected to walk-on after winning high school state championships alongside Harrison Barnes and Doug McDermott in Ames, some fanatics saw potential in Bubu. That crowd always had the thought of Bubu earning a scholarship and becoming a star at Iowa State in the back of its mind.
Then, there were (and still are) the detractors. This crew says, "If he was ever a walk-on, he's not good enough to ever be more than a role player in the Big 12."
I have always been somewhere in the middle. Bubu has always possessed the one characteristic that can make average players good and good players great. That's work ethic. Ask anybody over at the Sukup Practice Facility. They will tell you that nobody works harder than the man named "Bubu."
Years one through four (he used up a redshirt year) were a wild ride for Palo. He's suffered injury after injury and missed half of last season due to a highly publicized legal situation. Now, Palo will enter 2013-14 as a senior, a leader and a guy with an entirely different mindset as to how to approach the game.
In previous years, Palo was buried on the depth chart behind guys like Diante Garrett, Scott Christopherson and Korie Lucious.
"They didn't necessarily need me to shoot," Palo told Cyclone Fanatic on Sunday night at the Capital City League. "They needed someone to do the intangibles like hustle, rebound, go in there and maybe foul or speed the game up with defense. With them there, my confidence wasn't as high so with all of them leaving, there is a leadership role with me being here a lot and the experience that I have to step up." 
Palo was named the Capital City League's MVP with an average of 30 points, 14 rebounds and 11 assists per game. What's even more impressive than any of those stats was his 3-point shooting clip at 49 percent.
It was after discovering that stat when I asked him, "Are you a better shooter than people think?"
His response…
"A lot of it has to do with confidence. I'm in the gym but sometimes you get in the game and you're out there, if you're not confident to shoot it, you won't make it as much so it definitely has to do with the confidence that coach has been putting in me. Now I'm getting more reps and I have a full year. Last year I was away from basketball for a while so I definitely lost a lot of confidence in my shot so I'd say a lot has to do with confidence, which is really up. That's why I'm shooting the ball better."
If you're not ready to buy into Palo strictly after this summer's Capital City League, I don't blame you. While that league does give you a glimpse at the upcoming season, it is far from a rock solid barometer as to how guys are going to perform. 
But word from within the program is that Palo is clearly much better right now than he has been at any point during his career. The thought of a Bubu Palo/DeAndre Kane backcourt isn't crazy at all especially if Bubu's shot has improved the way that many seem to believe that it has. 
Throw Monte Morris and a surging Naz Long into the equation and Fred Hoiberg will have plenty of options. Options are a very good thing.
Hoiberg offered the Celts job? 
Chalk this up for one of the more weird stories I never thought I'd wake up to on a Monday morning…
Georges Niang tells a Mason City television station that Fred Hoiberg was offered the Celtics job. 
Wait…What? 
Well first of all, let me take this time to tell you all how much I hate text messaging. It is a horrible way to communicate. A lot gets lost in translation over email and even the message board that you all hang out on every day. Pretty much everything other than the words themselves gets lost in a text message.
Today's lesson: Pick up the phone and call somebody. Better yet, walk up and talk to them.
That is why I'm taking these Niang comments lightly.
Was Hoiberg actually offered the Celtics job? Well As I've written on this site numerous times, I fully believe that he was one of the franchise's top candidates. But actually offered the job? 
That's tricky because in any big time coaching search, multiple guys are being talked to at any given time. NBA teams don't go all in on one candidate. I've always believed that had Brad Stevens said no, Hoiberg was next on the list. And you know what? Maybe he was first? Perhaps he wasn't.
Regardless, it just doesn't matter.
As long as he is having success at Iowa State, Hoiberg is going to be on every list for every NBA job that comes open. It's as simple as that. It's actually a lot like what Iowa football went through with Kirk Ferentz back in the day.
If you're not prepared for that, well you better get started. This is only the beginning.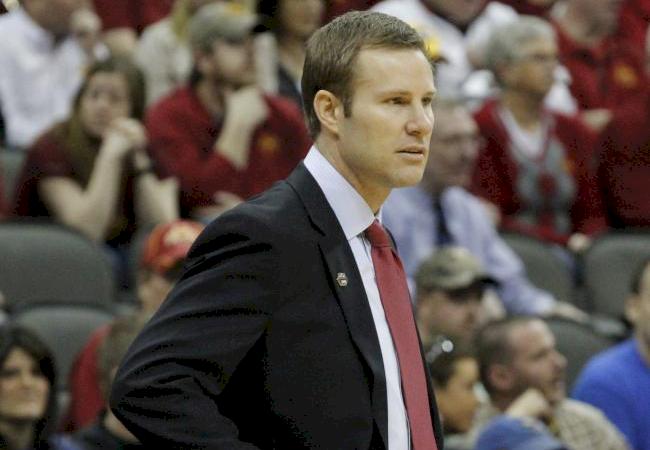 Cap City capsules 
Player-by-player, some quick hits on every Cyclone on Iowa State's roster to wrap up our Capital City League coverage…
Bubu Palo – See above
Naz Long – Perhaps the most improved player on the roster by Capital City League standards. Like Palo, Long's shot is visibly much better this year than it was last. In April, I didn't think he'd play much next season. Now, I think Naz Long's stock is up and he'll be right there with the others to complete for quality playing time. Most importantly, Long is a natural leader who understands his role on the team. Every program needs guys like that.
Georges Niang – He's clearly in much better shape than he was a year ago. Niang told me that he's been working on his 3-point shot, which will be critical for him if he wants to play at the next level. Niang was great as a freshman and is setting himself up for a breakout year on the national scene.
Abdel Nader – His body is better than I ever imagined it would be when news of his transfer to Iowa State broke. Nader needs to and will work on his shot. He should be a respectable 3-point shooter by the time he is eligible. He's got the size and athletic ability to be one of Iowa State's leading rebounders in 2014-15. Chalk him up as a starter already.
Percy Gibson – Iowa State desperately needs another big man to step up in 2013-14. Gibson has to be that guy. He didn't show much gain this summer but this is notoriously a guard's league. Gibson's game is inside the paint where it can be hard to shine in the CCL. 
Dustin Hogue – If he was just two or three inches taller…Still, Hogue showed the ability to crash the boards and defend. He won't score much at Iowa State but that won't be what is asked of him either.
K.J. Bluford – His 11-for-18 performance from 3-point range in the CCL final gave fans a glimpse of what this guy could be. That's a volume shooter and when he gets hot, look out! He isn't Tyrus McGee but right now, I'd call him a poor man's Tyrus McGee. That isn't a bad thing either. Heck, Tyrus McGee wasn't Tyrus McGee the summer before his Iowa State career started if that makes any sense. Take Bluford for what he is – a 3-point specialist.
Monte Morris – It is crazy how much he reminds me of a young Diante Garrett with a better shot. Morris clearly needs to get stronger before playing in the Big 12 but to even a novice basketball mind, this guy has skill.
Matt Thomas – He's a future four-year starter at Iowa State. Period. Put the right guys around him and let this guy sling it. 
Sherron Dorsey-Walker – He got a lot of pop with that opening night 67 performance and rightfully so. Dorsey-Walker's body is much better this summer and his shot looks silky smooth.
Daniel Edozie – The size is there. He needs to work on athleticism though. If that comes around and Edozie can grasp his role, he is a guy who can come in and grab a rebound or two and more importantly, waste a foul or two as the Niang/Ejim combo is going to be attacked from the start.