This summer, Cyclone Fanatic is going one-on-one with news makers in Ames, giving fans an inside look at Iowa State athletics that you won't find anywhere else. Next up is a man who isn't very visible within the Iowa State football department but he just might be the MVP on Paul Rhoads' coaching staff. Meet strength and conditioning coordinator Yancy McKnight. In the latest installment of our "Conversation" series, McKnight gives us the scoop on program progress, Iowa State's new weight room, young guys to watch and veterans on the verge of having a breakout season. 
Cyclone Fanatic's "Conversation" Series
Part 1: Iowa State assistant men's basketball coach Matt Abdelmassish
Part 2: Iowa State women's basketball coach Bill Fennelly
Part 3: The Voice of the Cyclones, John Walters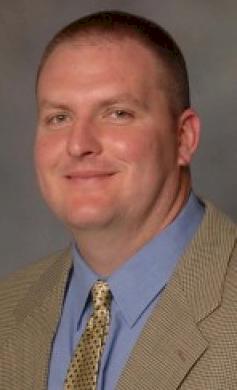 Photo courtesy of Iowa State athletics communications. 
CF: I remember back when this coaching staff got to town. You all said that you needed more size and speed, which generally is the case when the guy in front of you goes 5-19. So my first question for you is where is this group at as a whole compared to the day that you stepped onto this campus?
YM: Quite a bit different.There are a couple of reasons. One, the recruiting style is different. As far as what type of guys we have coming in, they are different. I think that having a developmental plan with these guys long-term helped too. I don't know what they did before. I just know what I got when I got here. Their work capacity wasn't very good and of course that was coming off of a season and in the wintertime it is never great. But their mobility wasn't very good. A lot of offensive and interior defensive line guys were real heavy. I don't think that our strength levels were very good. They just weren't very good when we first got here. I think the guys in that first year did a great job progression wise. They got the hang of it pretty quick. It was in the summer time when we saw a big jump but it took us a long time to get there.
Now if you look at testing numbers and body types and our movement compared to what it was in 2009, you can see it on the football field. Really all you have to do is look at OU as a barometer a little bit. I think in 2010, that was pretty indicative of where we were. Probably Utah too that year. Now look at where we were last year playing like teams. I think that gap has closed down a little bit. Wins and losses are so narrow. The difference between a win and a loss is so tight. But I think what you see on the football field is a different athlete size wise. The length of our guys is a little bit longer than what we have had. You know what they look for too as a high school kid coming in is someone who can move around a little bit and has some speed about them. I think that has changed. I know everybody is always looking for a fast guy but it's tying all of that stuff together. It has changed quite a bit.
*** BLOG — Who is the fastest Cyclone on the 2013 roster? *** 
CF: There is a philosophy here and a lot of times, I feel like the guy who just sees what happens on Saturday isn't clued in about what exactly your job is and how much work is done. But there is always a plan right? Explain to the casual fan what the philosophy of strength and conditioning is for the Iowa State football program. 
YM:You are right. What the regular Joe doesn't understand is the day that they get here, there is a plan from day one, right away until they are done. We had our first guys, that 2009 class, if they didn't redshirt then we had them for four full years. I think you saw that with the culmination of Pro Day results with the guys that we had for four years – the Josh Lenz', the Jake Knott's and the A.J. Klein's – and even Carter (Bykowski) and Jake McDonough. We had those guys for four years as they came off of redshirts. We had them. I guarantee the John Q public didn't think that Josh Lenz would run a 4.35 at 205 pounds. I felt like he had that capability the entire time. Just being around him and seeing how he moves, the thing was that he had a few dings and it limited some of his play but when he was healthy, he was dynamic. Look at A.J. He was 220-pounds when he got here and left at 250 and ran a 4.6. He was a three-star guy coming in and was the Big 12 Player of the Year. I don't think that stuff happens at most places. Knott was two-stars and was a first-team All-Big 12 guy. If you look at what we had over the past couple of years too as far as NFL guys. In four years, we've had three offensive linemen drafted. I think currently right now, when you count Reggie Stephens, Kelechi Osemele, Hayworth Hicks and Carter Bykowski, that's four guys in the NFL right now. Ben Lamaak is the fifth that made it to camp and went through a training program. That's five offensive linemen in four years. That's pretty good in my book. That's pretty good. If you look at how many guys that we had in camps, I think we had eight this year. My first year we had three from 2009 to 2010. When you look at that it all kind of ties together. It's a proof is in the pudding type of deal. Our play on the field has gotten better. Our competition has gotten harder. Our strength of schedule in 2009 and 2010 was not near what it was in 2011 and 2012 and it won't be that way in 2013 either. Our strength of schedule has gotten way harder. We play everybody in this league now. Injury rates, you will have that. But our injury rates have declined quite a bit. If you look at our first three games of the year in our last four years, we're like 10-2 coming out of camp. Those are the things that I wouldn't say I beat my chest about but it makes me excited to see that your summer program is working. You come out of camp and you're pretty healthy (knocks on wood) over the last four years. In return, we've played pretty good over that first quarter of the season. We feel pretty good about that. We just have to continue to get better throughout the season.
CF: Does that nine-game league schedule affect how you do your job as the S&C coach?
YM:Yeah it does but the big things that we look at are the bye weeks. This year's schedule is kind of crazy because you've got some Thursday games and you've got some bye weeks early on. Then you don't have any. You have to adjust.
I don't really look at competition though. We basically go in three week cycles. Then we change after the three weeks.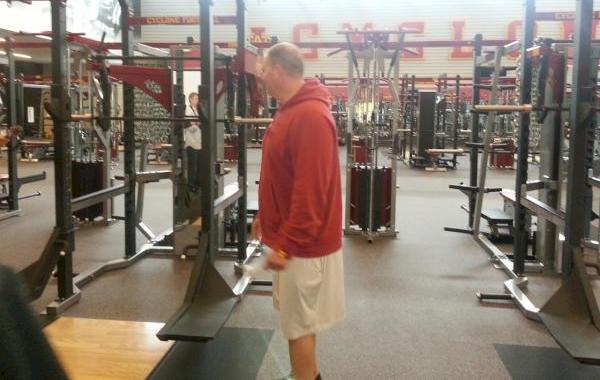 Above: McKnight shows off Iowa State's new weight room to the media this winter. 
CF: So do this wacky schedule completely mess up how you normally attack things then?
YM:Actually no. It's a different schedule because our two-a-day schedule is early. Our first game of the year comes after our first week of school, which is early and it's odd because we've never had that. So that is different. In the past, camp has always been for two weeks and then you start school and you have that first week of school to get all of the stuff out. Then you get back dialed in and play your first game. Well this year we've got a later start of school or an earlier start to camp. I don't remember which one it is. But we play our first game on the first week of school. There will be some adjusting that we have to do. We have three weeks of camp in which we don't have class so it will be a little bit different for us.
Then we have those Thursday games but they are kind of sandwiched with bye weeks so I think that will be good. It will be different as far as preparation upstairs but I think it is actually good for us from a health standpoint. We play Northern Iowa and Iowa right off the bat. Those will be physical and tough games. We will need a little bit of downtime to go down and play Tulsa, which will be a tough game too. Then we get Texas right off the bat in the Big 12. We'll have it planned out and figure it out as best as we possibly can to make sure that the guys are ready to go on game day.
Going back to your original question, the plan for a question coming in and going through that whole process is like Jake, A.J., McDonough and Carter, we never really felt like those guys hit a ceiling. You hear people say this with programs sometimes. They talk about guys plateauing out. I find it out that a 23-year old or a 22-year old kid has hit his peak. If that's the case then why do these NFL guys get better during their third and fourth years in the league? There is no way. They haven't hit their ceiling yet. I don't buy that. I think what you have to be is – you have to have stages of development throughout their career, which is what we do. Then you have to look at what the demands are for their position on the football field. You have to train them for those demands, to meet them. You have to have them set up to move through your program so that when they are a fourth or fifth year senior, they are at a high level of training. Early on they aren't going to be. That's what we saw in 2009. Our vets and seniors, when that 2009 class came in, they were right there with them. 
CF: Really?
YM:Oh yes. From a strength level, conditioning, the whole nine-yards. They jumped probably better than our vets. I've said this before, Reggie Stephens benched 400 and squatted 500 and cleaned 300 when he walked out of the program. Those are average numbers and I told him that. They arenot phenomenal numbers for a fifth-year senior. That's an offensive lineman that is going to get drafted. It's one of those deals where you wish you could have had him for five years. Bykowski's numbers were close and here is a guy who was a converted tight end at 240 pounds. That's not a knock on Reggie, it's where the state of the program is. Now when our freshmen come in, they aren't even close to our vets. They're not. And if they are, we have problems. We aren't getting our guys ready in my opinion. And we don't have that right now. We have had good recruiting classes come in and we don't train the young guys with the vets. There's no way. They'd get eaten up. 
CF: I remember back in the day when a defensive tackle would come in at like 220 or 230. At that point, you guys had to work him up to hopefully be able to take the field as a junior or senior. It seems like the recruiting now has picked up from the standpoint of, guys like Collin Bevins and Pierre Aka are at the 270-280 range when they come off of a redshirt year. How much easier does that make your job?
YM:That's the one thing. You have to recruit body types. Length and range of guys is important. Ultimately, we always look at composition. What is it? Is it a guy who is 280 pounds who is in the high 20's of body fat? Those are the types of things that we look at. For a kid like Devlyn Cousins, this is a bigger kid coming in who has good size walking in the door. Then it is about re-proportioning that body to get it ready to play at this level. The kid comes in as a very strong kid but we need to re-shape some things here and there and re-mold him a little bit. That's like Jeremiah George coming in at 195 pounds. You know what I mean? It takes you a couple of years to get him ready to play in the Big 12. It just does. Willie Scott is the same thing. He came in at 195 pounds as a freshman in 2009. You won't see him play for a couple of years. It takes some time, which is good and bad. You get the guys strong and ready to play and hopefully they stay a little bit more healthy moving forward. If you have to play a bunch of young guys, more than likely you're going to get them hurt.
CF: You mentioned Jeremiah George…I saw a tweet from him the other day about how much he loves training. I've heard stories from Jake and A.J. about Jeremiah in the weight room. Jake always calls him a "freak." What is it like working with him in the weight room?
YM:It's easy. Those are the type of guys that you want to train and you want to work with. This is why for me, when my alarm clock goes off really early in the morning, he is the type of guy who I don't mind hearing that alarm clock going off because I get to go work with that guy. That's one thing I will say about Iowa State. Our kids really do get it. They train hard. They understand the importance of it. Very rarely do I have to go ballistic on them about effort. It is maybe more about details than anything, not about effort. JG is a guy who liked lifting and you could tell that when he first got here but it was from the waste up. He wanted no part of doing legs or any of that type of stuff and he will tell you that. But that's the type of kid he is. We challenged him from the day that he got here. He had a skinny neck and skinny quads and no hiney. He had a huge chest and all of this other stuff. He looked good in a tank top but he was probably wearing jeans. Now when you look at him physically, he has set himself up to really have a great senior year and put himself in a position to be a great football player and finish his career off at a high level. He permeates an attitude and it is infectious. That's important to have that type of guy in your program. If he is a good football player and plays hard and at a high level and in return he does it every day in practice and training and all of that stuff – he had a couple of good mentors who showed him the way in Jake and A.J. Now he is just carrying that torch. We'll have to have some guys come in after he is gone to do that too.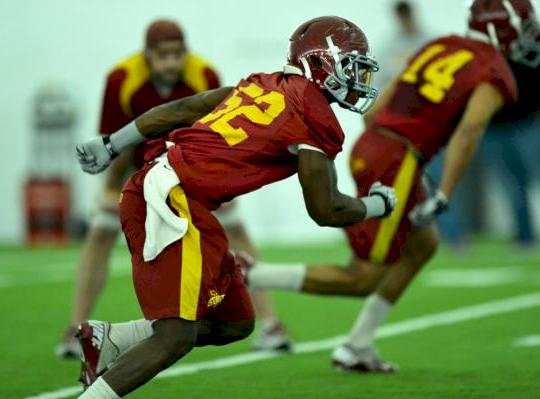 CF: Let's talk about this weight room that we are sitting in. What is the biggest advantage to a guy who arrives on campus this summer and has five years of this compared to a guy who graduated last year?
YM:The thing with this room – it is fancy and all of that stuff – it is nice. When you walk upstairs and you look down and it is awesome. But at the end of the day, you still have to put work into that room. You have to work. Here, we have more tools to utilized. The high-speed treads, the multi-hips, we have more neck machines. We  just have more pieces to utilized that we didn't have in the other room because we didn't have space. Then having the indoor right here is a huge advantage too. The things that were huge time wasters was not having that indoor and that 120-yard field which is almost like another weight room. There are a lot of things that we didn't have accessible. If you look at it like tools in your toolbox, we just didn't have them. Now we have more things that we can improve performance from lower body strength to power and speed. Things like that. A kid coming in as a freshman going through this facility in five years I would anticipate if they are right mentally, train and stay healthy, they will probably be higher than our guys coming out of the old facility. It is what it is.
CF: We've covered that for you, Jeremiah is a pleasure to work with. Give me a couple of young guys in the program who you'd say are in the same mold.
YM:I like Devlyn Cousins right now. I think he his working out at a high level. Luke Knott is very similar to Jake. They are different guys. They are totally different as far as when you talk to them and stuff but he busts it. The guy who has been very good all winter and all summer so far has been Jared Brackens. He is going to be a junior but he is still a young guy because he didn't redshirt. Charlie Rogers works hard. There are several guys who are young, and I say young because they haven't redshirted. Those type of guys have done a great job. 
CF: I know that in the past, you've had Brett Beuker who is a GA for you now on the roster who is really into the strength thing. I know that Cory Morrissey is a lot like that too. How nice is that for you to have guys like that who are basically an extension of your staff on the roster? 
YM:I say it to our players all of the time that there doesn't need to be five coaches. Just because I have a title of coach or whatever it is, players can all be leaders. We have 95 guys out there on the floor. If we all care about the same thing, getting better, making progress and winning games on Saturday's then why wouldn't we all be striving for the same stuff? Why wouldn't we all just push each other in the same direction? It helps when you have guys who are in the locker room speaking the truth to the rest of the group. That's spreading the word. That's huge. We push our guys to encourage each other and to coach each other. When they are resting, don't sit there and suck air and suck water down. Encourage your teammate. Push him. You care about each other. It is a big family unit type deal. You tell them all of the time that you might not like everybody in your family but they are your family. You still care about them and respect them so why would you not push them also? Having guys in the program that do train hard and do all of the little things, the more you get of that, the more it will spread and become infectious. Our kids, that's the way that they are. They understand it. 
We look at it from objectives. If our strength staff doesn't tell them why we do what we do – they all want to know why. It isn't the way it used to be when you'd just tell a kid, this is what we do and they don't ever ask. That isn't the way it is anymore. That athlete is gone. Now it is , you better be able to tell them why or they aren't going to do anything for you. We start every week off on Monday with a meeting and talk to the guys about the objective of the week. Then I close it every week on Friday and I talk about if we did it right or we didn't do it right. I think it is good and our kids know that we don't go out there and just run to run. We don't come in here and lift to lift. We always have a purpose and a reason. Every single day that we train is making the foundation of our program for the year. I think our guys understand that. I don't just go out and run mileage. That does nothing for them. If I do that then I will lose the credibility of the player. It has to pertain to what they do on the field. It has to pertain to their position. It has to help them on Saturday and help them on the practice field. If it doesn't, then we won't do it. That's the stuff that I look at and our staff looks at when we put our cycles together and put our yearly plan together. Every cycle, if that is a three-week cycle or a four-week cycle, has an objective and a goal at the end of that cycle for every player to be at. You have to stack that from January and the minute you are done with competition. The minute we were done with Tulsa, we went back and evaluated what we did and then set our plan for the next year's bowl game. We already have it in the books – what we are doing for the whole calendar year. Now it adjusts as you go because you have to adjust a little bit. Something might not be working and you have to tweak it or whatever it is, you're going to adjust it. You have objective, goals and plans for the full year. We are very regimented in what we do and that's why our kids have steady progression as they go through the program. You look at a guy like Jerome Tiller last year. He had a very good year last year as a senior. Durrell Givens. Guys who just continue to work and train hard show up and pop up as juniors and seniors when maybe you didn't see them as sophomores and such. That's just staying with it and staying committed every day and training hard. Just like a Carter Bykowski. Nobody really even knew who Carter was really a year ago. Now he's drafted and with the 49ers. That guy is a perfect example of a guy who was committed and stayed positive. He got an opportunity and took full advantage of it. He took advantage of opportunities every day when he worked out. He knew what he wanted to try and do. But I guarantee you that it probably shocked a lot of people that Carter was drafted. Not me. Not me at all. I think I said it on record that I thought he would be a guy who had a chance and had a shot. You could see the length, athleticism and size. He has way more football ahead of him. I think that is what people don't know about us and it's fine by me too. I'd rather stay in the dark. But our plan is from the day they get her until if they want to stay with us and train, NFL wise we have a plan from them until the time that Pro Day is over. Then we have another cycle to get them ready for camp. If they want to come back like Leonard (Johnson) does then we have another program for them. That's the way to do it.
CF: Do you see any Carter Bykowski's this year as far as guys who might sneak up on some people? A late-bloomer or two?
YM:I think that Brandon Jensen is going to have a great year. I think that he is more athletic than people give him credit for. His strength levels are pretty high. If you look at him in comparison to Jake McDonough at the same age, in my opinion Jensen would be way ahead as far as strength level and athleticism. That's a guy that I think as a junior would probably surprise people. But his athleticism form an interior guy, a big dude who is about 305 right now, I think that will surprise some people.
If some guys on the offensive line can play the position that they need to play due to injuries and stuff…I think that Jacob Gannon is a guy who if he is playing tackle can have a good fall potentially. The same with Kyle Lichtenberg. He needs to be a tackle. Those guys aren't suited to play inside but it is what it is. Sometimes you have injuries and you need to play your best five. I think those guys can have some big years.