Preseason college football magazines recently hit newstands across America and as we do each and every year, Cyclone Fanatic sat down with Athlon editor Steven Lassan to discuss that publication's picks regarding Iowa State and the Big 12 Conference. 
For the first time in years, Athlon produced an Iowa State cover (pictured below).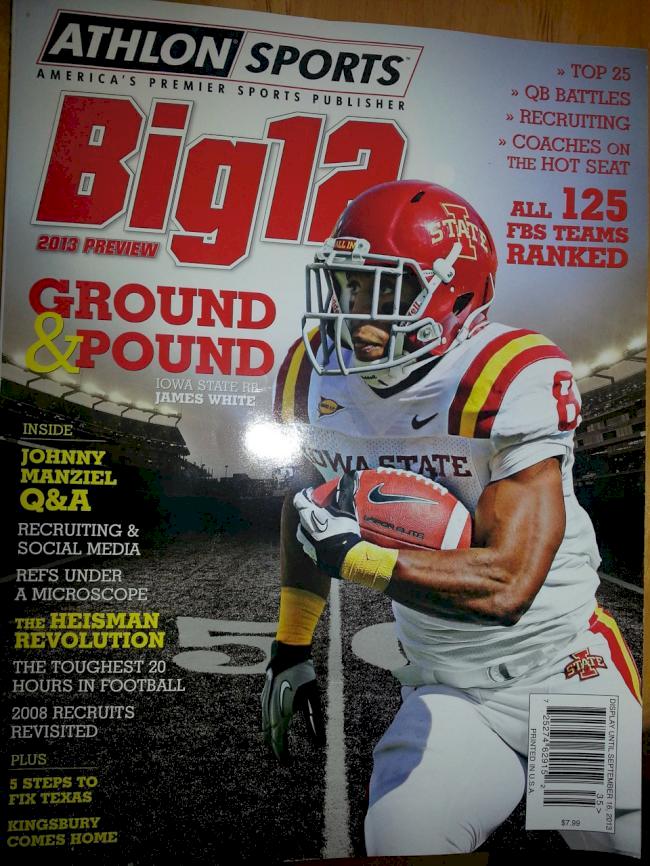 Enjoy this Q&A with Athlon editor Steven Lassan. 
CF: Athlon is predicting a 5-7 (2-7), ninth place season for Iowa State in 2013. But Paul Rhoads has beaten a ranked opponent on the road in each of the last three seasons. Because of that, does notching Iowa State at only two league wins make you nervous at all about the pick with the point being that the Cyclones usually beat somebody that they aren't supposed to?
SL:It does make us nervous. In our Big 12 predictions meeting, we had a lot of debate about making Iowa State a bowl team. We certainly feel this team will get better as the year progresses, especially on offense as quarterback Sam Richardson gets more snaps under his belt. But the big question mark is a defense that loses its heart and soul in linebackers Jake Knott and A.J. Klein. Iowa State was also outgained by 146.6 yards per game in conference play last year. The schedule is also difficult, with five conference road games, including matchups on the road in swing games against Texas Tech and West Virginia. I wouldn't be surprised at all to see Iowa State make a bowl game or pull off an upset or two this year. If Richardson quickly settles into the job as a full-time starter, I could see the Cyclones finishing ahead of Texas Tech or West Virginia in the final standings.
CF: Top to bottom, this might be as balanced of a Big 12 Conference as I've ever seen. That goes for the upper-tier teams and for the bottom as well. Having said that, I'm curious as to why Athlon went with Texas Tech (who is starting over with a new coach/new system) and West Virginia (who loses a ton of talent and frankly, wasn't that good with it) over Iowa State in the seven and eight spots?
SL: Texas Tech might be the biggest mystery in the Big 12. There's a lot to like about this team, especially since the hire of Kliff Kingsbury should keep the offense near the top of the league, and new quarterback Michael Brewer could be one of the Big 12's top breakout players. The Red Raiders also have good depth at running back and receiver. The defense made progress last year and the front seven could be one of the best in the league this season. It's always tricky to judge how quickly a team will adapt to a coaching change. However, Kingsbury is the right fit at Texas Tech and should push for eight wins in 2013. We debated Iowa State and West Virginia for the No. 7 spot, but our group thought the Mountaineers lost too much on offense to be ranked that high, and the Cyclones may struggle to overcome the losses on defense, while the offense needs some time to develop with Richardson under center.
CF: Athlon has Iowa State's group of running backs ranked dead last in the Big 12 entering 2013. However if you ask anybody in central Iowa, they would probably call that Iowa State's strongest position in terms of talent and depth. Even your "Scouting the Cyclones" (opposing coaches size up Iowa State) piece labels running back as Iowa State's strength. Is this Athlon not buying into this group or a case of the rest of the Big 12 being that good? 
SL: This is a very deep year for running backs in the Big 12. Truthfully, none of the running back units in the Big 12 deserve to be ranked 10th. As we are ranking the units for each conference, we take into account how deep and proven the overall group is and tend to give a slight boost to teams that have a standout starter. We thought Texas, Baylor and Kansas were the top three groups in the conference. The next tier is a close call between Oklahoma, Oklahoma State and TCU. But after that trio, you could really rank Kansas State, Texas Tech, West Virginia or Iowa State at No. 7. If he gets the opportunities, I think James White could be an All-Big 12 back, and Aaron Wimberly was a good pickup on the recruiting trail. In any other conference, Iowa State would rank much higher. Unfortunately for the Cyclones, it's a very good year for individual running backs and backfields in the Big 12.  
CF: Athlon picked Oklahoma State to win the league but at this point in time, we still don't know if it will be Clint Chelf or J.W. Walsh leading the Cowboys at the quarterback position.
I assume that you all feel like at this point in time, Mike Gundy can just plug a signal-caller into his system and that guy will be successful? Does the uncertainty as to who that guy will be make you nervous about this pick or again, is this just a case of, 'It's Oklahoma State. They will score points?'
Also, is there any concern at all that Todd Monken is gone as offensive coordinator and is being replaced a former Division II OC in Mike Yurcich?
SL: Out of all of the conferences in college football, the Big 12 was the toughest to predict this year. There isn't much separation between No. 1 and No. 6. Eventually, we trimmed the top six to a top four and debated Oklahoma, Oklahoma State, Texas and TCU for the No. 1 spot. One of the reasons we like the Cowboys to win the league is a very favorable schedule. Oklahoma State hosts Kansas State, TCU, Baylor and Oklahoma this year and only faces one team from our projected top six (Texas) on the road. Any time there is  quarterback uncertainty, it does give us some concern when picking a team to win the conference. However, Oklahoma State's track record under Mike Gundy has been very good, especially when it comes to replacing quarterbacks and finding offensive coordinators. Hiring Dana Holgorsen and Todd Monken kept the Cowboys' offense performing at a high level, and even though Yurcich is coming from Division II, I think he is going to be a terrific hire for Oklahoma State. Gundy has done a good job of finding coaches that are willing to keep the same scheme (with a few minor tweaks), and the Cowboys offense continues to be one of the league's best. I'm sure there will be a few bumps in the road for any transition. But with Oklahoma State's history on offense, the transition from Monken to Yurcich should be relatively seamless.
CF: Despite returning a wealth of talent, Athlon refreshingly picked Texas to finish third in the Big 12. Is that talent overrated or is your publication down on Mack Brown's program in general after underachieving the last few years?
SL: I think Texas is the most difficult team to get a handle on in the Big 12 this year. The Longhorns probably have the most talent of any team in the league, yet is just 11-15 in conference play over the last three years. Considering how wide open the conference race is, the opportunity is there for Texas to win the league title. And considering the uncertainty at the top of the league, it would be a disappointment if Texas doesn't win at least nine games or challenges for the top spot in the conference. However, we still have doubts about whether or not David Ash can play consistently enough to win the Big 12. For all of the talent this defense had last year, it was surprising to see it finish sixth in the league in scoring and eighth against the run. Getting linebacker Jordan Hicks and end Jackson Jeffcoat back from injury should help, but this defense will miss safety Kenny Vaccaro and the linebackers outside of Hicks are a question mark. Texas does have a favorable schedule, and I wouldn't be surprised to see them win the Big 12 this year. But considering their recent history of underachieving, we just can't trust the Longhorns to finish No. 1 in the conference – even in a down year for the rest of the league.
CF: Iowa State fans have been waiting and waiting and waiting and waiting for its old Big 8 foe Kansas State to come back to reality over the last few years. Is 2013 the year that Bill Snyder finally wakes up and realizes that he's coaching in Manhattan?
SL: On paper, it seems Kansas State is due to take a step back this year. However, that's what we thought about the Wildcats in 2011 and 2012. As long as Snyder is on the sidelines in Manhattan, Kansas State is always a threat to win the league title. Even though the Wildcats have to rebuild their defense essentially from scratch, I still think this team can win nine games. Quarterback Collin Klein will be tough to replace, but Daniel Sams and Jake Waters should be capable of keeping the offense performing at a high level. And K-State will have one of the nation's best offensive lines at its disposal, along with a dependable running back in John Hubert. The Wildcats have a rough opening to the schedule, as North Dakota State and UL Lafayette won't be easy victories in non-conference play and a road date at Texas awaits on Sept. 21. Kansas State does have five Big 12 games in November, which considering all of the new faces on defense, should work in its favor. The Wildcats will take a small step back, but they are also helped by the fact the rest of the Big 12 is also on the decline for 2013.
CF: Kansas has to be better in 2013 right? 
SL: I think Kansas will be better, but it's hard to see this team making a huge leap in the Big 12 standings. It's very risky to build a team strictly on junior college and transfer players. Charlie Weis' rebuilding plan could work well for a two-year period, but it could also be a huge problem if these players don't pan out. Jake Heaps was a highly-touted quarterback coming out of high school but didn't live up to the hype at BYU. Heaps does have one of the best running back corps in the Big 12 at his disposal, but the offensive line and receiving corps are question marks. The defense is a huge issue, especially since there are a lot of new faces stepping into starting jobs, and defensive end/linebacker Chris Martin's status is uncertain after an offseason incident. The Jayhawks should sweep their non-conference schedule to start 3-0. But I have a hard time seeing this team winning a Big 12 game in 2013.