As we do each and every year, CycloneFanatic.com recently sat down with Iowa State football's strength and conditioning coach, Yancy McKnight. It's a fascinating behind-the-scenes look at what happens within the trenches of a college football program. In today's second installment of the interview, I ask McKnight about last year's rash of injuries on the offensive line, weight room warriors and what his plans are when it comes to training Allen Lazard. Enjoy.  
——————————————————————————————————————————————-
CF: Let's talk about last year and all of the injuries on the offensive line. Was that a coincidence? Was that as simple as one guy goes down, then somebody else who probably isn't ready has to step in and goes down too? Like dominoes? What was your take on that situation?  
YM: Sometimes it is just bad luck and that happens. We looked at it. We get worried when we start seeing non-contact injuries. We get worried when we see a lot of soft tissue stuff. When you play football, there are going to be times where you are going to have a shoulder go or a knee or an ankle. Things like that happen and that is part of it. Broken bones. Some of that stuff you can't do anything about. But when you start seeing a rash of non-contact stuff – but a lot of that stuff is just the nature of the game. You can't help Jacob Gannon – he's doing a great job of blocking and somebody from the backside kicks him in the side of the leg. What are you going to do to protect that? There's nothing. The only thing you can do is knock on wood and say, 'Thank goodness we have good knee braces and thank goodness he is a strong kid.' If he wasn't functionally and physical strong, that probably would have been an ACL. You can look at those things as half-empty or half-full. I choose to look at them half-full. It could have been worse. I don't know though. The O-line stuff last year was yeah – when you lose a couple of guys – it does take us a couple of years to get guys ready. That is just the nature of our program. Recruiting is tough. We bring in the best possible player that we can for Iowa State and sometimes those guys are two to three year projects. If you are playing a guy, like Tom Farniok as a redshirt freshman, but I can tell you that those first two years my fingers were crossed that we could keep him healthy. Physically, he wasn't ready to play. He wasn't strong enough and he wasn't big enough. Luckily we could shelter him with Hayworth Hicks and some of those guys. But when you start losing guys here and there with our depth, you're going to play a guy who probably isn't ready.
CF: Because of last year and how it worked out, a lot of those young guys got reps. You all look to be in a lot better shape for 2014 from a depth perspective right?
YM: Yeah. We have a lot of guys who have played a lot of snaps. That's not the way that you want them to get snaps but it's a byproduct of having some injuries last year and a new position coach that was feeling his way out too on who he wanted to play and who his guys were. That's how it kind of worked out. It does help you now because guys have gotten reps who maybe wouldn't have gotten reps last year with injuries.
CF: Every year, I save the last roster you all hand out from a season and compared it to what we get before spring ball. I noticed this year that both quarterbacks that played last year put on a lot of weight. Was that by design from a durability standpoint?
YM: If you looked at those guys last year, there was a lot of quarterback running in our offense. I think in the past even when Austen (Arnaud) was here, he ran a lot. Steele (Jantz) did. JB (Jared Barnett) did. Sam (Richardson) has. You look at those guys and you wan to get some insulation under them and get some padding on them. You see how they can carry it in spring ball. Spring ball is always the time for us where we can sit there and look at if a kid can carry extra weight or if he is too heavy and we need to cut some back. Strength wise and things like that, they are a year older. Sam is a redshirt junior and Grant (Rohach) will be a redshirt sophomore. They work extremely hard. Sam is a 6-2 kid. Rohach is 6-1 and some change. They have frames that can handle that kind of weight. Steele was a 220-pound kid. There are things that we looked at with durability and being able to handle some of that quarterback run stuff and not get pounded to death. We also want them to get stronger, especially with their lower body. That will help them with velocity and throws and stuff like that.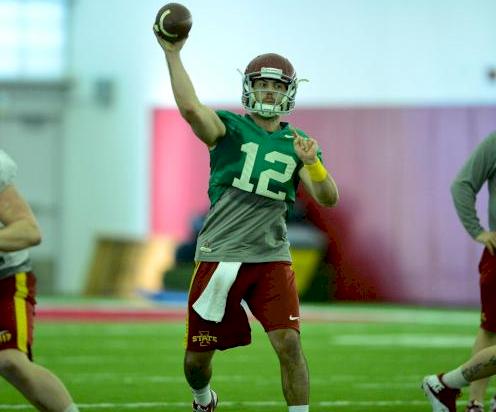 CF: Did they carry the weight okay this spring?
YM: I think so. Grant isn't a blazer by any means but I think in the West Virginia game, he almost took one to the house. He is probably fast enough. He isn't as fast as Sam. I think Sam is a pretty fast kid. Sam, to me, didn't seem like he had lost much as far as running and changing directions or anything like that. Rohach did some stuff too where he had some nice long runs. I didn't really see it. I thought they handled their weight well and that the velocity in their throws had improved. To me, I think it made them a lot more confident.
CF: What about Aaron Wimberly? Coach Rhoads often talks about how violent of a runner he is and how he runs bigger than he is. Is there anything that you can do for him?
YM: We keep stressing durability to him. We stressed that to him right when the season was over. It is a couple of things. Taking care of nutrition. Putting on some size. We'd like to see him get a little bit bigger so that he can take the pounding. He does run violently. He does run inside the tackles like a 220-pound guy. I think that Coach Mangino (Mark Mangino) and Coach Lou (Louis Ayeni) are mindful of what he is – a 175-pound, extremely fast and dynamic running back. How they have rolled him with DeVondrick Nealy and tried to manage him a little bit more as far as practice reps and stuff – they will look at that too so he doesn't get so rundown. Even with Alexander Robinson, he was 185-pounds taking 300 carries. That's a lot of touches. At that time, we really didn't have anybody else if you really look at it, with the kinds of skills that A-Rob had. Now you have DV, Wimbo and guys in that stable who can do some things. Now you need to rotate them a little more and feel good about not having a drop-off. A-Rob just got worn down. He's taking all of the practice reps. He was taking all of the game reps. What were you going to do? With Aaron, we will continue to try to get his body weight up a little more. He is a really strong kid. I think they will manage him within practice reps and how they do stuff this fall. 
CF: I recently ran into Cory Morrissey. The guy looked jacked. Where does he stack up for you as far as guys you have coached who love spending time in the weight room?
YM: I think Cory when he got here; I want to say he was 230 or something like that. He has been around 265 this winter. He's just a really hard worker. He's a clean eater. He takes care of his diet. He's very cognizant of what he puts in his body. He's extremely driven. He's extremely competitive. You take all of those things and combo it together where he has some genetics too. He's just one of those guys that takes care of his business and does it wherever he goes.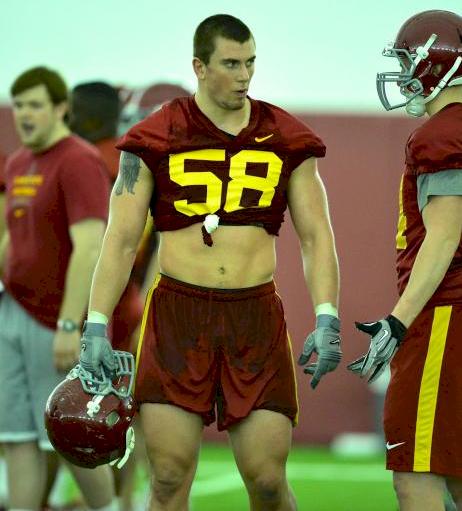 CF: Fans love the following. Not that it will carry over to the football field in 2014 but from what you've seen in the weight room, who are some impressive young guys on the roster?
YM: I don't know where it fits thrown into deal but Joel Lanning is a strong kid who works extremely hard. Brian Mills, the linebacker is an extremely strong kid. He's gotten a ton bigger and is very fast. Kamari Cotton-Moya is coming along pretty good after that Achilles stuff in the fall. He's strong. He's very fast and explosive. Robby Garcia is a kid that is really driven and focused. He's very mentally mature. He's pretty strong. You can probably throw Jake Campos in there. That's a pretty solid crew right there. Just guys who are guys to watch in the fall, possibly. I don't know about Campos because Brock Dagel and Jacob Gannon are there but you never know.
CF: Where is Campos at physically at this point in his career compared to where those upperclassmen at this stage?
YM: He's bigger. He's bigger than Dagel. Jake is going to be a good player down the road, I think. He is almost 290-pounds right now. He's got good footwork is very intelligent and is a hard-nosed kid. He would be ahead of those guys.
CF: Based off of what you guys all say, I've been impressed with Cotton-Moya. Coming off of an Achilles tear and being No. 1 on the depth chart the following spring is impressive.
YM: I remember in one of the recruiting meetings watching film and we saw five DB's. Kamari happened to be one of them, his high school tape. The question was asked: Who is the fastest out of the five? We both said Kamari Cotton-Moya. We had no doubt. It wasn't even close. He is explosive and fast and when he first got here, it was obvious. It wasn't even close. We knew that Nigel Tribune could run a little bit but Kamari Cotton-Moya could run, big-time. So could Tyler Brown and Brian Mills. Those guys, and even Brandon Harris, they brought some guys in this last class that can run a little bit. But Kamari is a physically strong kid who is gifted naturally. He just has to keep working mentally and become a hardcore worker. In my opinion, the sky is the limit for him. 
CF: You've got the most highly touted player that this staff has ever signed coming to town this summer in Allen Lazard. Being around him, what have you seen from him? We've all seen the highlights and know how many stars were by his name but how do you look at him as a strength and conditioning coach
YM: I've seen him run at camp. I timed him. He's not an elite sprinter by any means. But he has good body control. He's big. Most basketball/skill guys are not big weight room guys. They just aren't. That's okay. But for him to make a transition at this level, he's going to have to and I've talked to him about it. He's going to have to be a weight room guy. The guys that have done it here have gone on and played. Leonard Johnson was not a weight room guy until we had a talk, it changed and he clicked. Jeremy Reeves was. He always ways. Jake (Knott) and A.J. (Klein) always were. Jake McDonough, it clicked for him and it was. Carter Bykowski always was. Hayworth Hicks was. Josh Lenz was. You can go down the list of guys who have been really good players here – Jeremiah George was – Farniok has been one – there are a bunch of guys when you go down that list and if they were highly recruited or not highly recruited, it didn't matter. I look at it from high school to junior college or if you're a transfer, it doesn't matter. It just doesn't. So do you want to be what that hype was or not? That is history. It is in the mirror so we have to work forward and we will so. Hopefully he moves forward and is hungry and wants an opportunity but it is a deep position. With the wide receivers that we have right now, they are 10-deep right now in that rotation. A freshman coming in is going to have to have a really good summer and be really mentally prepared. If they don't, to me, it won't matter. This league is just too hard. It is too physically demanding and with the amount of skill kids that we have at that position right now is tremendously deep. That's as deep as we've ever had it. There are a lot of big bodies. There are a lot of guys who can run and a lot of guys who have played snaps. Hopefully he takes the mindset of wanting to come in just like Jauan (Wesley) and Orion (Salters) and wants to play. I don't know why they wouldn't but it is also going to take some work on their part by showing up on campus on shape. If they don't show up in shape, good luck (laughter).