With warm weather approaching, it is important to take care of your yard. Nobody does it better than A+ Lawn and Landscape. Call A+ today at 515-289-2020 and get your first treatment for FREE! A+ Lawn and Landscape is the exclusive sponsor of Cyclone Fanatic's spring football coverage.

It is the question at the top of every diehard fanatic's mind right now when it comes to Iowa State football.
Who is having a "good spring?"
Frankly, it's a tough question to get a ton of insight on halfway through spring practice but with one scrimmage in the book, that was my goal on Saturday during interviews with Paul Rhoads, both coordinators and select players.
Here's what I was able to come up with…
On offense…
Aaron Wimberly, Jr. RB – I feel really bad about hyping this junior college transfer. Not that it isn't deserving, but I know how fanatics love to get all amped up about a running back only to be disappointed in the fall. This happens everywhere, all over the country. 
But with the verbiage coming out of Ames this spring, I'm really starting to feel like Wimberly might be the real deal.
"Aaron stood out," said Rhoads of his tailback. "He had a lot of productive plays. He found the endzone. He almost made a spectacular catch and I think I said last week to you all that he has great hands."
Fellow running back Jeff Woody called Wimberly one of the fastest players he's ever seen at Iowa State, ranking the former Iowa Western C.C. Reiver behind Jeremy Reeves, Darius Reynolds and potentially current Cyclone Jansen Watson. 
Running backs as a whole – Anybody who follows the program closely would have tabbed running back as a strength position heading into the spring, even with Shontrelle Johnson sitting out due to an injury. According to Rhoads, Wimberly wasn't the only Cyclone running back that turned heads on Saturday. 
"DeVondrick Nealy and James White also stood out today," said Rhoads. "I think that any time that you start to get elevated play by individuals and competition going on then you start getting better play out of everybody and I think that is the case at running back right now." 
My friend Bobby La Guess from the Ames Tribune asked Rhoads if this group of backs has exceeded his expectations this spring.
"No I don't think they are exceeding expectations, I think they are finally getting to them," said Rhoads. "I think we have been under expectations the last couple of years. We haven't made people miss. We block too many plays for six yards and gain six yards for four yards and gain four yards. You see a lot of other folks block a play for five and a guy gains 50 because he makes somebody miss."
Best quote ever coming up…
"When we schemed plays for Troy Davis, we never blocked a guy. We said, 'Who is responsible for him? Troy is.' That's what a great back has to do. I am seeing more of that right now."
That's a good answer by the head coach, and an encouraging one at that.
Quenton Bundrage, So. WR – Courtney Messingham's comments regarding sophomore wide receiver Quenton Bundrage were the most revealing notes I have taken from the spring so far.
"Bundrage, I've got to make sure as a play caller that I do a better job of trying to get him as the main target. I really do," said Messingham. "The next three or four days of practice he needs to get a lot more catches than he has gotten."
Bundrage caught 20 passes for 232 yards and two touchdowns during his redshirt freshman campaign, but everybody saw loads of potential down the stretch in 2012.
According to Messingham, Bundrage is one of the top skill players on Iowa State's roster. He wants to take advantage of that as a play caller. 
"I have to make sure from a play-calling standpoint that he is the primary, said Messingham. "Not that you are always going to throw it to the primary receiver but that he is the No. 1 look."
"In general, I feel like he is one of the top skill playmakers that we have. I think Quenton can be that guy."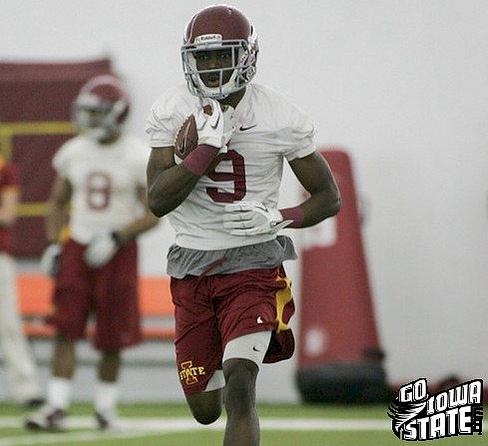 Tad Ecby, So. WR – Another young wide receiver that we know less about, but Messingham still noted that Tad Ecby had been having a nice spring before sitting Saturday out with a hamstring tweak.
"He had been having an extremely good spring," said Messingham. "I was really happy with him."
Ecby only caught one pass for nine yards as a freshman but shot to the top of the depth chart this spring, beating out a veteran like Albert Gary along the way. Combine that fact with Messingham's note and that likely equals a major boost in production from the Houston native.
On defense… 
Jevohn Miller, Jr. LB – When I asked Wally Burnham about standouts, this was the first guy he mentioned. Miller, who did not redshirt as a freshman, has played behind Jake Knott for the past two seasons.
"Jevohn Miller has probably played better than I thought he might because he sat on the bench for two years and I think he finally realizes, 'Now is my chance,'" said Burnham. "If he had worked harder those first two years that he was sitting behind Jake, he would have been a lot farther along. I have been really pleased with him so far."
Miller got some extra playing time (but still not a lot) when Knott's season came to an end via a shoulder injury last season.
Jared Brackens, Jr. SLB – This was the big story when Iowa State released its depth chart for the spring a few weeks ago. Jared Brackens had been moved from strong safety to SLB, also known as the "nickel back." So far, so good.
"Brackens has been a pleasant surprise at the SAM linebacker," said Burnham. "He's not a physical guy but he is athletic enough to get out of some bad situations." 
Jeremiah George, Sr. LB – Yes, another linebacker. And yes, another guy who never got that redshirt year to grow. But George's role as a senior is one unlike he has ever seen before. He's no longer the student learning from the Killer K's. George is now the leader on Iowa State's defense, specifically on the front seven.
"He is vocal," said Rhoads. "He would stand out in church. That's how vocal he is."
George, who had 87 tackles as a junior, has always had the physical tools to play in the Big 12. It was the mental aspect of the game that held him back.
"He has come so far in his football intelligence," said Rhoads. "To be a leader, you have to have credibility. It is one thing to be productive and making plays but you need to be in the right spot. You need to be doing the right things on and off the field and so forth and Jeremiah is doing those things."
Charlie Rogers, Fr. CB – I started hearing good things about this redshirt freshman corner the day he stepped on campus. Apparently he hasn't let anybody down this spring either.
"In the secondary, Charlie Rogers is really coming along," said Burnham. "He's got a chance to be a really good football player one of these days."
Let's slow the hype machine down for a minute though…
"He is making a lot of mistakes now," said Burnham. "Don't get me wrong. He's not ready to play but he has shown a lot of ability and can be a really good football player."
Defensive front – A lot of work needs to be done here but these young guys are showing signs of being pretty good some day. After Iowa State's first practice of the spring, Rhoads noted that for the first time since arriving in Ames, he saw a defense with 11 capable guys from a speed standpoint. Iowa State's young, athletic front four had a lot to do with that. After a week and a half, Burnham agrees.
"We are more athletic probably because of the defensive front," said Burnham. "We've got guys who can move around, stay on their feet, push the pile back and things like that. We are I think a little bit faster overall in that first group."
Overall
I asked Rhoads if any single Cyclone had stood out to him as being much improved since the last time he worked with the team during bowl practices. His response…
"It is the one thing I probably walked off the field with thinking today that there was no impact player out there today," said Rhoads. "There were a bunch of guys that did good things but I didn't stand out there and really have one, two or three guys that really stood out to me. It's not a bad thing. I think that is more of a whole that we have more guys doing things right and playing well."