National Signing Day 2013 is long gone. You know what that means right? It is now officially time to start looking ahead to the 2013 Iowa State football season. Over the next month or so, we'll go position-by-position, coach-by-coach and player-by-player to get you primed for Northern Iowa on Aug. 31.
But before we go there, we need to get you all a solid base to begin our studies (I sound like a history teach or something right?).
Cyclone Nation – here is your first assignment. CLICK HERE and take a look at the latest scholarship chart that I posted here on the site. Just glance at it. You don't need to dig too deep because that's what I'm about to do right here.
Enjoy these quick hits, thoughts and opinions on every position on the Iowa State football roster as spring football is just over one month away. I'll break down the offense today and the defense tomorrow. 
Quarterback
My first impression of this group: Youth. There is a lot of it. I'm talking, a lot, a lot.
Iowa State will have four scholarship quarterbacks on its roster with only two starts to the group's name. (Gulp)
Sure, there appears to be talent in the pipeline but good golly that is a lot of youth. It is even more proof to the thought process that it would be a nice warm security blanket to have Jared Barnett back next season.
Sam Richardson, yes 2012's wonder boy Sam Richardson, will go from being the rookie to the elder statesmen in Iowa State's quarterback room. I think to label anybody but Richardson the front-runner would be a mistake but don't think for a second that redshirt freshman Grant Rohach won't be in the mix. I truly believe that he will. 
I fully expect both incoming freshmen Joel Lanning and Trevor Hodge to redshirt. That only makes sense.
Running back
My first impression of this group: Déjà vu. Where will all of the carries go?
It is a very similar conversation that we were having a year ago at this time. Iowa State's stable of running backs shows a handful of talented guys along with questions regarding Shontrelle Johnson's health. Sound familiar?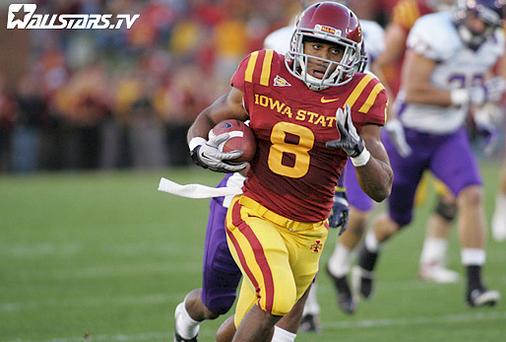 With James White (above) and Jeff Woody, I think we pretty much know what to expect. Johnson is a wild card due to his recent knee injury and the fact that I don't believe he was ever truly 100 percent last season (or at least 100 percent confident after his neck injury). The coaches seem to love DeVondrick Nealy and Rob Standard still is a bit of a mystery.
But where will Iowa Western C.C. transfer Aaron Wimberly fit into the mix? That is the big question here. He is already on campus and we all know that you just don't bring guys like this in (especially at a fairly deep position) unless you want them to play. On National Signing Day, Wimberly told me that he fully expects to play some out of the slot, in the backfield and pretty much everywhere. This is a potential wrinkle in Iowa State's offense that I'm stoked to learn more about. 
Wide receiver
My first impression of this group: Same story, different year. But I don't mean that in a bad way.
Listen – Iowa State's wide receivers haven't been great for a while now but maybe it isn't their fault. You can't really pin it all on the receivers can you? Iowa State's offense as a whole has been inconsistent for years now. In fact, here is how Iowa State ranked in scoring offense in each of the last four seasons (beginning in 2009 and working towards 2012): 103, 97, 90 and 85.
The good news is that the number has gotten better every year. The bad news is that 85 is the best that it has been.
Some explosiveness from the wide receiver group will go a long way in moving that number into the 50's or so and once again, I'm not quite sure what to expect from the Cyclones in 2013. Maybe that is a good thing though. The four non-freshmen receivers on the roster are Albert Gary (senior), Jarvis West (junior), Quenton Bundrage and Tad Ecby (sophomores). But can you really say that you know exactly what to expect out of any of those guys?
I can't. I won't.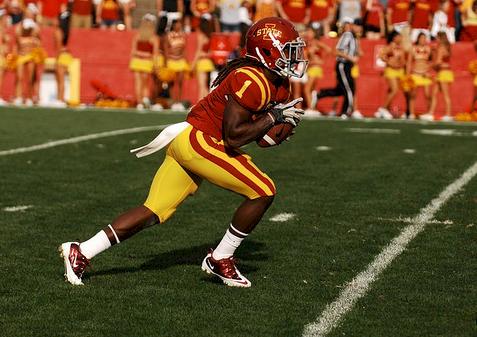 I've heard good things about Dondre Daley as a redshirt freshman dating back to last summer. Quan West is coming off of a knee injury and I don't know much about P.J. Harris' development at this point so really, spring ball will be interesting at the wide receiver spot.
Tight end
My first impression of this group: Is that I like it. I really, really like it.
Ernst Brun was tied for first (with Josh Lenz) on the team in touchdown receptions last season. I spoke with JUCO transfer Emmanuel Bibbs on signing day and he certainly isn't lacking confidence. Heck, Oklahoma wanted him badly. He should fit in just fine at Iowa State. 
What Courtney Messingham has here are two, big, hybrid, pass catching tight ends that can potentially be on the field at the same time. That could be a deadly combination that A) makes life easier on a young quarterback and B) takes pressure off of an unproven group of wide receivers.
Offensive line
My first impressive of this group: Is to stay tuned. With new offensive line coach Chris Klenakis now in the mix, what changes? Obviously something will, otherwise Paul Rhoads wouldn't have made this move. 
Ethan Tuftee and Tom Farniok should be the anchors but after that, this group is a bit of a toss-up with a lot of young talent. The thing is, I fully anticipate the staff to move some of these guys around in the spring too so again, it is hard to take much of a stance on the group as a whole at this point in time. 
I've never heard a bad thing about a guy like junior Shaban Dika, who is coming off of an unthinkable second ACL tear. In fact, I've heard that he was in line to start last season before the injury. Jacob Gannon has proven to be a very serviceable Big 12 offensive lineman. What will guys like Brock Dagel, Jamison Lalk, Oni Omile and Bob Graham bring to the mix?
It is really hard to tell. I need to get Iowa State's offensive line guru Ben Bruns on with us sometime soon to hash this out. He's the man when it comes to that conversation. 
Be sure to check out Cyclone Fanatic on Friday for my initial impressions of Iowa State's defense leading up to spring ball 2013.