AMES — Only two times a year do members of the media get to watch Paul Rhoads' Iowa State football program practice. That was the case on Tuesday, as spring ball 2013 kicked off in the Bergstrom Indoor Practice Facility.
I'm not Mel Kiper but I did write down two pages of notes while taking in the festivities. Here they are for you to read at Cyclone Fanatic. 
*** No practice for Shontrelle Johnson this spring, which isn't a surprise. The senior running back tore his ACL during bowl practices and had surgery in the offseason. However I did speak with Shontrelle briefly during Pro Day and let me tell you, the young man is jacked to the moon and says he will be ready to go this fall. 
***Jacques Washington has switched numbers. Previously, "JQ" has been No. 10. He's No. 5 this season. I'm not sure why the switch happened. Regardless of his number, Washington should be one of the top free safeties in the Big 12 next season.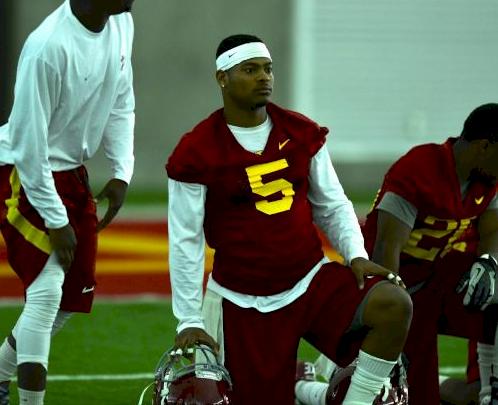 *** I've still yet to see running back Aaron Wimberly take a hit but I'll tell you this – the guy certainly passes the eye-test. In fact, of all the running backs that participated on Tuesday, Wimberly appeared to be the fastest on the team to me. Now I'm also going to be a bit cautious here too because overhyping a guy before he's ever taken a snap is always a scary thing to do but Wimberly looks the part in my very early opinion.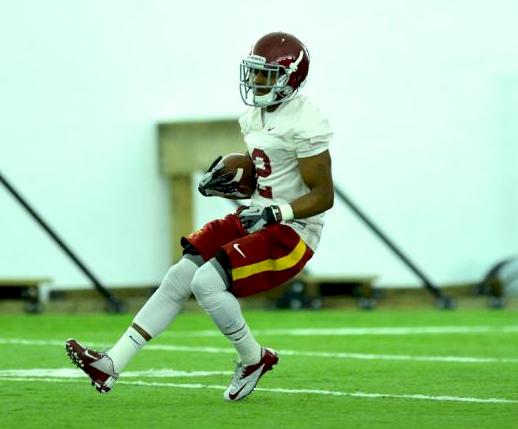 *** Having said that, I still love DeVondrick Nealy too. And Jeffy Woody and James White for that matter. I still don't know enough about Rob Standard to have a solid opinion on him but he looks the part as well. It's a good crop of backs that desperately need help from a legitimate passing attack to make noise and create play.
*** A few other guys who passed my eye-test, whatever that means…
Jared Brackens at SAM linebacker. I really, really like that move. To me, Deon Broomfield is a natural move to strong safety and after interviewing Brackens after practice, I saw that he has a linebacker's mentality. The young man is confident, that's for sure.
Another guy who stood out to me on the defensive side of the ball was Damein Lawry at cornerback. The redshirt freshmen weighed in at 5-foot-10, 169 pounds and looked bigger than I thought he would. I like that length at corner.
Speaking of length at corner, Charlie Rogers might be my favorite member of this redshirt freshmen class. The 6-foot-1, 202-pound cornerback is going to be a future star. Mark down that prediction right now. He will find the field in some way, shape or form next season.
Speaking of seeing the field, when I interviewed defensive tackles coach Shane Burnham back in January, he told me that walk-on Austin Krick would see some PT in 2013. That's why I wasn't surprised when the 6-foot-2, 277-pound junior was second on Iowa State's depth chart at defensive tackle. Having said that, it's never good when walk-ons are cracking the two-deep at such a critical position. Never. 
*** I can't tell you how excited I am that Shaban Dika is finally healthy. For two years, I've been told that this mean offensive lineman was ready to start. He's torn his ACL not once, but twice during his time in Ames. He's currently listed as Iowa State's starter left guard and I won't be surprised if he battles with Tom Farniok and Ethan Tuftee to be Iowa State's best lineman. 
*** Physically, strong safety T.J. Mutcherson reminds me a lot of David Sims. At 5-11, 191 pounds, the dude looks look a freak. Rhoads told me after practice that Mutcherson is Iowa State's most athletic safety.
*** The wide receiving combination of Quenton Bundrage, Dondre Daley and Jarvis West could be downright nasty in 2014. I think that next season, these guys will need to develop but all have the potential to be really, really good. Daley is the offense's Charlie Rogers. It will be tough to keep him off of the field. 
*** New offensive line coach Chris Klenakis is one intense individual.
*** Collin Bevins and Pierre Aka are both redshirt freshmen, but they sure don't look like it. Bevins entered the spring at 6-foot-5, 277 pounds. Aka weighed in at 6-foot-4, 273. Both already have the bodies to play ball in the Big 12. Now the question – are they tough enough? Time will tell. Regardless, playing defensive tackle in this league as a redshirt freshman is a very hard thing to do. My guess is that they will take their lumps but be better for it down the road.