Knowing that Iowa State linebacking legend Jake Knott (a Cyclone version of Chuck Norris without the lame beard of course) had some time to kill while waiting to learn of his National Football League fate, I recently reached out to No. 20 regarding his thoughts on last weekend's spring game.
Knott, who trained for the draft in Ames over the winter, has been around Iowa State's new football facility more than most current players since the 2012 season ended.
His takeaway from last Saturday's spring game, which he attended, was simple.
This Jeremiah George guy is pretty darn good.
"I think that Jeremiah really stood out, the way that he was flying around," said Knott without hesitation."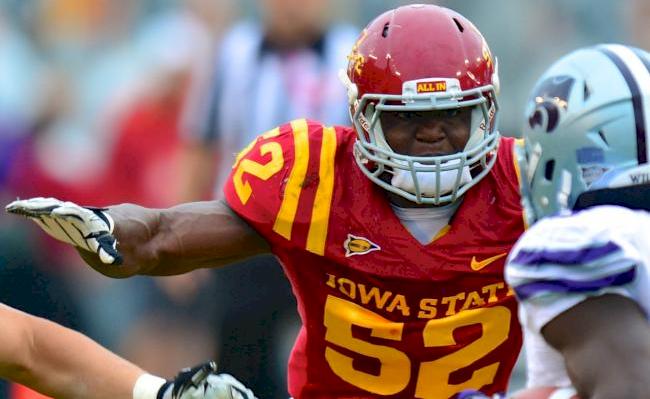 Athletic ability has never been a problem for George, who recorded 87 tackles last season.
"In the past, he has always questioned a few things here and there," said Knott. "That slowed him down a little bit but now, he knows everything. He has that knowledge part of the game down and it was pretty noticeable that he was the leader out there, vocally and physically. It is good to see."
Quite often in this job, I make predictions. Right or wrong (mostly wrong), you all seem to like them. Pageviews skyrocket when the world "prediction" is in a headline. Well last weekend, I made a spur of the moment prediction (these are always the most dangerous ones to make) during our spring game preview radio show.
"Mark my words on April 20, 2013. Jeremiah George will be a first-team All-Big 12 linebacker next season."
I feel this way for two reasons. 
1)   What Knott already spoke about. I have heard things…
2)   What George has in front of him. I'm not in the camp that believes Iowa State's defensive line is going to be terrible next season. In fact, if David Irving's "light" comes on and Rodney Coe isn't a colossal disappointment, there's a chance it could be better than that of a year ago. BUT, A.J. Klein and Jake Knott aren't on the 2013 roster. For the last two years, those dude has literally been human erasers out there. 
In a best-case scenario next season, Iowa State's defensive line will be an average group.
The point is, somebody has to get those tackles. My gut tells me it is going to be George.
I asked Knott if my prediction was logical or just plain ridiculous. 
"There is no doubt that he has that in him," said Knott. "He is a physical freak of nature. The game is coming easier to him now. He is starting to see those freak attributes come out in full force. He is going to make a lot of tackles and big plays this year."
No pressure Jeremiah…
What about little brother?
Jake knows this about little brother, redshirt freshman Luke, who is currently listed as Iowa State's second string WILL linebacker behind junior Jevohn Miller.
He has a high football IQ. Very high. 
"He did something one practice and Coach (Wally) Burnham would tell him to do something else instead, the next practice he would have it fixed," said Knott. "Switching from quarterback to linebacker, that's what he had to do."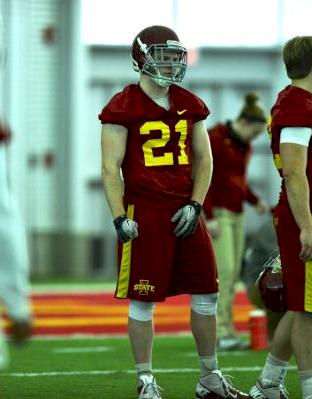 Jake coached Luke in the film room quite often this spring during the down time of his NFL training. 
"Playing in space and doing all of that, that he naturally picked up from day one," said Knott. "The stuff that he is learning is being in the box, all of the different runs that could possibly take place on every single play and formations." 
Luke came to Iowa State as a quarterback, only to be moved to defensive back for a short period of time and eventually landed at linebacker. 
"He has the overall concept of the game down to a science," said Knott. "He is finally transitioning that to linebacker which is a lot different than quarterback and defensive back."