AMES — Not being picked in the NFL Draft is not the end of an NFL career. Just ask Leonard Johnson.   
Leading up to the 2012 NFL Draft, Johnson had been projected as high as a third round pick by some "experts." Johnson tallied 241 tackles and six interceptions over his four-year career at Iowa State. 
Two-hundred and fifty-three players were taken in last year's draft and Johnson wasn't one of them. 
The result? Johnson started half of the games in his rookie season, picked off three passes and forced a fumble for the Tampa Bay Buccaneers. Not bad for a guy who nobody wanted. 
"That's how the league works. That's how teams work," said former Iowa State linebacker and 2013 draft hopeful A.J. Klein. "It was unfortunate that he fell out of the draft because obviously he is a great player and he proved that. But you have to deal with the cards that are dealt. He was put in that situation and he responded greatly."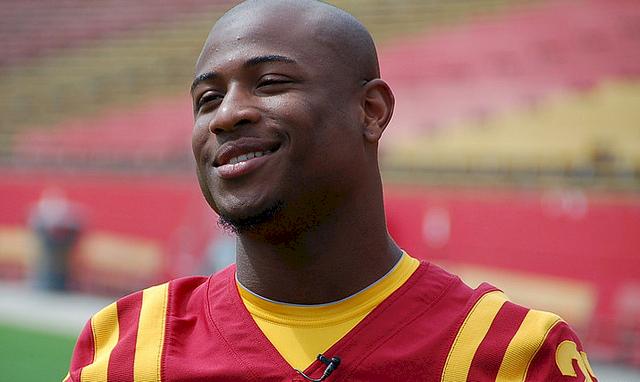 Klein likely won't have to worry about that scenario this weekend as he is being projected by most as a third to fifth round pick. 
"I've been hearing lots of different things round wise so it is basically just a flip of a coin to see how it lands," said Klein. "It is all about the right place, right time and all you need is one team to have a pick and fall in love with you at a certain time."
Johnson's journey from going undrafted to starting as a rookie is a rare story of success. Mini-camps are cruel to all rookies. They are hell for the undrafted ones. But Johnson's triumph does serve as a ray of hope for many Cyclones that are hoping to be chosen in this weekend's draft.
Ironman Jake Knott is one of those men. Knott, who racked up 347 tackles but fought injuries over the course of his college career, is somehow a tweener by most "experts" as draft weekend is finally here. 
"Right now I'm just kind of preparing for the worst and hoping for the best," said Knott. "I'm not putting all of my emphasis on this draft. I'm putting my emphasis on what I do when I get there."
Knott too has used his friend and former bash brother on Wally Burnham's Cyclone defense, Johnson as an inspiration.
"It shows that a lot of good people don't get drafted," said Knott. "Regardless of the situation that you are in, you've got to go in and prove that you can play to whoever does pick you."
Being overlooked isn't a new thing for Knott. It's been well-documented that Iowa State was the only BCS program in America that offered him a football scholarship out of high school and we all know how that turned out. 
Work ethic, knowledge of the game, overall toughness and an upside as high as a kite make Knott the ideal candidate for a team to take a flier on him in a late round.
"I think talking with them they know that I am a blue collar guy and that I'll work and do whatever they ask me to do regardless if I am starting, playing on special teams, being a practice player or whatever," said Knott. "They know that I'm not going to complain and that I'll do the work. I think that helps. It probably brings forth more coaches because they like guys that work hard."
If an NFL team gives No. 20 a shot, can you really imagine him not making the cut? 
McDonough, a specific type of target
Former Cyclone defensive tackle Jake McDonough is another Iowa Stater who is hoping to get a positive phone call from his agent this weekend. A special type of team, specifically those that play a 3-4 defense, might be McDonough's ticket to the league. 
"I have heard from a number of different scouts that see me as a five-technique lineman in a 3-4 scheme," said McDonough. "I've been getting quite a few calls from a number of different teams and they have all given me really good feedback. It is up to them if they want to pick me or not."
If his name doesn't get called, McDonough said that he too plans on going the Leonard Johnson route and signing with a franchise as a "priority free agent."
"That means that I would be able to choose where I get to go," said McDonough. "That's something that I'd have to sit down with my agent and see where I fit best. Seeing Leonard last year come up and become a starter and watching that, it's encouraging and makes me feel a little at ease about the process."
What they've been up to…
Klein has taken visits to various NFL teams over the last couple of weeks. When he hasn't been traveling, he's been finishing up class work in Ames and shooting pool with former teammates.
"I usually go to the pool hall every day with Carter (Bykowski) and Brayden (Burris) and Kurt (Hammerschmidt) and we shoot pool for a couple of hours."
If the NFL doesn't work out, a career as a pool hall hustler could be in the works for "A.K. 47."
"I'm getting better and better," boasted Klein. "A lot better."
Knott has spent an abundance of his free time watching film with his younger brother Luke, a redshirt freshman linebacker in Iowa State's program. In addition to that, his phone has been ringing off the hook.
"Just about every team has called me to verify contact information or whatever," said Knott. "You can tell the teams that are really interested because I'm talking to their linebacker coach and all that. They all seem to be impressed with my pro day and how quickly I recovered from the shoulder injury. That's good because it puts their minds at ease with any worries that they had. I seem to be going back up on draft boards, which is good." 
Where the party at?
Klein is heading back to his home in Wisconsin to watch the draft with close friends and family.
Knott's folks are heading up to Ames from Kansas City to hang out until his phone rings. Jake won't be sitting around the television though.
"That last day I will be golfing or doing something besides watching it," said Knott. "That would just be torture."
The 2013 NFL Draft begins on Thursday at 7 p.m. The four rounds of the draft will begin on Saturday morning at 11 a.m.