Since the season ended on a fateful Sunday afternoon one month ago in blasted Dayton, Ohio, nothing has changed regarding the 2013-14 Iowa State basketball team. The roster is still in tact (no transfers). Fred Hoiberg has a new deal. All is well in Ames. 
However during that nine-hour from Dayton to Des Moines during a ridiculous March blizzard, I wasn't entirely optimistic about next season for the Cyclones.
Now don't get me wrong – I knew with guys like Melvin Ejim and Georges Niang coming back to lead the way that Fred Hoiberg's team would at the very least be competitive. Matt Thomas and Monte Morris will both be true freshman, but legit Big 12 players at the same time. The junior college guys are toss-ups but you'd like to think be able to contribute at the same time.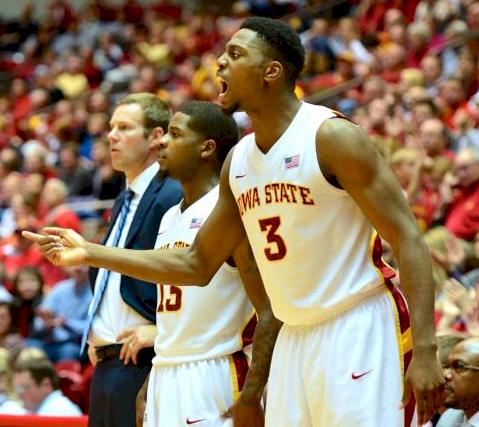 Add some role players, Hoiberg and his system to the equation and it is hard for me to believe that Iowa State will ever have a team that literally has no shot on certain Saturday's throughout the winter for quite some time. Use 2009 as an example – that team that started off with three scholarship players had no business being in some of the games that it darn near won. The 3-13 mark it left could have easily been 6-10 or even better. 
But I've got to be honest with you here on Tax Day 2013. After watching guys transfer/declare for the draft/roster changes galore in the Big 12 over the last three weeks, I wouldn't be surprised at all if Iowa State is picked to place fourth in the league's preseason poll and sixth at an absolute worst-case scenario.
Of course you've got Kansas (it just doesn't matter who is coming back people). Kansas State only loses three players from last year's team so the Wildcats will be strong once again. One can only assume that Marcus Smart will bolt for the NBA Draft, but LeBryan Nash is sticking around and we're still waiting to hear about Markel Brown at Oklahoma State. They deserve the early nod over the Cyclones. 
And then who?
Oklahoma? Lon Kruger has to replace Sam Grooms, Steven Pledger, Andrew Fitzgerald, Amath M'Baye and Romero Osby…He's got some talented young guys on the roster and maybe that gives OU a very slight chance to be picked ahead of Iowa State, maybe, let's add another maybe, but I wouldn't bet on it.
And of course, Baylor is Baylor is Baylor is Baylor. Scott Drew's group will be the wild card. The Bears will have plenty of talent next season even if Isaiah Austin and Cory Jefferson go pro (remember that Pierre Jackson is already a goner). But it's the whole Baylor is Baylor is Baylor is Baylor thing. The Bears, OU and Iowa State will be in that 4-6 range and it really could go in any order. 
I'd put my money on the Cyclones though because we all know that college basketball is a coach's game. There aren't many coaches in America that are hotter right now than this Hoiberg character…
I'm not saying that it's a stone cold lock that Iowa State will finish fourth in the league but I know how media thinks. With what could be (depending on what happens at OSU) the best one-two punch in the league returning next year in Niang/Ejim and Hoiberg leading the way, Iowa State will be one of those "they have a lot to replace but look out for these guys to be a sleeper team" in 2013.
I guarantee it.
It probably has more to do with the league than it does Iowa State too. After all, this will be Hoiberg's third-best team in the last three years (in my opinion) yet I fully anticipate the Cyclones to be ranked higher in the preseason than they were in each of the past two seasons (when Iowa State was picked eighth in the preseason). 
The Big 12 has fallen drastically in the last four years or so. Back in the day, you had Nebraska and Colorado as the dog teams that you knew you could beat regardless of where a game was being played. But even then, winning in that morgue called Boulder was never easy.
Now, TCU and Texas Tech are both a bit of a joke (although you'd like to think that both will be getting better here over the next few years – Tubby Smith has to be able to work some sort of magic in Lubbock right?). Add Texas to that list for next season. The wheels have officially fallen off of Rick Barnes' bus in Austin. West Virginia is a question mark (Although with Bob Huggins at the helm, I do see this team improving next season. It has to). 
The point is that I can tell you right here, right now, that there are at the very least seven games (both vs. Texas, both vs. Texas Tech, both vs. TCU and home vs. West Virginia) that Iowa State should have a great chance to win. Add the Hilton factor to the equation (Iowa State doesn't lose at home very often) and finding 11 league wins or more isn't that hard to do. And I am writing this on April 15.
Don't get too excited yet though. Iowa State has plenty of questions to answer (point guard, point guard, point guard) and 64 percent of its scoring from last season to replace. But based off of what has already happened in college basketball's very young offseason, what once looked like a big of a rebuilding season for Fred Hoiberg's program now appears to be anything but.