With warm weather approaching, it is important to take care of your yard. Nobody does it better than A+ Lawn and Landscape. Call A+ today at 515-289-2020 and get your first treatment for FREE! A+ Lawn and Landscape is the exclusive sponsor of Cyclone Fanatic's spring football coverage.
AMES — In 2010, tight end Collin Franklin caught 54 passes (19 more than any wide receiver on the roster) and led Iowa State in receiving with 530 yards. His position coach at the time was Courtney Messingham.
Iowa State's offensive coordinator knows a thing or two about tight ends. Combine that knowledge with the fact that Ernst Brun is returning for his senior season (he was tied with Josh Lenz for a team-high six touchdown catches last year) and the arrival of one E.J. Bibbs (who signed with Iowa State over Oklahoma), and it is fairly obvious that the tight end position will be critical to Iowa State's offensive success in 2013.
"We still have to keep getting E.J. and Ernst involved," said Messingham after Saturday's scrimmage. "I would like to see them be as big of a threat as Collin Franklin was in our offense."
This is where a relatively young and inexperienced quarterback named Sam Richardson enters the picture. 
"They (tight ends) become a security blanket when they really believe that they will make plays for them," said Messingham. "Both of the guys that we have, Ernst and E.J. are guys that are really big bodied."
Brun, who caught 26 passes for 330 yards and six touchdowns last season, was listed at 6-foot-3, 251 pounds to start the spring. Bibbs, who caught 22 passes for 230 yards and six touchdowns at Arizona Western C.C. last season, is listed at 6-foot-3, 250. 
"They are like that big Charles Barkley type where you feel like, he might not be 6-6 but he is a big body and if you can get it on the correct side of him, DB's and linebackers have trouble defending him because their body is so big and both have very good hands," said Messingham.
To wrap this up, it isn't like Iowa State has a boast of clear-cut studs at wide receiver returning next season either. Iowa State's wide outs are young and appear to be talented, but for the most are part unproven. How do you take pressure off of a young group of wide receivers? Having two legitimate receiving threats at tight end is a good start. 
Happy with Richardson
From day one, Iowa State's offensive coaches knew that Sam Richardson "got it" as far as the mental standpoint of being a quarterback went. Now, he's applying that knowledge from the film room to the football field.
"From day one I think we really realized that he understands schemes," said Messingham. "Now he is understanding them with the bullets flying, with the people around him."
The game has slowed down for Richardson after starting the last three games of last season and taking the majority of the snaps in the last three. Richardson surprised a lot of people when he ran for 247 yards on only 41 carries at the end of last season.
In Iowa State's offense, the quarterback has to be able to make plays with his legs. That is something that Richardson does in a sneaky way.
"The thing that people don't realize with Sam is he isn't a big bruiser as a quarterback runner, he's not a Collin Klein type of quarterback runner but he's faster than you think and he broke open a long run today," said Messingham. "He had a couple other really good runs, 10 or 15-yard runs. That's what I need from him. I don't need him to be a guy who is going to go for a 100-yard gain on any given play. I need him to get 10 or 15 so people really have to respect his ability."
Finding toughness
Inexperience on the defensive line has been a developing story all spring long for Iowa State. When the depth chart was released a few weeks ago, it became evident that redshirt freshmen Collin Bevins (pictured below) and Pierre Aka would be relied on as rookies in 2013. Those are just a couple of specifics. As a whole, senior defensive end Willie Scott is the only Cyclone defensive lineman that has ever started a game at iowa State. As is always the case with young guys playing that close to the ball, immediate toughness is a concern.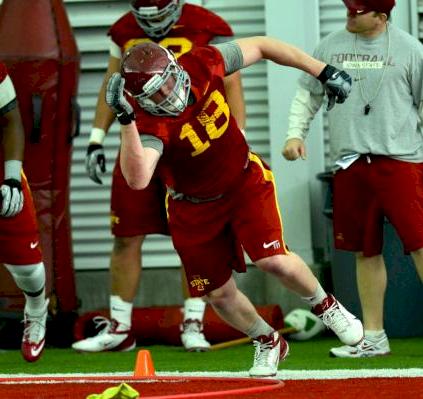 "I am seeing some of it. Not enough of it," said defensive coordinator Wally Burnham. "But we are putting them in situations in practice that will force them to get tougher or give in. For the most part, I haven't really seen anybody give in. That's what you are looking for to build that toughness."
Head coach Paul Rhoads has kept a close eye on the unit as well. 
"I think they are responding to the physical toughness challenge that is probably as mental as it is physical," said Rhoads. "To take on that beating and respond play after play starts with mindset and I think they are getting there. As a coach, you want five more spring practices. As a player, you want five less."
Iowa State will wrap up its spring football season on Saturday with the Cyclone Gridiron Club Spring Game that will kick off at 2 p.m. in Jack Trice Stadium. Remember to tune into the Cyclone Fanatic/Wilson Toyota Spring Game Preview Show from 12:45 to 1:45 on Des Moines' Sports Station, 1460 KXNO.