Take me for what I am – a hack blogger that works out of my mom's basement in my underwear (I'm a Hanes man if you were wondering) while I stuff Doritos down my face for nearly 10 hours every day.
That was a bit of an exaggeration. Let's try this again…
In reality, I am a hack blogger that works out of my own basement in jeans and a t-shirt and I try to eat an apple a day because it supposedly keeps the doctor away.
My short and pathetic football career was highlighted by a 27-yard touchdown reception I took to the house as a fighting Clarinda Cardinal in seventh grade (pretty sure we routed Red Oak on that fine Thursday afternoon) way back in 1998 (I Don't Want To Miss A Thing by Aerosmith was the top song in America at the time – yikes I'm getting old). And I once sacked Bret Meyer (yes the former Iowa State quarterback) as he was quarterbacking the future state championship winning Atlantic Trojans (again in seventh grade – I fully admit that I used to, currently do, and always will suck). 
By no means whatsoever do I have the credentials to be a general manager in the National Football League. 
Now that I have given you my complete background with the sport of football (I'm a fan of transparency), I do need to get something off of my chest on this beautiful Monday in central Iowa.
You, the 32 general managers in the NFL, screwed up big time over the weekend. You don't even know…
In the seventh round of this weekend's draft, you had a gem right there for the taking. Sure, he's had an injury or two over the course of his career, but this guy's work ethic is second to none. Don't take my word for it though. Ask anybody who has ever worked with him. They will tell you.  
You all want to talk about upside huh? Of his 347 career tackles, 223 of them were solo (that number really is insane if you think about it). A good chunk of them came when he was injured. Hell, it's been two years since we've seen this guy play football at 100 percent. 
But like the Energizer Bunny, he just kept going and going and going and going. The dude once dislocated his shoulder twice in a game, popped it back in himself both times, and still led his team in tackles on that very night. He played a game last season with a shoulder that was as messed up as Craig Sager's wardrobe.
This man is tougher than a cheap steak at Wal-Mart.
As an NFL GM, he is the exact type of player that you should be targeting in the seventh round.
That's a guy who obviously has a ton of talent with one shortcoming or two that is keeping other teams away, in this case injuries. A guy that can contribute immediately on special teams. A guy that will be a positive addition to any locker room. A guy that maybe, just maybe, could turn himself into a starter because you know he will work twice as hard as that first rounder you already drafted (and let me note that the first rounder probably had a much better defensive line ahead of him over four years than this guy). 
When Jake Knott falls in water, Jake Knott doesn't get wet. Water gets Jake Knott.
Take it from me, the hack blogger (that is actually writing this in his boxers and WWE t-shirt, yee haw) from the sticks of southwest Iowa who doesn't know a lick about the sport of football.
Y'all messed up biiiiiiiig time National Football League GM's. If you needed my help last weekend, why didn't you just ask? I was free…My consulting fee is a measly 100 K per draft too. You can afford it. I would have told you to draft Jake Knott – and that have been an incredible investment for your franchise. Great player. Great teammate. Phenomenal person. 
Knott signed a priority free agent deal with the Eagles and knowing him the way I do, he probably has a chip on his shoulder now (as if he didn't already). Just like Knott did after signing with Iowa State – remember when not one other BCS program offered him a scholarship?
If you Google "Jake Knott getting his ass kicked," you will generate zero results. It just doesn't happen. 
Jake Knott, welcome to the NFL. NFL, meet Jake Knott. He's going to be around for a while so you might as well get to know each other. 
Note: Chuck Norris jokes courtesy of this website. 

More NFL Draft musings…
*** Full disclosure – I am a fan of the Minnesota Vikings (like many of you who are reading this I assume). So on Thursday night when all of that drama surrounding the Vikings, trading up and potentially drafting Notre Dame's Manti Te'o was going down, I was intrigued, but not in a happy way. 
My take was simple. I didn't want Te'o on my team – at that time at least. It wasn't Te'o that I disliked. It was drafting a middle linebacker in the first round when I knew that a guy like A.J. Klein would be available in the fourth that bothered me.
*** Read what ESPN's draft experts said immediately following Klein being chosen by the Panthers ***

Really, what is the difference between A.J. Klein and Manti Te'o, other than the fact that one played at Notre Dame behind the best defensive line in college football (arguably of course) and the other at Iowa State?
Stack those guys up beside each other. Is Klein (who was drafted by Carolina in the fifth round) really that far behind Te'o (who by all means will be a solid NFL linebacker, no disrespect intended)?
Again, just a hack blogger's (who has now just cracked open an ice cold grape soda) opinion here, but if there is a difference between the two, it is very minor is it not? Is there really a three round difference between these two guys? I don't see it. 
I'd be a liar if I claimed to know a ton about the linebacking situation in Carolina but I really don't have much doubt when it comes to A.J. I assume he will start off on special teams but don't be surprised at all if he is starting in a few years.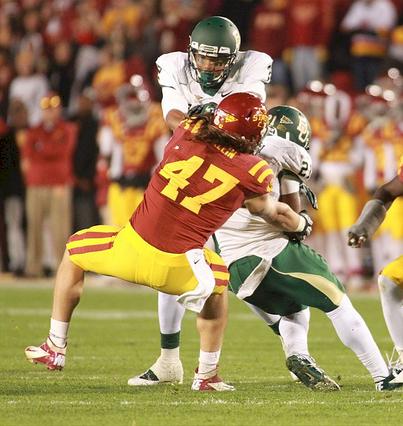 *** I was surprised when Iowa State's Carter Bykowski was drafted in the seventh round by the 49ers. I hadn't heard much about him having a shot to be picked. BUT, had you told me this would happen a year ago and I wouldn't have even raised an eyebrow.
That is all I heard last off-season.
"This Bykowski kid is legit." 
"He's got NFL written all over him."
Iowa State's offensive line struggled last season but individually, Bykowski has the measurables to play a the next level and he'll get his chance with one of the top teams in the league. 
*** I'm a big Josh Lenz guy. Who isn't? But man, he signed with the Bears…
Hey Josh – you're making it kinda hard for me to root for bro (as Triumph the Comic Dog would say, "I keeed I keeed).
Nonetheless, good luck. 
*** And last but not least, Jake McDonough is a J-E-T, JET, JET, JET.
He's a guy who I feel like can stick for a while in this league if he lands in the right spot. I trust that nobody knows this more than Jake and his agent and I'm sure that the signing with the Jets is a calculated move.
This is all good banter for a Monday folks. I remember not too long ago when I didn't have to pay attention to anything Iowa State related on NFL Draft weekend. That is no longer the case.
More progress. More progress.