AMES – Becoming an NFL linebacker isn't supposed to be easy. That is especially the case for an underrated prospect coming out of Iowa State with injury baggage connected to his name.
But nothing has ever come easy throughout Jake Knott's football career. He has played the starring role this movie before – and walked away a winner. Knott was under-recruited coming out of high school. Iowa State was his only high-major offer. Even when he got to Iowa State, expectations were low for the most part. Knott wasn't that hype guy who message boards raved about on signing day.
To most, Knott, a two-start signee out of Waukee, was a project at best. 
Three hundred and forty-seven tackles and a handful of nagging injuries later, Knott is now a legitimate NFL Draft prospect. With that, he has to prove himself all over again for more reasons than one. 
"I guess you just see how small you are in the grand scheme of things," said Knott of his experience at the NFL Combine earlier this week. "If you're not a top 10 first round guy, it is just like going into college again. Wherever you go and however you get there, you're still going to have to earn your spot and beat out some extremely talented people."
This is where Knott's overall positive outlook on life comes into play. You know – those Chuck Norris jokes and tough guy image. Knott's back has been against the wall since he was in high school. At a traditionally underdog college program like Iowa State, Knott was a major part of a culture change during Paul Rhoads' first four seasons in Ames. The comparison between Knott's high school to college transition is eerily similar to the one he is experiencing right now, attempting to prove himself to NFL teams.  
"I know what I have to do," said Knott. "I have to be perfect. I have to be able to take advantage of every opportunity that I get."
 The pressure is intense for any potential NFL draftee, but especially on Knott, who suffered a season-ending shoulder injury halfway through his senior season. Knott didn't compete in drills during the combine but did go through a rigorous schedule of team interviews and doctor check-ups – all of which he passed.
"After I got cleared by every single team doctor, that helped a lot," said Knott. "Not being able to compete because of a previous injury may raise some red flags and I guess puts more pressure on me to do extremely well at pro day."
That will go down on March 26 in Ames. Knott, whose shoulder is 100 percent and ready to go, will participate in every single drill on that day. Without combine numbers to compare his pro day results to, the pressure is on.
"I have to show how athletic I am and that I'm not just a smart, instinctive linebacker that does his job," said Knott. "I've got some athletic ability. I am going to be able to prove that at pro day with my times and individual workouts."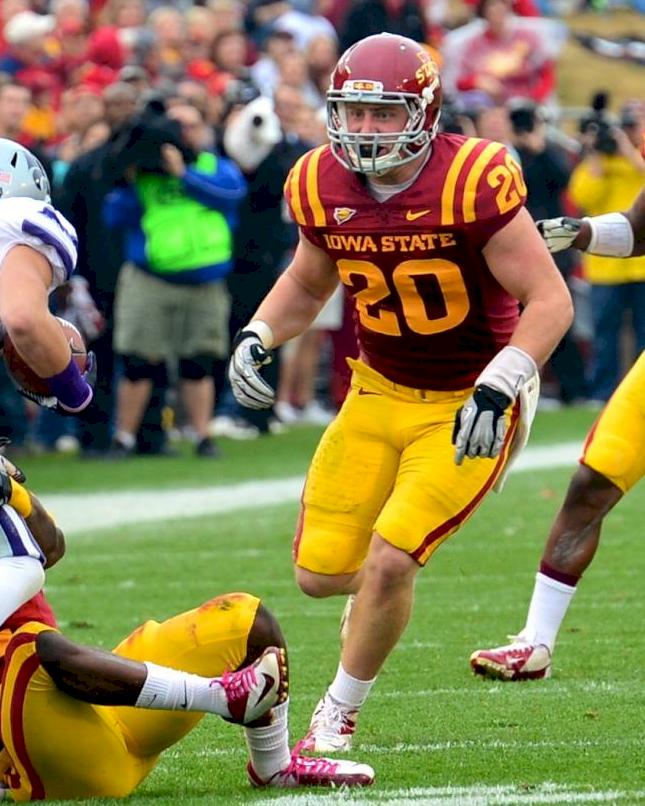 Knott's, who says he is in the best shape of his life, has plenty of confidence and rightfully so. Generally when it comes to draft prep, a guy's numbers start to plateau at some point. However, that hasn't been the case with Knott, whose numbers keep getting better. 
"I have PR'd every single week in every single event," said Knott. "Just seeing that makes it fun to go in to work every single day and making that your full-time job. That has to do with all of the little things I have been doing. Eating, sleeping, etc. It has worked for me so far and it is making me very confident about pro day."
Right now, the jury is still out on when/where Knott will be selected in 2013 NFL Draft, which begins on April 25. Most experts have him listed vaguely as a mid-round pick. However, pro day will decide a lot when it comes to Knott's future in the NFL. 
Cyclone Fanatic will be at pro day for complete converge as Knott and other former Cyclones compete in front of NFL scouts.
Check out Cyclone Fanatic on Friday for a look at how A.J. Klein's time at the NFL Combine went.