By Chris Williams, CycloneFanatic.com Publisher
Follow Chris on Twitter @ChrisMWilliams
AMES — Please accept this apology Cyclone Nation. I had the intent to post these notes that I took at Iowa State's first spring football practice (that was open to the media) on Wednesday but the day got a little bit busy and I think you all know why.
How about a little football conversation here at CycloneFanatic.com?
You won't read anything earth shattering in this blog but here are some of the things I took away from Tuesday's open practice.
CORNERBACK: Who is going to replace Leonard Johnson at cornerback for Iowa State? This question fascinates me when I look at Iowa State's pre-spring depth chart and after finally seeing some of the candidates in person, I'm even more interested in the topic.
There's your front-runner at this point, junior Jansen Watson (pictured below). The dude was a beast on special teams last year for the Cyclones.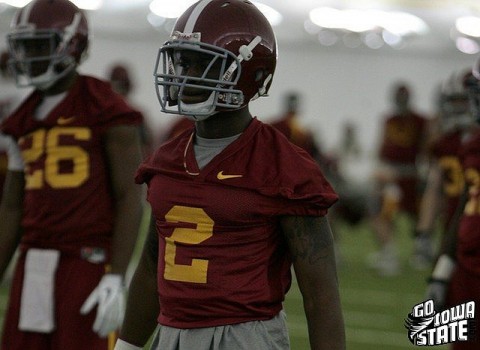 Even so, there's a crazy amount of young talent at defensive back right now for Iowa State. Watson entered the spring at No. 1 but I'm hearing that the staff is extremely high on redshirt freshmen Kenneth Lynn and Sam Richardson as well.
Then there's sophomore Matt Thomas and JUCO newcomer Clifford Stokes (pictured below) as well…
Replacing Leonard will not be easy to do but at the very least, Paul Rhoads will have a handful of choices.
I wouldn't be surprised to see this be a cornerback-by-committee type of thing depending on matchups and what not.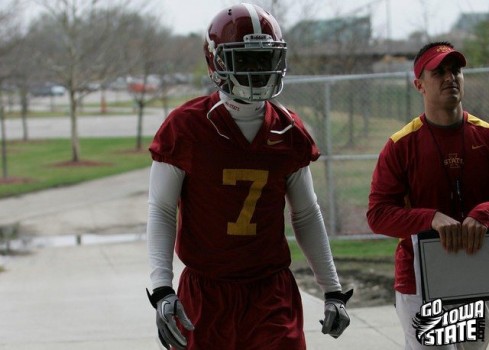 SLEEPERS: Our Austen Arnaud attended practice with me on Tuesday. We came up with these three guys as potential sleepers…
— Ernst Brun at tight end. He's a physical freak at 6-foot-3, 240 pounds. Brun redshirted last year and is currently second on the depth chart behind Kurt Hammerschmidt (who by the way is HUGE right now at 271 pounds – guy looks good). Brun certainly has all of the physical tools to bring the tight end position back from the dead at Iowa State but is he mentally ready for the division one game? We'll see.
— Arnaud referred to redshirt freshman walk-on wide receiver Brett Medders (pictured below) as "the next Jake Williams." Medders came to camp at 6-foot-2, 214 pounds. He wears number 83….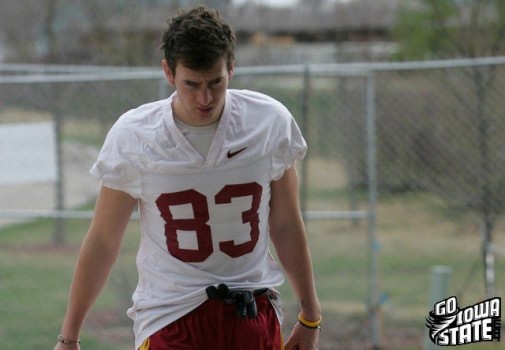 — I've heard good things about another walk-on wide receiver in Justin Coleman. He's a 5-foot-11, 193-pound junior who transferred to Iowa State from Nebraska-Omaha (D-2). Both of these guys adds some serious depth to Iowa State's talented group of young wide receivers but finding enough snaps for everyone will be a problem…
— I've heard a lot of positive things about sophomore walk-on running back Tyler Leo but like with the wide receivers, reps will be hard to find with a good chunk of depth ahead of him at the position.
RANDOMS:
— Freshmen running backs DeVondrick Nealy (below) and Rob Standard certainly pass the eye test but then again, I saw them running around in shorts. Nobody was trying to hit them on Tuesday.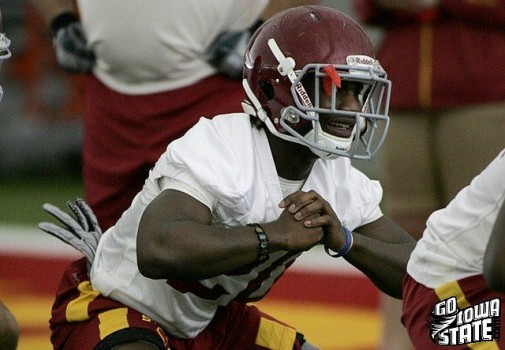 — Jerome Tiller looks like a wide receiver. I don't know if he'll play much but I did find it intriguing that when the pre-spring depth chart came out, Tiller was tied for No. 2 alongside redshirt freshman Quenton Bundrage. This tells me that when Tiller took reps at the position last year for the scout team, he had to have done a decent job.
— Iowa State's roster boasts two of the best linebackers in America in Jake Knott and A.J. Klein. These iron men never miss starts but depth at this position is a bit concerning. Having said that, I know that the staff is extremely high on sophomore WLB Jevohn Miller. He's currently up to 6-foot-1, 242-pounds.
— Junior cornerback Clifford Stokes looked smaller than I had anticipated him to but he moves very well. At 6-foot-1 175 pounds, his length alone should earn him some playing time in the fall.
— Redshirt freshman nose tackle Quinton Pompey is currently not participating in contact drills due to the fact that he is recovering from a knee injury. That's a shame too. At that position, freshmen need all of the reps that they can get.