AMES — Hello change.
Iowa State rolled out its new offensive line coach, Chris Klenakis, when spring football kicked off on Tuesday and because of that, the old days are gone.
What lies ahead of the big boys up front is still a mystery but according to Paul Rhoads, change will inevitably occur at this critical position group over the next two weeks.
"A lot of changes," said Rhoads. "Any time that you have a new guy in charge of a position group you have different verbiage. You have a different way of presenting that. Whether it is fiery of loud or quiet or however that is. You have that group of players having to adjust to that."
Klenakis joins Rhoads' staff via Arkansas, where he served as the offensive line coach for the past three seasons. Prior to that, Klenakis was the offensive coordinator at Nevada from 2007-2009 where he is credited for being one of the creators of the "Pistol" offense. 
"There are different drills," said Rhoads. "There are some tweaks in the offense and with what Coach K is bring with the Pistol knowledge, there is a learning curve taking place with both him with his new players and his players with him."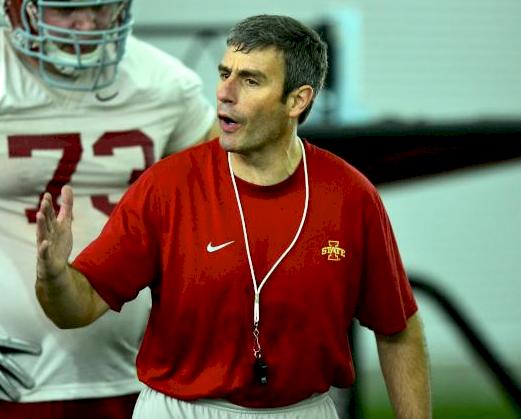 On Tuesday, change wasn't only seen at the top of the position group with its leader though. Iowa State's entire offensive line got mixed up via the pre-spring depth chart that Rhoads released.
Jacob Gannon and Kyle Lichtenberg had each been moved from guard to tackle, where both are listed as starters. Then there was the reappearance of the guy who might have the worst luck in the world, junior Shaban Dika as Iowa State's starting left guard. During his three years at Iowa State, Dika has torn his ACL not once, but twice!
"He has pushed through very nicely," said Rhoads. "We could have probably done more with him late in the fall but coming off of a second one, you are a little apprehensive of doing that. We nursed him so to speak to get him to spring. We even took it easy on him in some of the winter stuff that we were doing and can hopefully get 15 practices out of him."
Insiders have said repeatedly over the last two years that Dika was good enough to start. Now, the hope is that Dika, who weighed in at 6-foot-5, 322 pounds, can finally stay healthy.
"He is a physical, strong offensive lineman," said Rhoads. "He is what we need more of especially inside. Hopefully he is going to provide it."