On Saturday, the Iowa State men's basketball team will attempt to bounce back from its most heartbreaking loss of the season.
For Lon Kruger's Oklahoma Soooners – ditto.
Oklahoma blew a 22-point lead in the final eight minutes of regulation in an overtime loss at Texas on Wednesday night. Now, the Cyclones and Sooners are both 9-6 and tied for fourth in the Big 12 with only three regular season games remaining.
For both teams, Saturday is a big one.
"That was an absolute heartbreaker for those guys," said Iowa State head coach Fred Hoiberg on Thursday. "I feel their pain. We've been a part of some very disappointing ones." 
Chalk that up as the understatement of the year. 
Hoiberg's Cyclones will attempt to respond from what our friends over at Wide Right and Natty Light have titled, "The Hilton Screwjob." After Monday's 108-96 overtime loss to Kansas, the Big 12 Conference publically admitted to officiating errors in the games closing minutes – officiating errors that any objective human being with eyesight saw cost Iowa State the game.
"We still got the loss," said Will Clyburn, who claimed the Big 12 statement didn't mean much to him. "We still should have had that game. Even with the calls, we should have won that game. I don't think it makes it any better."
Hoiberg noted that his team has moved on from Monday's controversy.
"We've let it hurt us. We've let the disappointment sink in but then we moved past it," said Hoiberg. "We move on and we try to keep it as positive as we can with these guys. That is what they seem to respond to."
Iowa State is 3-1 following a loss in the Big 12 so far this season, however none of those wins have been on the road. 
"It's a team thing. We lose as one. We win together," said Tyrus McGee. "We've got to regroup and get rid of all the negative things that happened. Turn things positive and keep winning."
Iowa State defeated Oklahoma 83-64 in Hilton Coliseum back on Feb. 4. Clyburn led the way with 19 points for the Cyclones, who arguably played their most complete game of the season in the victory.
"We executed our game plan from start to finish," said Hoiberg. "That allowed us to get that lead and keep that lead." 
Prediction
I'm already on record picking Iowa State to win out. I know, I know – take those cardinal and gold glasses off right Chris? 
Yeah. Maybe. But I'm also a believer that what goes around comes around, or however the saying goes. Think about this season as a whole – how many awful breaks has Iowa State taken? Seriously. It's unheard of. 
Eventually, this team HAS to catch a break or two. Right?
As much respect as I have for Lon Kruger, I respectfully view this as one of the best match-ups for Iowa State in the Big 12. Chris Babb has owned Steven Pledger over the last two years. It comes down to the bigs and Iowa State's ability to make shots like it did back on Feb. 4. 
By no means am I anticipating a blowout. Oklahoma is 6-1 on its home floor in league play. But again, eventually the luck has to turn around for Iowa State. I see that starting on Saturday. Give me the Cyclones by five. 
McGee is feeling it
Had Iowa State held on to win against Kansas on Monday, Tyrus McGee would have gone down as a Cyclone legend. The senior went 6-for-10 from 3-point range on the night, knocking down some of the most difficult shots Iowa State fans have seen in quite some time.
"I didn't really feel different but I felt that like everything I put up would go in," said McGee. "I have been shooting since I've been here. Everybody knows that too but it isn't anything that surprised me. It surprised other people but I just continue to keep shooting."
McGee, an Oklahoma native, currently leads the Big 12 in 3-point field goal percentage (46 percent) and 3-point field goals made, averaging 2.82 per contest.
"Unbelievable were some of those shots that he had going in," said Hoiberg of McGee's performance. "He had Fran Fraschilla and Brent Musburger in aw when he came off of those screens and knocked down those shots. That's what he's been doing for two years here. He's playing at a very high level with a lot of confidence right now. When Tyrus plays with confidence, which is 100 percent of the time, he is a pretty dangerous player."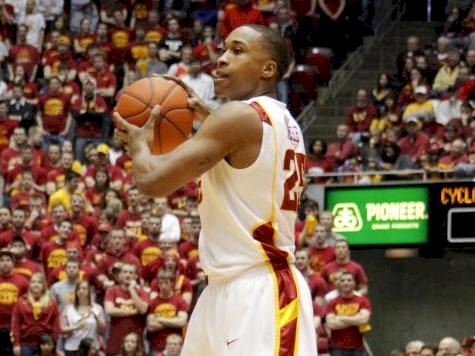 Quotable: Fred Hoiberg on Tyrus McGee
"I don't think you ever have to question Tyrus' confidence. Every time that he shoots the ball, which is what you love about him, he thinks it is going in and I think it is going in. A guy that is a volume shooter like Tyrus is, to shoot the percentage that he is shooting behind the arc is a pretty special season that he is having."