AMES — Trap game? Really? You really thought that Iowa State had forgotten about lously loss in Lubbock back on Jan. 23? This one was definitley not a trap game. Go ahead and let the hype machine for Monday's showdown with Kansas begin Cyclone Nation. Texas Tech is out of the way. 
Iowa State (19-8, 9-5) took care of business in front of a sold out Hilton Coliseum on Saturday in dominating fashion, avenging its mid-season loss to Texas Tech (9-16, 2-12) and rolling to an 86-66 final.
Consider this: The Cyclones only scored 51 points on that fateful winter night in Lubbock. You remember that night right? It was the one in which much of the fan base went ahead and wrote off the season for the Cyclones. Iowa State had 51 points with 12:58 to play in Saturday's win. Iowa State scored 50 points in the second half alone while converting on 49 percent of its field goal attempts.
"I don't think that this could have been a trap game for us," said junior Melvin Ejim. "This is a team that we went down there and they beat us. We circled this on our calendar and we knew that we really wanted to go out and play hard and beat these guys."
And that they did. It wasn't always pretty. Iowa State did struggle for the first 15 minutes of the game before finding an offensive flow. The slow start didn't occur because the Cyclones were looking ahead to Kansas though. 
"We knew exactly what to expect," said Ejim. "We knew exactly what type of intensity that we had to play at – what level we had to play at."
Chris Babb and Will Clyburn each scored 17 points to lead the way for Iowa State, who will host Kansas on Monday evening at 8. Tyrus McGee and Ejim scored 13 points a piece as well. 
Iowa State's home court winning streak is now at 22 games, the second-longest streak in school history.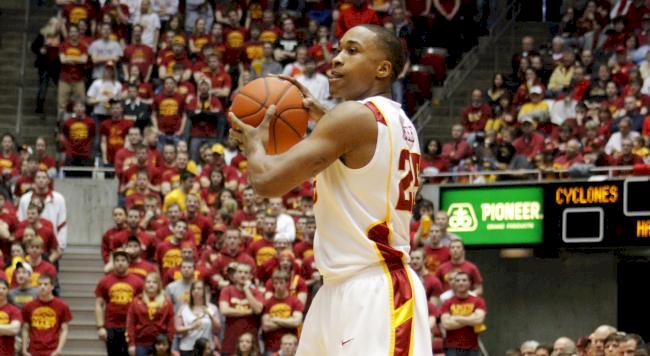 Player of the Game
Chris Babb – Fred Hoiberg says it is all about confidence when it comes to Chris Babb's offensive game. If that is the case (and who am I to doubt the Mayor when it comes to shooting?), then Babb's confidence is at an all-time high at a very good time for this basketball team. 
Babb went 5-for-9 from 3-point range in the contest in the Tech win. He's been red hot ever since Iowa State's loss to Oklahoma State on Jan. 30. 
"When he is out there playing with confidence and playing with a swagger, he is pretty darn good," said Hoiberg. "He stepped up and knocked down shots today with zero hesitation. That's when shooters play their best. When you go out there and are thinking 'the next one is going to go in,' it usually doesn't. When you go out there and just play and relax, that's when shooters play their best."
How about a comparison on your team coach?
"That's why Tyrus is so good," Hoiberg joked. "He never thinks about it."
Hoiberg said that with a smile but there's a lot of truth to it too. McGee, who ended the day making 5-of-7 field goal attempts, is as fearless as they come. We're starting to see that from Babb as well. 
"I think in that Oklahoma State game that a lot of shots just started falling. I have had a lot of confidence since then," said Babb, whose five 3-pointers matched a season-high (Oklahoma State). "I'm just really flowing on offense. Everyone on the team is an offensive threat at this point so I can be anybody."
Babb averaged 2.9 (46) threes per game in his first 16 games of the season. In Babb's last nine (since Bubu Palo returned to the team), he's made 3.6 (32) per contest. 
Three Up
Unselfish – This is one of those double-take, you just don't see very often statistics. As a whole, Iowa State converted on 16 field goals in the rout. The Cyclones dished out 18 assists along the way. 
"That's a sign of a very unselfish game and had the ball moving around," said Hoiberg. "That was the difference from the time that we played down there. We really got stagnant, the most stagnant that we've been all season. We went out there and played the right way and continued to get that ball moving around the perimeter. I thought was the difference."
Korie Lucious led Iowa State with six assists to only two turnovers. 
Rebounding – Remember when Melvin Ejim was that freshman playing out of position in the Big 12? Now, the 6-foot-6 junior is a double-double machine who is still the Big 12's leading rebounder with March only being a few days away. 
Ejim did what Ejim does, scoring 13 points with 13 rebounds  and recording his 12th double-double of the season. 
"I think I didn't have a choice. In order to be successful, you have to adapt," said Ejim of his role as Iowa State's tough guy. "I think that I did that. I willingly did that. I've been playing well and I've been doing a good job down there and I guess it worked out."
With 701 career rebounds as a Cyclone, he's only the 11th Iowa Stater in history to reach that 700 club. 
Ejim wasn't the only Cyclone crashing the boards in the win though. Iowa State out-rebounded Tech 43-31. Tyrus McGee chipped in with seven boards. Babb and Will Clyburn also had six a piece.  
Monday night – The stage has been set. Iowa State rolled the Red Raiders. Kansas made TCU look like a middle school team. 
As was the case with Texas Tech, the Cyclones will once again have revenge on the mind when Kansas comes to town for Big Monday on ESPN in only two days. Not to bring up painful memories, but the Cyclones lost maybe their most heartbreaking game of the season (which is saying something) in Lawrence (in overtime mind you) back on Jan. 9. 
"The big thing is making the necessary corrections," said Hoiberg. "If we come out and play with that same type of effort, we'll have a chance."
Check out Cyclone Fanatic on Sunday for more on Monday's game with Kansas. 
Three Down
First 15 minutes – …were ugly for the Cyclones. In fact, this game was actually tied at 26 with 4:36 to play in the first half. 
"Babb hit a couple of threes in transition to end the first half," said Hoiberg. "Melvin gets the foul, banks one of the free throws and hits the other one. That's when we got a little pace in the game and that definitely played in our favor."
Iowa State ended the first half on a 10-3 run and never looked back. 
Big man foul trouble – It keeps happening…It cannot happen on Monday or the Jayhawks will make Iowa State pay. 
Georges Niang fouled out of this one. Melvin Ejim had four personals. 
None – You know the rule…No third down for league wins.