In five days, I'm shaving my head and here's why:
When my wife and I moved into our home in Bondurant almost a year and a half ago, we did not know a single soul in this town. That day, a stupidly hot one in July, was a day that I will never forget. With the help of our very close friends and family, we unloaded the U-Haul delivered it back to Ames and eventually; those friends and family were gone. 
The newest chapter in our life had begun. 
That night, while unloading a lawnmower that I had just bought (a LawnMan from Menards – impressive right?), our neighbor from across the street and his two beautiful daughters stopped by to say hello. His name is Kris, a man who I could tell from the minute I met him, was full of spirit. He's the type of guy who is passionate about everything that he sinks his teeth into. He is the Clark Griswold of our neighborhood – dude loves Christmas lights. As do his girls, Emma and Ava – both are as friendly as can be. I actually think that at first, the girls were bit disappointed that Ashley and I moved into the neighborhood. I'm pretty sure that they wanted new neighbors that would bring more kids into the mix! Still do this day, we have not delivered! 
Luckily for Emma and Ava though, Paisley, who as the time was a four-month old Golden Retriever (and a darn cute one at that), did the trick. Over the next few months, Ashley and I settled into our home. The Hutchinson's have always been the best neighbors that a man could ever imagine having.  From the multiple times I've forgotten to shut my garage door to the time when Kris called me on my way out of town to alert me that the tailgate was down in my truck, to the times when he used his GIANT snowblower to help a guy like me with only a shovel out, I know that if our family ever needs anything, they are people we can call.
You know what? Life is good. I can't complain at all about anything. My wife and I are both employeed. We're healthy. Food is on the table every single night. I shouldn't complain at all about anything because the things that I often times find myself complaining about just don't matter.
Last week is a great example. You're all Cyclones reading this. Last week wasn't one of the best that we've had over the last few years am I right? Yuck. Yuck. Yuck. Back to the story…
About three months after moving in, Ashley and I discovered that the sweet little neighbor girl Ava (who was five a the time – she's now seven) had been diagnosed with a brain tumor on Jan. 11, 2008. Nobody ever told us this. We just kind of figured it out on our own.
After going though what most human beings can't even imagine, Ava's cancer is now in remission so that is great news. She's the toughest child I've ever met and always has a smile on her face.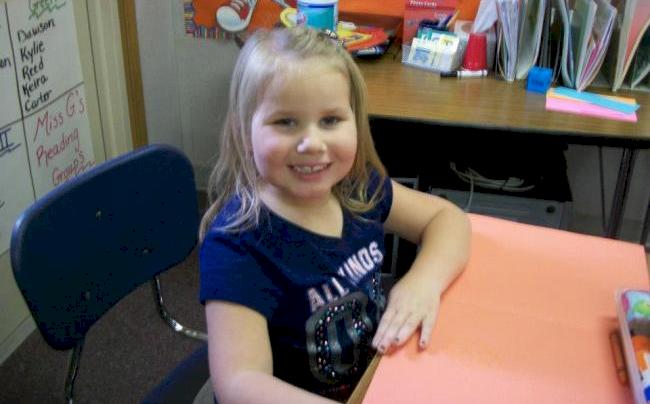 As I mentioned above, Ava's father Kris and his wife Joni are full of spirit. We've gotten to know them more and more since that move in date and we now consider them close family friends. 
Ava's older sister, Emma, is a heck of a softball player. She's a catcher. In fact, somebody at Iowa State better take a look at this young gal before one of the big dogs in college softball scoops her up in a few years! That's a fact!
And Ava, well she managed to sell me six boxes of Girl Scout Cookies a few weeks ago (while I'm trying to lose weight I might add). She stopped by the house yesterday with her dad and I'm happy to report that she is doing just fine.
My wife and I obviously don't have kids (although having said that, good luck trying to convince us that our pets don't count). We hope to someday have children of the human race as well. My wife is a veterinarian. She often times comes home saddened by some of the heartbreaking things that she sees on a daily basis in her line of work. Sick and dying animals really tug at our hearts. But the thought of any person having to watch their child go through what our friends and neighbors experienced is simply gut wrenching.
I don't know about you all, but do you ever ask yourself, "What can I do?"
I do this all of the time.
Stories like this can be found all over the place. We can't take away the pain and the suffering that these families and children have gone through in the past but we very much can give and pray for those in the future.
So on Saturday night, I'm going to do the small part that I can and am shaving my head in honor of Ava. But that is the easy part. My hair will grow back. As will be the case with the dozens of good folks will be doing this at the new Founders Irish Pub in Bondurant. What's even more exciting is that the Lohse Family Foundation has pledged to match all donations raised at this event up to $50,000.
That's why today, I am using Monday Musings as a mouthpiece to accomplish the most important task of all. I am asking the 15,000 (plus) registered users of Cyclone Fanatic to give back to a very worthy cause. Since I was hired to publish this site in the fall of 2009, we've never asked for a dime from any of you. Today, I am asking for one dollar (which doesn't even buy you one-third of a gallon of gas) to the St. Baldrick's Foundation (and yes, we'll take more if you feel the need to give more).
My goal is to raise $5,000 in donations for the event (all proceeds go to the St. Baldrick's Foundation) for me to shave my head.
That is a very conservative goal too in my opinion. We, the Cyclone fanatics of this world, can do so much more than that. Every day when I turn on my laptop, I'm even more amazed at the reach of this website. Tens of thousands of you log onto Cyclone Fanatic every day from all over the world. Often times (last week is a great example), message boards carry a bad stigma with them. Let's change that way of thinking today and do some good within the CF community. 
If every one of you would give just one dollar to the cause, we will make that $5,000 goal look foolish at the end of the week. To donate to the cause, CLICK HERE to visit my St. Baldrick's Foundation page. There you will see more details on where the money goes (thte St. Baldrick's Foundation)and more.
And next week when you read Monday Musings, my hair will have disappeared a lot like Iowa State's defense over the last two games! I'll post a picture of my bald head just in time for March Madness! Maybe Hoiberg and the guys can rub it down in Kansas City for good luck!
Stay tuned to Cyclone Fanatic later today for coverage of Fred Hoiberg's weekly press conference. Also, it is Senior Night in Hilton for the Iowa State women's basketball team and as always, we'll be there to cover it.