By Chris Williams, CycloneFanatic.com Publisher
Follow Chris on Twitter @ChrisMWilliams  
Offensive line injuries were a pain in the rear for the Iowa State football program in 2011. However, those setbacks have turned into one major blessing this fall, as the offensive line is promising to boast more experience and depth in 2012.
Kelechi Osemele, Hayworth Hicks, Brayden Burris and Ethan Tuftee all missed significant time during Iowa State's run to the Pinstripe Bowl last season and because of it, youngsters like Kyle Litchenberg, Jacob Gannon, and Carter Bykowski (he's a senior but was rather inexperienced heading into last season) saw significant snaps come their way.
After Thursday night's spring practice, Iowa State offensive line coach Bill Bleil said that the experienced gained by many in 2011 is already paying off in a big way.
"You get those guys who have 100 or 150 snaps under their belt and they are a little more confident," said Bleil. "They feel like they are going to get the job done and we feel like they are going to get the job done. They play better. It has helped tremendously, so much that you know if you get to a point that you always want to bring those young guys along and keep getting them reps on game day. It is so important for them."
Seven Cyclones on the depth chart have seen significant on-field playing time. It's that depth that has Bleil so excited for the future.
"We've got competition at tackle. We've got competition at guard. We're getting pushed at center. Anytime that you can have that situation you feel good," said Bleil. "You're going to get better every day because everybody knows they have to come to practice or that guy is going to take their job. We've not always been in position to have that."
REPLACING KO: Finding a replacement for a guy like Kelechi Osemele is a complex issue. It's not just having to replace an All-American. It's having to change the entire mindset of an offensive line.
For example with Osemele in the lineup, Iowa State never had to worry about his assignment. One-on-one, "KO" could essentially handle whatever the defense brought his way.
"You always knew that you could single somebody up with him. You didn't need anybody to double at that left tackle spot," said Bleil.
The same can be said for last year's right tackle, Hayworth Hicks.
"Tom Farniok was a young redshirt freshman playing in this league and sometimes you had to slide a couple of guys together and have two make one," said Bleil. "You had Hicks at guard and 'KO' at left tackle and you know that you had two singles there. Obviously it brought stability to the line."
The two men who reaped the most benefits from last year's injury bug were Carter Bykowski and Kyle Lichtenberg. They're currently competing for the starting spot at left tackle. Bykowski had the edge when the pre-spring depth chart was released on Monday.
Lichtenberg (pictured below) however has put on nearly 25 pounds in the offseason and looks to be more of an imposing figure for his junior campaign. Bleil said that Lichtenberg is currently getting reps at left and right tackle.
"He's going to get equal No. 1 reps and deservingly so," said Bleil. "He's playing better right now than he has ever played. He's a great athlete."
The best news about Iowa State's situation at tackle?
"Right now, I could put either one of them in and not bat an eye," said Bleil. "We just need to be consistently with five guys and be really good with the other guys."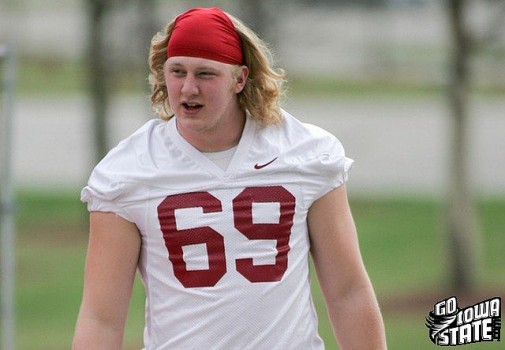 TOUGH GUY: If you've ever wondered who the toughest guy on Iowa State's football team is, senior right tackle Brayden Burris is probably in the running for the honor. He broke his leg in last season's loss to Texas, only to come back and play against Kansas State to play with a plate inside of it. Bleil said that Burris is back and he's better than ever.
"Brayden is one of those guys who is never going to complain. You're never going to know. You're going to have to pry it out of him," said Bleil. "He's a good football player. He has responded extremely well. I think that the pain is gone. He's running well."
GUARDS: A couple of notes on Iowa State's situation at left and right guard…
— I'm hearing that once he's 100 percent healthy, Shaban Dika will push Jacob Gannon at the right guard position. Dika missed all of last season due to an ACL tear but had shown promise before that. Gannon currently has the edge based off of experience that he gained last season.
— Keep an eye on the two-deep at left guard. Right now, sophomore Bob Graham has a big OR next to his name with redshirt freshman Oni Omoile.