Averaging 24.54 points per game, Iowa State's offense ended the 2012 campaign ranked 85th nationally in scoring offense and ninth in the Big 12. In the high-flying Big 12 and an inexperienced front-seven set to take the field on defense, that number obviously has to improve if Paul Rhoads' program wants to reach a bowl game for the fourth time in five years this season.
With fall camp set to begin on Monday, here's a preview of what is in store for the Cyclones on offense featuring quotes from offensive coordinator Courtney Messingham.
Key position battle 
For once, it isn't quarterback and around Ames, that seems to be a refreshing piece of news.
Iowa State has a positive "problem" to deal with at running back though. Senior James White enters camp at the top of the depth chart but behind him, Shontrelle Johnson, Jeff Woody, Aaron Wimberly, DeVondrick Nealy and Rob Standard are all competing for the No. 2 spot.
Only so many guys can get quality snaps at running back right? Correct. But because of this conundrum, Iowa State is planning on getting more creative this fall. That's according to Messingham at least.
"There are two things that we have to do from that standpoint," Messingham said. "The first is to figure out how to use all of their abilities the best way that we can. If that means getting two running backs on the field in a two-back offensive set, two running backs in a one-back set and one of those guys is maybe out as a wide receiver, if their talents can help us then we need to find a way to get them on the field. That is the number one thing."
After Iowa State's spring game in April, sophomore DeVondrick Nealy alluded to this. The two-back set isn't something that Iowa State showed much of on that spring day at Jack Trice Stadium, but Messingham's recent comments combined with Nealy's interview point towards it.
"The second thing is to continually preach to them that the team has got to come along with their individual goals – the team's ability to be successful," Messingham said. "The team has to be in front of their individual goals. If we can keep that mindset with all of them and also show that we are going to try to use their abilities even if it isn't always in the 'Pistol,' if they are at wide receiver or if we are in a two-back set, we have to show that we are going to try and find those things and that is part of our offense." 
The good thing about Iowa State's situation at running back is for the most part, these guys compliment each other well. 
All around, White does everything pretty well but nothing great. He's like Curtis Stinson, but a running back in football.Johnson is shifty as all get out but is coming off of a recent ACL tear. Wimberly is supposedly one of the fastest players on the team but lacks experience at the D-1 level. Woody is a bulldozer but he isn't a feature back. Nealy looks like a young Shontrelle Johnson and Standard is apparently being groomed to be the next Jeff Woody.
Who will get how many snaps in 2013? Where in the heck will these guys be lining up in the fall? A guy could go on and on asking questions about Iowa State's group of running backs for 2013. Stay tuned as this will be a major story surrounding the Iowa State football program for the entire month of August.
Biggest question
Given the vast amount of inexperience at wide receiver, that position would make sense here.
However, we still haven't seen much from Sam Richardson. Is a three game sample big enough for Iowa State fans to feel comfortable that will be the guy going forward?
In my opinion, no.
The word coming out of Ames is that Richardson has improved both physically and as a leader since the beginning of fall camp 2012. Those are both good signs.
But if you take the Kansas game out of the scenario, Richardson's stats against West Virginia and Tulsa were anything but spectacular. The then-freshman completed 44 percent of his passes in those outings and threw four touchdowns to only one interception. The TD-INT ratio is encouraging, but the 44 percent is not.
Having said that, the West Virginia game was one of the coldest that I remember at Jack Trice Stadium in quite some time and Richardson had the flu against Tulsa. Excuses, excuses. Still, those points are valid. 
I write all of this not to be down on Richardson, but to be realistic about Iowa State's situation at quarterback. It is far from being fine and dandy. Richardson still has a lot to prove.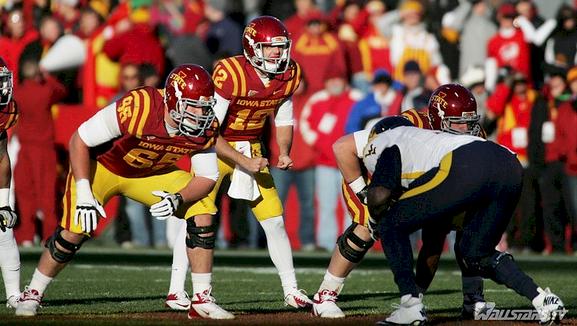 More targets? 
After discussing Iowa State's quarterback situation, I bluntly asked Messingham if Richardson would have more options to throw to than Steele Jantz and Jared Barnett had a year ago. His answer:
"On paper, I believe you can say that you have more options. But they have to go do it on the football field. They have to go produce on game day. An example would be, we lost four wide receivers who were seniors who were pretty productive. Especially when healthy, a Josh Lenz was pretty productive. Jarvis West is somewhat of a proven commodity and will step up. Quenton Bundrage is a guy who all of us feel very comfortable with on the field. Now he has to take his game to another level where people in the league start staying, 'Oh yeah, I know who Quenton Bundrage is.' Those two will be good leaders and make the plays that we think that they can along with Justin Coleman, who through spring has really put himself in a position where people feel comfortable with him. We believe that he can make the plays that he has always known he can make. Those guys look good on paper but now they need to make it happen in a game setting."
To simplify things, this is what I get from what Messingham is saying: "The talent is there but we still don't know how these guys will produce on game day."
Messingham didn't mention senior tight end Ernst Brun in that quote. It isn't crazy to think that Brun could realistically lead Iowa State in receiving this season.
As is the case at running back, wide receiver will be an interesting position to follow all camp long.
The trenches
This is where it all begins and frankly, the Cyclones weren't very good on the offensive line last season. New line coach Chris Klenakis installed his more physical approach to this group during the spring and it will be interesting to see how the group progresses throughout the 2013 season.
For the most part, the starting five on the offensive line appears to be pretty set. But position battles in the two and three-deeps are critical here.
Three intriguing players
Aaron Wimberly, RB –This JuCo transfer will be in the mix at running back and is also listed as a second-string punt returner behind Jarvis West. To me, that is a hint that we might see Wimberly line up in spots other than running back in 2013.
Brock Dagel, LT –This sophomore moved his way into the starting lineup when Shaban Dika's career came to an end in the spring. He's 6-foot-8, 297 pounds but looks like a 7-footer out there. Lots of potential here. 
Tad Ecby, WR –This sophomore was having a great spring until he got injured halfway through. Ecby, who played sparingly as a freshman, is listed as a starting wide receiver even though he's hardly seen the field. There has to be a reason why. 
JOTTINGS
*** I asked Messingham if he feels more comfortable heading into camp this year, being that it is his second season heading up the offense as coordinator.
"I don't know that I feel all that much different and the big reason is that we've had such great staff continuity. Our program has built so much from a high school standpoint where a high school recruit comes in and learns the culture of our program and our coaching staff has been here for the most part. I guess you could say that I feel more comfortable but I don't really feel any different than I did a year ago from the standpoint of feeling like we have a bunch of people here who have the same goals and the same kind of outlook on how we go about those goals. It's good because it is a comfortable setting in the meeting rooms and those types of things. But it is also, in the Big 12, you better score some points. I think all of us realize that we can't be comfortable as far as our approach to getting ready to the year. We have to be ready and be a little bit on edge to make sure that we are covering everything. We need to be productive and score points."
*** I've heard rumblings that Shontrelle Johnson will enter camp 100 percent healthy and in the best shape of his life. Don't count the senior out of the running back competition.