Yesterday, I gave you my initial impressions of Iowa State's offense as we near spring football 2013. Today, I tackle Wally Burnham's young, raw, green, (insert adjective here) defense for the upcoming season. 
Like yesterday, please CLICK HERE to glance at Iowa State's defensive scholarship chart before we begin. You've got to do your prep work too! Let us begin with the defensive line shall we?
Defensive line
My first impressions of this group: These guys are young but gifted. By gifted I mean, they already have size that Iowa State's young defensive linemen four years ago did not have upon arriving on campus. 
Take Shane Burnham's two redshirt freshmen defensive tackles, Pierre Aka and Collin Bevins for instance. These are two guys with only one year in the program who are at 290 and 270 pounds – without much flab too. Are they ready to play in the Big 12? That is questionable. Few rookies are on the defensive line at the high-major level. But the fact that their bodies are actually somewhat ready to go at such a young age is encouraging. You can throw fellow redshirt freshman Devlyn Cousins into that conversation as well. 
Leading the group up the middle will be Walter Woods (senior) and Brandon Jensen (junior). This pair combined to record 16 tackles in 2012 and I'd be lying if I told you I was confident that they are ready to make a serious impact next season. They are unproven as starters (neither have started a game) but both have been in the system for at least four years. If this combo isn't ready to go by now, they probably never will be. 
The wild card here is Iowa Western Community College "defensive end" Rodney Coe. I put defensive end in quotations there because that's what he is coming in at, but if you investigate the scholarship chart, you'll see that he'd fill much more of a need at tackle. For the record, Coe is coming in at 6-foot-3, 285 pounds.
I'm actually fine with whom I am projecting at Iowa State's two starters at defensive end, senior Willie Scott and junior David Irving. Scott is a hard working overachiever who recorded 37 tackles last season. He should be bigger, faster and stronger next season. As for Irving, it is time for him to step up. He showed flashes of being really, really good last season but never really had an opportunity to put it all together as he was buried in the depth chart and treated more like a specialist. I'll be surprised if Irving doesn't get the first start of his career vs. Northern Iowa on Aug. 31.
Behind those two are Cory Morrissey (junior) and Nick Kron (sophomore), who both saw some quality playing time last season. They too should only be better in 2013. As for Devin Lemke (whose redshirt freshman season was cut way short due to injury) and soon-to-be redshirt freshman Mitchell Meyers, stay tuned. This upcoming spring will tell us if they are ready to be factors or not.
Linebacker
My first impressions of this group: Is that I'm damn interested to see what Paul Rhoads and Wally Burnham have up their sleeves.
Here's a staggering number for you. Iowa State has nine scholarship linebackers on its roster and only two of them are upperclassmen.
Senior Jeremiah George is literally the only proven linebacker coming back for Iowa State. Joining him as Iowa State's other upperclassmen is junior Jevohn Miller, who recorded 22 tackles during his sophomore campaign. Miller got some additional playing time (as did George for that matter) when Jake Knott went out with a shoulder injury last season. He's been in the program for two years now but still is a bit of a question mark heading into 2013 in my opinion, just for the sole reason that he is unproven. Miller, like every other linebacker in this stable, has never been asked to be the man. TImes are about to change.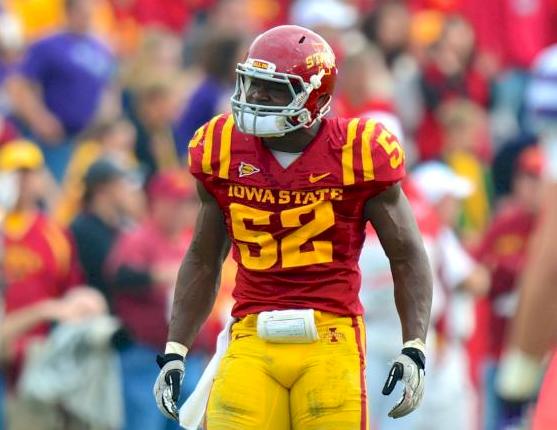 After that duo is a slew of young talent, all true or redshirt freshmen.
A guy who I think will have a legit shot to play and maybe even start in 2013 is none other than Jake Knott's little brother, Luke. He came in as a defensive back and was moved to linebacker early last fall. The problem is that according to Iowa State's current roster (at Cyclones.com), Knott weighs 205 pounds (although I'm sure he is bigger than that right now). He needs to continue to add weight. Note that big brother played last season at 252 pounds (again I'm sure that Luke is bigger at this point in time – new spring depth chart should come out in a few weeks). 
As for Knott's fellow redshirt freshmen Kane Seeley and Darius White, I know less about them but have heard only good things. As is the case with most redshirt freshmen, this will be an important spring for all of the above. 
Earlier this week, I wrote a lot about true freshman Alton Meeks. I think that he could see the field in 2013. CLICK HERE to read that piece.
Secondary
My first impressions of this group: I am very comfortable with these guys.
Jacques Washington will be one of the top safeties in the Big 12 next season. Deon Broomfield is rock solid at nickel. The two questions will come at cornerback and strong safety.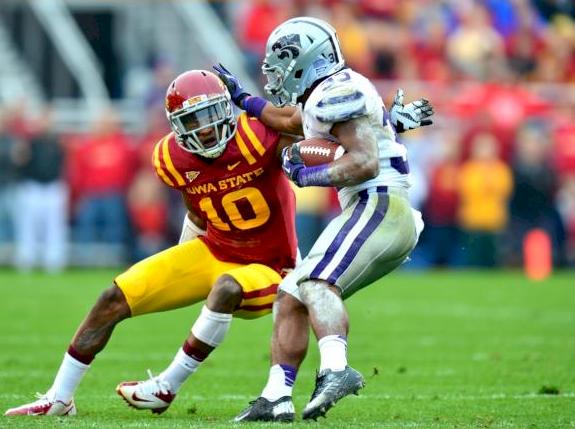 Who will play opposite of senior Jansen Watson really doesn't bother me. Don't get me wrong, losing your best cover-corner from 2012, Jeremy Reeves, stings. But I think that the combination of Ken Lynn, Sam Richardson, Cliff Stokes and Matthew Thomas can get the job done. And what about redshirt freshman Charlie Rodgers? I'm hearing that he could be a factor.  At the very least, Iowa State's defensive coaching staff will have options.
At strong safety, replacing Durrell Givens will without a doubt be a chore. Before going out with an injury late last season, Givens was leading the nation in takeaways. T.J. Mutcherson, Jared Brackens and Darian Cotton will all be in the mix there. Is Deon Broomfield moving to that spot a possibility? It will be an interesting spring at strong safety for the second year in a row. 
Regardless of how talented the secondary is, it is only as good as its defensive line and linebacking core. So stay tuned.