It's that time of year again. Local gyms are filling up (for a few months at least). Health foods are on sale at your local grocery store. Save money here. Be more productive there. Everybody wants to be better for the next 365 days than they were the last…
I assume that you have some personal resolutions for 2013 right? I've got five of them for the Iowa State athletics department (in no particular order). 
— For Paul Rhoads to finally find his quarterback…
There aren't too many division one programs that started three different quarterbacks in 2012. Musical chairs at the most important position on the field has become an unfortunate trend during the Paul Rhoads era in Ames and as tiring as it has been for fans to watch, it has to be just flat out exhausting for the coaching staff.
Just imagine how many quarterback questions Rhoads has been asked over the last three seasons…
Is an end in sight?
It doesn't look like it but who knows? Heading into spring football, I've got no choice but to give Sam Richardson the edge but don't think for a second that soon-to-be junior Jared Barnett and redshirt freshman Grant Rohach won't be in the mix.
My guess is that we're all in store for another wide-open quarterback competition at least throughout the spring and probably next fall. 
Talk radio stations and message boards can thank Rhoads later.
— For men's basketball to surprise us once again…
Not feeling so hot about the Iowa State men's basketball team as the Big 12 Conference season approaches? Yeah…I don't blame you. The Cyclones will invade Lawrence next Wednesday with a ho-hum 10-3 non-conference mark. Iowa State doesn't have what I'd call a "big win" but even so, has avoided that bad loss as well.
The last two months have been eerily similar to the non-conference portion of 2011-12. Remember the ugly loss to Drake, losing to Northern Iowa at home and nearly being embarrassed by Mississippi Valley State?
Was last year's run to the NCAA Tournament Iowa State catching lightning in a bottle or was it the start of a trend – that being below average non-conference basketball only to set us up for a wild ride in the Big 12? 
Stay tuned.
— For Royce White to figure it out…
 Figure what out exactly? I'm not sure. I just want Royce to be happy, doing whatever it is that he wants to do in life. If it's not playing basketball, then so be it. He's tackling an admirable cause and for that, I still greatly respect No. 30. But lately, the drama surrounding his situation with the Houston Rockets has become nauseating. 
I hope that Royce eventually plays in the NBA as he's a supremely talented individual but as every day goes on, the chances of that happening decrease significantly.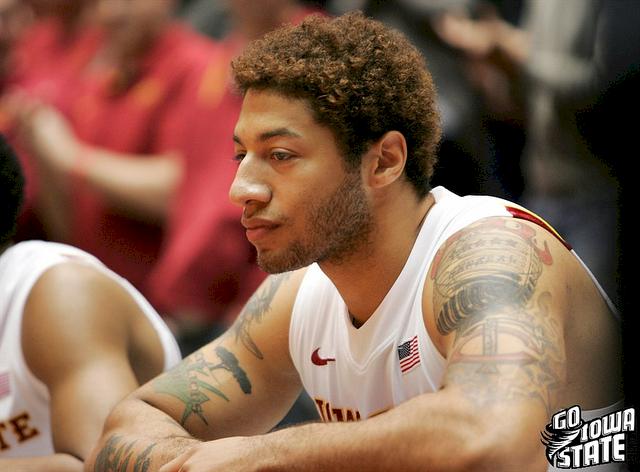 — For Iowa State wrestling to become relevant again…
Full disclosure – I'm far from being a wrestling guru. I don't claim to be and I never well. But like most of you, I still care about what was once a proud wrestling national power, Iowa State.
I fully understand the challenges that were facing Kevin Jackson when he was hired to replace the man, the legend, Cael Sanderson. I also understand that in wrestling, how you're performing in March is what really matters. But after a disappointing 2012 campaign, Jackson's squad lost by 29 points to Iowa and is fresh off of a lackluster 17th place finish at the Midlands Championship last weekend.
I like Kevin Jackson a lot. People who know the sport of wrestling well tell me that he's a great coach – one of the best that America has to offer in fact. I'm down with giving him time based off of the circumstances he inherited but fans need to see something soon. Let's hope that all begins in 2013.
— For recruiting to continue on its recent pace…
…In football and basketball…
The last month and a half on the football trail has been nothing short of fantastic. Alton Meeks, Jake Campos, Aaron Wimberly, Emmanuel Bibbs and of course Allen Lazard all immediately come to my mind. 
In hoops, I'm speaking of top high school prospects like Georges Niang, Monte Morris and Matt Thomas. 
The point is, 2012 was a great year for recruiting. Keeping that momentum rolling in 2013 will be critical for Iowa State taking the next step as an athletic department.