There is a terrifying scene in the 1971 film Willy Wonka and the Chocolate Factory where young Charlie and his Grandpa are caught in the Fizzy Bubble Room. The duo are floating haphazardly upward towards a merciless steel fan that will certainly chop them to pieces. As he is nearing his demise, Charlie yells, "There is nothing to grab onto! Help! We are going to get killed!"
How this film was given an innocuous "G" rating is one of the greater mysteries of the '70's. Between the aforementioned bubble scene and the psychedelic tunnel scene later in the film, Willy Wonka and the Chocolate Factory was one of the more frightening movies of my childhood. Throw in the unnerving Oompa Loompa's and that piece of cinema gets stranger by the year. I still get anxious flipping that thing on Turner Classic Movies. 
The bubble scene was most troubling of all. Luckily, Grandpa Joe figured out mere moments before their death-by-fan, that belching would counteract the upward floating. So Grandpa Joe and Charlie belch and pass gas their way back down the bubble room to a safe landing. And six-year olds in theatres everywhere avoided watching a calamitous ending.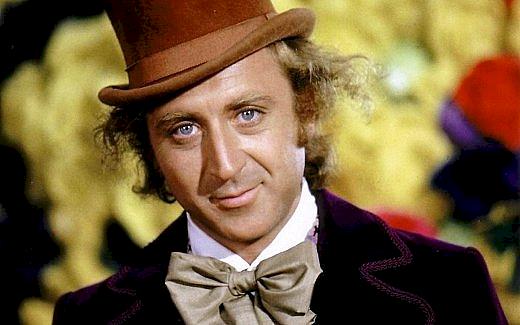 Crazy enough that movie was made in Munich, Germany 42 years ago! The director could not have anticipated the bubble scene's relevance to the contemporary NCAA tournament bubble.
Being in the NCAA bubble room is also a helpless existence. Here we are over six weeks away from Selection Sunday and Iowa State is floating haphazardly amongst the other bubbles. It makes for a somewhat miserable way to spend the next month and a half. Every loss sends the Cyclones and the fan-base closer to the chopping fan. After the Texas Tech defeat, Cyclone Fanatic had several message board posts that had a Charlie-type "We are going to get killed" tenor.
If we all could just sit back and reassess where the Cyclones stand, it may make the rest of the basketball season more bearable.
The misnomer about the NCAA tournament is that in order to receive your golden ticket, you have to be a great basketball team. This is simply not the case. Since the field expanded to 68 teams in 2011, there have been some exceedingly average teams make the tourney.
In 2011, 20 of the 37 at-large teams had 10 or more losses. In 2012, seven at-large teams had 13 or more losses. Texas made the tourney last year despite going 20-13 overall, 9-9 in the Big 12 and without a single win over a ranked team until they beat Iowa State in the Big 12 tourney. And the Longhorns weren't even one of the last four in, they made it with relative ease.
The NCAA tournament committee uses a convoluted formula that includes RPI, quality wins and bad losses amongst other metrics to select the field. By the time March 17th rolls around, the clubs on the bubble have more troubled baggage than Chris Brown. Everybody has a bad loss, played a weak schedule or suffered against elite competition.
Here are some of the teams Iowa State is currently competing with in the bubble room: Wyoming, Maryland, Boise State, BYU, Indiana State, Louisiana Tech, Bucknell, St. John's. Not exactly a bevy of beautiful basketball. We are an eternity from Selection Sunday, but Iowa State still sits in better position than most realize.
If history is any indicator, being from a power BCS conference is a big plus on Iowa State's mantle. According to the NCAA, Iowa State has a current RPI of 41. Since the tourney expanded to 68 teams, every school from a power conference (Big East, B1G, Big 12, ACC, SEC, PAC-12) that finished in the top 55 of the RPI made the dance. Boston College (No. 58 in RPI in 2012) and Mississippi State (No. 56 in 2011) were the only two schools in the top 60 of the RPI from a power conference that didn't get a ticket over the last two years.
The Big 12 is down by its high standards, but it is still a top five conference according to the RPI. The Big 12 features six teams in the top 45 of the RPI, the same amount of teams as the ballyhooed Big Ten and Big East. The conference isn't an albatross around Iowa State's neck, it is better than most national pundits give it credit for.
But you say, Iowa State doesn't have enough quality wins? True, to an extent. The Cyclones are 2-3 against the RPI top 50 teams. Not great, but keep in mind, Iowa State coasted into the dance last year with a mere four wins against the top 50. And they have many more opportunities this season to add notches onto their resume. Starting with Oklahoma State tomorrow night, Iowa State has eight games remaining against teams from the top 50. Just by winning all of their home games, Iowa State would get six top 50 wins, two more than last season.
For reference sake, of the last four selected to last year's tourney, California had ZERO wins against the RPI top 50. Iona also had ZERO wins. BYU had one win. South Florida had two wins.
It has also been tossed around that Iowa State MUST beat Kansas when the Jayhawks come to town on February 25th. While that would be a splendid victory and put a Jeff Withey sized bow on the resume, it is by no means a do or die game at this point.
Only one team in the history of the Big 12 has won 10 or more games in the Big 12 and not made the tournament – K-State in 2007. Yes, the conference added two more conference games last year and that skews the numbers for this season, but I maintain if Iowa State gets to 11 wins, they will be dancing, regardless of a win against KU. Ten conference wins is cutting it close, but depending on how the victories break down, it may be enough.
But, Brent, you say…you are neglecting that no-good, rotten, four-flushing, low-life, snake-licking, dirt-eating, overstuffed, ignorant, blood-sucking, dog-kissing, brainless, hopeless, heartless, bug-eyed, stiff-legged, spotty-lipped, worm-headed sack of loss to Texas Tech (channeling my censored Clark Griswold). Yes, that was unfortunate, no other way around it. However, if Tech can muster another win or two in conference play, it will elevate their RPI above the suck-hole 200 threshold and it won't look as bad for Iowa State when March rolls along.
Other than the Tech loss, Iowa State has a fairly clean resume. Every other loss was to a top 100 team. (While we are on the topic, it'd be nice if Iowa could win a game once in a while to help the cause – the Hawks have slipped to No. 84 in the RPI.)
That one loss to Tech will not be a disqualifier as painful as it was.
Miring in the land of bubbles can be a disconcerting feeling. In this over-reactionary world we live in, every loss seems like a one way path to the NIT. Rest assured, that is not the case, this is not your father's NCAA Tournament. Ease off the Rolaids, there is long, winding road to navigate.
The Cyclones have six weeks to distinguish themselves from the rest of the pack. A win against Oklahoma, Oklahoma State, Baylor, Kansas and K-State is the equivalent of a Charlie and Grandpa Joe belch. Get a handful of those and the Cyclones can pass out of the bubbles, land on their feet and grab their golden ticket.
That said The Mayor's Cyclones can't afford to get fat and happy like the plump, purple-pigmented girl in those Willy Wonka movies. The spiraling death fan is never far away.