By Kirk Haaland of enCYCLONEpedia.comFollow Kirk on Twitter @Khaal53 
Every game played by Iowa State right now results in the endless hypotheses and scenarios regarding reaching the NCAA tournament. Predictably, hopes get a little too lofty after wins and a little too tarnished after losses.  What exactly will be needed  for Iowa State to make the dance?  That I cannot tell you, but I can tell you what has gotten teams to March Madness in previous years…at least the simplified version.
As disappointing as it is that I don't have access to a vast amounts of archived RPI data, strength of schedule data, and other calculations used to determine a team's worth, I can still tell you simple records and conference finishes that have punched tickets to the NCAA tournament for Big 12 teams.  I went back eight seasons (basically until I got tired of copying and recording the data) to come up with regular season records, conference records, and places in the conference standings to set the guidelines of making the NCAA tournament.
A disclaimer first, yes, I know and agree that conferences do not receive tournament bids. Based on conference RPI and other things the committee does not set how many bids any league can get, this is all just a way to look at performance in the conference and compare to how that translated to getting an NCAA bid.
Also, this purely looks at what has happened in order to give some context to what may happen on Selection Sunday of 2012. I'll try to keep it concise and I'll try to make sense of things, but "here Wego"…
Starting with the 2003-04 season there have been 51 Big 12 teams that have finished with a record of .500 or better and all but nine of them made the NCAA tournament: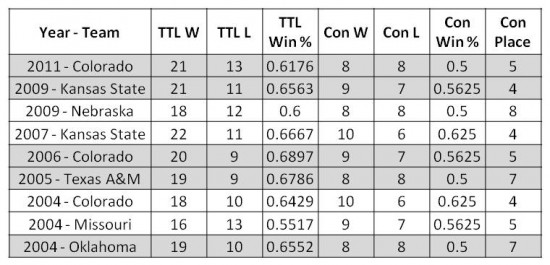 You'll note that of those nine, four times it was a team that finished 8-8, three times 9-7, and twice 10-6.  Starting with the 8-8 teams…
In 2004, Oklahoma was 8-8 but had six teams ahead of them in the conference and couldn't get to the 20 win mark on the season (that is rapidly losing its old value anyway).
In 2005 it was nearly an identical scenario for Texas A&M with six teams ahead of them in the conference standings.
The 2009 'Skers were also 8-8 but lacked big wins and an overall record of 18-12 held them out, plus there were seven teams ahead of them in the standings.
Last year, Colorado finished 8-8 with a 12-4 record in the non-conference.
In the past eight seasons, two 8-8 teams did make the tournament and that was Missouri in 2011 finishing in 5thand Texas A&M in 2008 finishing in 6th.
Then the 9-7 finishers…
In 2004, Missouri came on strong in conference play but it just wasn't enough to outweigh the 7-6 record during the non conference season.
The 2006 Buffaloes lacked big wins with their 9-7 record and the Big 12 was in a perceived down year.
For Kansas State in 2009, they finished tied for 5thbut there were seven teams that had a record of 9-7 or better.
There have been 14 occasions with a team finishing 9-7 in league play and in 11 of those cases the team has qualified for the NCAA tournament (including your 2005 Cyclones that started 0-5 in the league but finished 10-3 in their last 13 games including the conference tournament).
The 10-6 finishers…
The 2004 Buffaloes rallied in conference play to finish 18-10 overall and alone in 4thplace of the conference standings but the more heralded Red Raiders jumped them from 5thplace for the 4thand final bid for the Big 12. (Note from above that this was the same year the 9-7 Missouri team and 8-8 Oklahoma team was also left out).
The 2007 Wildcats are perhaps one of the team's with the best cases for a bid without getting one in the past eight seasons, having gone 10-6 and finishing all alone in 4thplace.  But yet again, Texas Tech was able to leap frog them in the conference standings to sew up the fourth and final bid for the league.
Eight times there have been teams that have gone 10-6 and six of them have gotten into the tournament.
Perhaps what is more interesting is that there have been just three times where a team has finished in the top four of the league yet didn't make the tournament…and only one of those times was a tie for that spot (K-State in 2009).
Of course things are a bit different now with only having 10 teams instead of 12, but if a team were to finish 4thin the league all by themselves they would have a very strong chance, based on history, of receiving a bid.
Another noteworthy item to mention is the change in applicable win percentages with the additional two conference games…
10-6 à win percentage of 0.6250
11-7 à win percentage of 0.6111
9-7 à win percentage of 0.5625
10-8 à win percentage of 0.5556
Meaning a 10-8 finish this year would fall in between an 8-8 and 9-7 performance in previous years, based on record alone.
The History of the Cyclones and the Bubble
At the risk of jinxing this whole thing, I find it interesting that since Johnny Orr came to town — and perhaps before, but I don't have a good feel for how the bubble worked out prior to 1980 — the Cyclones have basically never been on the bubble and NOT gotten into the tournament.  That is probably due to pure happenstance but it is interesting nonetheless.
Here is the season by season breakdown of ISU's overall and conference record and the years that they made the NCAA tournament are in red text: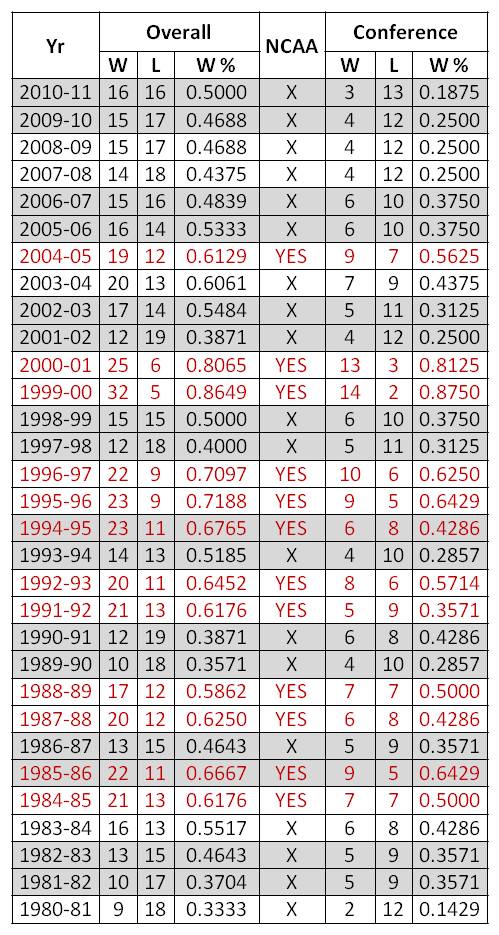 Every time that Iowa State has gone .500 or better in conference play back to 1980, they have gotten in to the NCAA tournament.  That is nine for nine.  There have been three other occasions where ISU finished below .500 in the rough Big 8 conference schedule but still got in (6-8 in 1995, 5-9 in 1992 (Johnny Orr reminds Dick Vitale of what he did to him the last time he coached against him), and 6-8 in 1988).
It isn't scientific and it is exactly inexact but finishing in 4thplace (especially sans ties) with a 10-8 record headed down to Kansas City would put this year's Cyclones in position for the NCAA tournament.
All of that said, with four home games remaining and three of them that should be considered very winnable plus the three pretty tough road games, there's no reason that this team can't win at least four of those games.  None of them are automatic losses by any stretch.  None of the current four conference losses have played out as automatic losses, either.
One important thing to remember is a win or two down in Kansas City at the conference tournament could provide the final push over the hump if needed.  Finish with a 10-8 record and you're borderline…add in a win in Kansas City against a team like Kansas State that is likely hovering around the top 50 in RPI and you've just bolstered your resume.  The opportunities that will be available in the conference tourney cannot be forgotten or undersold.
In a year when the Big 12 conference RPI trades places back and forth with the Big East for the 2nd/3rdbest conference in the land, the Pac 12 is only a one bid league, and the Big Ten and ACC have plenty of teams that are "middle of the pack" a finish as described in the paragraph above should punch the ticket for the Cyclones.  Also, keep in mind that only the data for last season involved a field of 68.  That is three more bids for this season when compared to seven of the eight years being looked at.
If that does happen, I'm not sure many opposing coaches would be too delighted to see a matchup with Iowa State.