AMES — Against a severely over-matched Nebraska-Omaha squad on a blustery Sunday evening in central Iowa, the goal of the Iowa State men's basketball team was simple heading this one – to avoid a Hawkeye hangover after Friday's semi-embarrassing loss to the University of Iowa. 
Mission accomplished. 
On the eve of finals week in Ames, the Cyclones extended their home-court winning streak to 14 while leading from start to finish in a 93-65 stomping of Nebraska-Omaha.
Here's your recap. 
Player of the Game
Melvin Ejim – After being removed from the starting lineup for the first time this season (more on this later), Melvin Ejim had a choice to make prior to this one. The junior could A) pout and feel sorry for himself or B) fire up and produce like he's done in the past. 
In only 18 minutes of work, Ejim collected 13 rebounds and seven points. He was active. He was productive. It was very clear that Ejim chose option B, which was very good to see. Ejim has snagged 10 or more rebounds six times so far this season.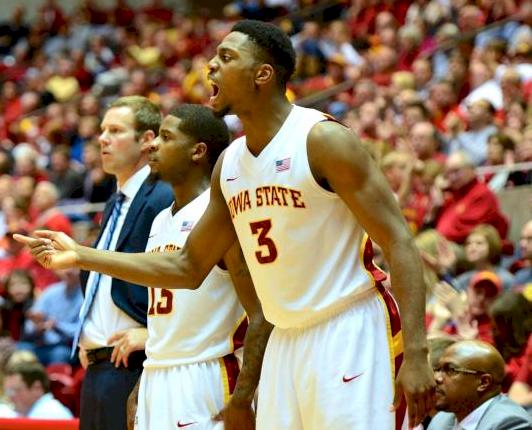 Three Up
Starting lineup – After losing to Iowa, Fred Hoiberg elected to change things up a tad in this one. Freshman Georges Niang and sophomore Percy Gibson got the nod against Nebraska-Omaha in place of Ejim and Anthony Booker. 
"In Anthony's case, he had been picking up two early fouls. I wanted to get him into a different flow, a different rhythm" said Hoiberg. "I really think it helped him coming off. It was switching things up a little bit after a disappointing loss and I thought that everybody responded well."
That they did. All four players involved in the early December switcheroo played well on Sunday. Booker tied a season high with 11 points (add only one foul with six rebounds to that box score while you're at it). Niang led Iowa State in scoring with 15 points (and six rebounds/four assists to boot). Gibson threw down 10 and six. He's now converted on 13 of his last 16 field goal attempts dating back three games. And Ejim, well he was the player of the game so there's that. 
How permanent is this change? Stay tuned said the Mayor.  
"We'll go back and look at it and see what kind of practice week that we have," said Hoiberg. "I'll make that decision on Friday."
Simple Basketball – Simple basketball made a welcomed return to Hilton Coliseum in this victory. Iowa State, a team that was averaging 16.5 turnovers per game this season, only turned it over six times vs. the Mavericks.
"We didn't shoot the ball great tonight and we scored 93," explained Hoiberg. "It's because we had extra opportunities to shoot the ball. We got offensive rebounds. We didn't give them extra shots. That stuff is huge. Now we have to do that every night. You can't just come in here and do it against this team. You have to do it against a very good Drake team."
The six turnovers were a season low by a long shot. It was the first time all year long that Iowa State had committed 11 or fewer turnovers in a game. The Cyclones had previously turned the ball over 19 times in each of their last two games. 
Now sure, Nebraska-Omaha isn't Kansas, but neither was North Carolina A&T on Nov. 20, a game that Iowa State turned the basketball over an alarming 17 times in. 
Simple basketball…Those two words just might just be the key to the rest of the season for Iowa State. 
Rebounding – According to Anthony Booker, this is a stat a stat that you "never" see.
Nebraska-Omaha only recorded one offensive rebound in this game.That eye-popping statistic led to yet another – zero second chance points in the game by the Mavericks. The Cyclones out-rebounded UNO 45-24, resulting in 18 second chance points for Iowa State. Iowa State outscored Nebraska-Omaha in the paint by a 38-20 margin. 
Three Down
Perimeter shooting – The Cyclones were as cold as the air temperature outside of Hilton Coliseum from 3-point range for the majority of this one. Had that not been the case, Iowa State probably would have won this one by 40 or more. The Cyclones ended the contest going 11-for-33 from 3-point range which at the end of the day, isn't much below their season average that was .363 percent heading into Sunday. 
Perimeter defense – This also contributed to the score of this game not really being a true representation as to what was actually going on out there. The Mavericks converted on 47.8 percent (11-for-23) of their 3-point attempts. At one point in the first half, Nebraska-Omaha was 5-of-7 from beyond the arc. Nebraska-Omaha shot 60 percent from 3-point range in the first half alone. 
That's it for 2012 – I hope you got your hoops fill in Hilton Coliseum for the 2012 calendar year. The women still have a few more home bouts, but that's it for your Iowa State men's basketball team until New Year's Day, when Yale comes to town. 
The 7-3 Cyclones will meet up with Drake at the Wells Fargo Arena in Des Moines on Saturday and travel to UMKC on Dec. 19 to finish out the year.