AMES — Will the real Korie Lucious please stand up?
The same point guard who turned the basketball over seven times in a yucky loss to Iowa in December has pulled a total 180 since Big 12 play began. Gone are those mind-boggling behind-the-back passes and hotshot dribbling. Before us now is a poised floor general who is playing like the highly-touted fifth-year senior that he is.
Lucious scored a modest 10 points but more importantly, recorded nine assists to three turnovers in Iowa State's 82-62 win over Texas in front of a sold out Hilton Coliseum crowd on Saturday.
"He is just out there making simple plays," said Iowa State head coach Fred Hoiberg after the game. "He is just out there setting the table for his teammates."
LINK: Fred Hoiberg, Korie Lucious & Georges Niang comment on the big win

Lucious' selfless, efficient attack led to four Cyclones ending the day in double figures, with seven scoring seven points or more. Freshman Georges Niang scored a career-high and led Iowa State with 18. 
"I am just trying to be more stable with the ball – be more solid – make safe plays," said Lucious. "Coach talks to me all of the time about making the safe play instead of the home run play. That's basically what I'm trying to do – put guys in a position to succeed. It's working out so far so I'm going to try to keep doing that. 
It might have taken him the entire non-conference schedule to get it right but that's mighty fine if Lucious can keep his recent pace up. Against Kansas on Wednesday night, Lucious hit three critical 3-pointers in a 15 point outing vs. the Jayhawks (while notably only turning the ball over three times).
As Lucious goes, so do the Cyclones. It isn't a coincidence that in what was the senior's best game of the season, resulted in Iowa State's cleanest game of the season by far. The Cyclones only turned the basketball over five times in the win. 
He is this team's quarterback, which is good news for Iowa State fans. Lucious, who began the season playing a lot like Mark Sanchez, now looks more like Aaron Rodgers.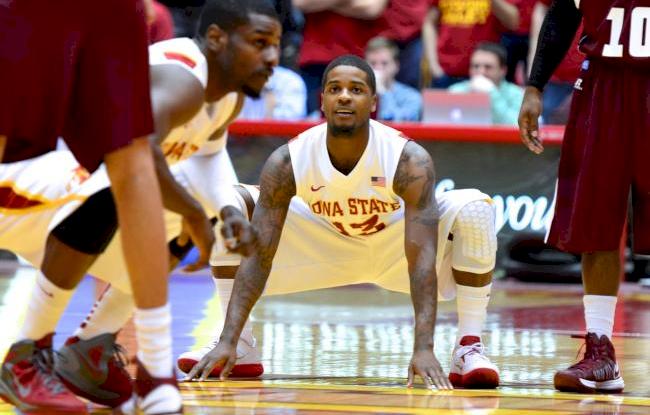 Three Up
Spacing – More kudos for Korie Lucious because wow, that fast-paced offense is really flowing nicely right now. 
"Our spacing has been awesome on the break," said Hoiberg. "We've done a great job of getting down (the floor). We don't want to grind it out against teams like Kansas and teams like Texas in the half court. They are too good defensively."
Lucious is getting the ball down the floor without turning it over. As a result, Iowa State's wings are getting out wide and running. The posts are getting to the rim. When you play basketball for Fred Hoiberg, that's what you're looking for. 
"Korie kicks it on if there is a pass to be made and for the most part, we're doing that right now which is creating a lot of open shots."
Unselfish – Basketball coaches across the world drool over stats like this…
Iowa State dished out 18 assists on 25 field goals in the win.
"We are assisting on a great percentage of our made field goals," said Hoiberg. "That's the sign of an unselfish team."
As a result of the unselfish basketball, Iowa State got plenty of open looks against a Texas team that entered this game as the nation's top defense (Texas' opponents were making only 34 percent of their shots). The Cyclones connected on 44 percent of their field goal attempts, including an 11-for-26 mark from 3-point range. 
McGee – Speaking of unselfish, Tyrus McGee had a very Tyrus McGee-like game vs. the Longhorns. Iowa State's senior sharp-shooter came off the bench, provided a burst of energy, knocked down four treys and scored 15 points for the Cyclones.
However, did you know that he only played 17 minutes? Yes – 15 points in 17 minutes.
"He likes that role," said Hoiberg. "He's got that Vinnie Johnson-type, microwave role to go in there and score the basketball in a hurry. We run a lot of plays for him when he's in the game and more often than not, he responds."
Three Down
Students – The sold out crowd was impressive but man, students do add a lot to Hilton Coliseum's atmosphere (which was great on Saturday but could have been better). I for one am happy that the youngsters will be back on Wednesday night when West Virginia comes to town. 
Clyburn's free throws – You know I'm stretching for "Three Down" after a 20 point win vs. Texas…This is like the stretch of all stretches. 
Iowa State connected on 21-of-27 free throws in the victory. However, Will Clyburn missed four of those attempts going 2-for-6 on the day. Clyburn made up for it though by scoring 16 points and snagging nine rebounds.
Notta – I refuse to come up with three negatives about 20 point wins in the Big 12. Sue me.
Notebook
— Georges Niang's 18 points were at team high for Iowa State and also a career-high. Niang is now averaging 11.5 points per game during his rookie campaign. Niang has been in double figures in six of his last seven games.
— Tyrus McGee has made three or more 3-pointers in 11 games this season. Saturday was his 12thgame reaching double figures.
— Will Clyburn's five assists were a season-high.
— Melvin Ejim grabbed 10 rebounds in the win. He's now averaging 9.3 rebounds per game. Ejim has recorded 10 or more rebounds 10 times this season.
— Iowa State has scored 70 points or more every game this season. The Cyclones are the only team in college basketball that can say that.
— Iowa State is now on a 16 game winning streak at Hilton Coliseum, the fourth-longest streak in Iowa State history.