Ever seen the 1990 movie Days of Thunder? If not, trust me when I say you're truly missing out on one of the finer things in life.
(At this point I'd like to dedicate this column to my dad. Most 6-year olds watch Disney movies. I was watching this movie over and over again, Top Gun and Seinfeld re-runs. All of this combined has made me the man I am today.) 
In an odd way, this unrealistic but awesome Tom Cruise flick about the sport of NASCAR reminds me a lot of the 2012-13 Iowa State men's basketball team (please hear me out before judging).
You see in Days of Thunder, Cruise, who plays "Cole Trickle" in the movie, is a hotshot young racecar driver who can't keep from butting heads with his old school, accomplished and very crotchety old crew chief, Harry Hogge (played by the legendary Robert Duvall).
Early on in this team's season, Trickle would blow engines, burn up tires and not finish races. As the old saying in racing goes, "you can't win if you don't finish." Too true. There's a scene in the movie that ties in well with what we're seeing in Ames these days.
Hogge says to Trickle before a test session, "I want you to go out there and run 50 laps however you want. Then we'll do 50 laps my way."
After running 50 laps the way that Trickle saw fit, his tires were torn all to pieces and the car was nearly out of control at the end of the session. After running 50 laps how his experienced boss told him to, Trickle's lap time were seconds faster and his tires will still fresh at the end of the day. 
Throughout the first nine games of the 2012-13 season, the Iowa State basketball team essentially ran 50 laps their way (full of selfish basketball, behind the back passes and more fancy schmancy blah.). Friday night's 19-turnover debacle in Iowa City was the final straw.
On Sunday vs. Nebraska-Omaha, the Cyclones finally did things Fred Hoiberg's way. Iowa State played simple basketball and made the easy plays. Iowa State didn't shoot the ball well at all and still managed to score 93 points on an off night. Iowa State only turned the basketball over six times in the 28-point drubbing.
And please, save your "well it was against Nebraska-Omaha," comments. So far this season with this team, it just doesn't matter whom these Cyclones went up against. Alabama A&M and North Carolina A&T were two of the worst teams I've EVER seen play a game in Hilton Coliseum, yet Iowa State managed to give the ball away 14 and 17 times in those perspective contests.
Heading into last night, the Cyclones were averaging 16.5 turnovers per game. What's even more disturbing is that the guys not taking care of the basketball are for the most part fifth-year seniors. Twelve of Iowa State's 19 turnovers in Iowa City committed by Will Clyburn (five) and Korie Lucious (seven).
In the movie Days of Thunder, Cole Trickle's team started winning races after that test session. It was a breakthrough moment for the driver/crew chief combination. Trust and chemistry were built through trials and tribulations of a rough early half of their season. At that very moment, Trickle realized that his way might not be the best way and eventually gave in to the wise Harry Hogge. 
Hoiberg let this team play their way through the season's first nine games. Maybe, just maybe, this team has finally bought into what Hoiberg has been preaching since mid-November – that's to play simple basketball. 
If this team can play the game that way, there's no doubt in my mind that the Cyclones will be dancing yet again come March. 
On Big 12/Iowa State Football…
*** I wasn't around my computer much on Saturday due to a family obligation. But midway though the morning, I thought I'd check Twitter to see what's up. 
"Tommy Tuberville to Cincinnati," I read. 
Wait…What?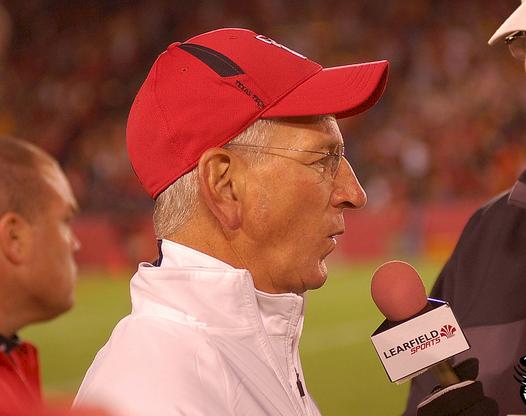 Let me get this straight…A fairly big name in the world of college football is leaving the Big 12 for the lowly Big East on his terms? This can't be right…
Oh it is.
And that guy must have utterly despised Lubbock. But forget about Tuberville. He's now in Iowa State's rear-view mirror. Let's focus on Texas Tech. Their current situation reminds me a little bit about the spot Iowa State was in four years ago, when Gene Chizik bolted Ames to ironically replace Tuberville at Auburn. Here's how. 
— Both Tuberville & Chizik were given the chore to replace legends (Mike Leach and Dan McCarney) at each perspective institution. 
— Both Tuberville and Chizik were considered outsiders at their new jobs. 
— Both Tuberville and Chizik obviously had wandering eyes. 
— Neither Tuberville or Chizik had the type of success at these jobs that most were expecting. 
— Both Tuberville and Chizik left and surprised their athletic directors by leaving abruptly. 
So now Texas Tech, the most comparable southern Big 12 school to Iowa State (based off of challenges in athletics go), has a choice to make. I actually see it as an opportunity for Tech. 
"We want to find someone who knows the fabric of West Texas, someone who is committed and wants to be a part of our great community," said Texas Tech athletics director Kirby Hocutt on Saturday. "Fit is very important to me, and I think finding the right fit for Texas Tech is critical at this point in time."
Lubbok and Ames are hard places to love if you're not from there. It's hard for outsiders to understand these cultures. Tommy Tuberville wasn't the right "fit" in Lubbock. Lord only knows that Chizik certainly wasn't the right "fit" in Ames.
Forget a big name. Texas Tech needs to go out and find its Paul Rhoads this time around, someone who understands Lubbock and most importantly, actually wants to be there.