AMES — Feistiness just wasn't enough in this one.
In every facet of the game, Oklahoma was a better football team than Iowa State on Saturday. The 14th ranked and high-flying Sooners held off a spirited Iowa State squad in route to a 35-20 victory in front of the third largest crowd in Cyclone football history (56,585).
The Cyclones were undermanned, out-gunned and overwhelmed in most areas but somehow, Iowa State found a way to keep things interesting until the final gun.
What went right? What went wrong? Here's your report card.
THREE UP
Grit – Take a look at the box score from this one. The fact that Iowa State was even in this football game midway through the third quarter is a bit of a minor miracle.
The Jake Knott-less Cyclone defense defense gave up 593 yards (405 of them through the air) on the day and to be honest, I'm not sure that No. 20 would have made that big of a difference in the defeat. 
The offense was stagnant for the majority of the afternoon but kept plugging away when the game was already out of reach.
Iowa State lost this game by 15 points but at the same time, the loss doesn't set the program back at all in my opinion. Oklahoma was clearly the better team in this one. Nobody can really argue that. As Ben Bruns put it after the game on the Cyclone Radio Network, "Iowa State didn't have enough bullets in the gun." Well said Mr. All-American. Very well said. 
Remember Iowa State's game against the Sooners two years ago? I think you get my point. 
Loss? Yes. Setback? No. 
Which brings us to…
Steele Jantz – This game went a lot like I thought it would in just about every area except one. For the most part, quarterback Steele Jantz played a pretty smart football game for the Cyclones. I didn't know that he had that in him against this good of a defense. It's what made the loss frustrating and somewhat encouraging at the same time. Had you asked me before the game, I would have put an over/under on Jantz turnovers vs. this Oklahoma defense at three. The senior quarterback made great decisions and took care of the football all day long while throwing one interception when the Cyclones were in desperation mode late in the fourth quarter. He didn't force much at all while getting no help at all against a struggling group of wide receivers (more on this later).
His final numbers weren't flashy – 20-for-40 for 191 yards (zero touchdowns and one interceptions). But one turnover (that I have a hard time complaining about in that situation) is encouraging for the future. If Steele Jantz keeps playing smart football, the Cyclones will go bowling and just might get to seven wins on the season.
Iowa State will not see a better defense than Oklahoma throughout the rest of 2012. Believe it or not, I'm sensing a bit of momentum within Iowa State's offense right now (compared to a month ago). The run blocking still needs a lot of work. Iowa State's running backs only carried the football 11 times in this one. But still, the Cyclones protected the football against a stout defense. That's encouraging.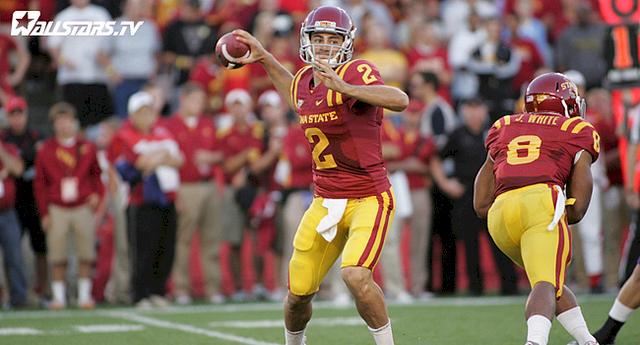 Defensive depth – Consider the following…
No Jake Knott…Jansen Watson went down early in the first quarter…
Jevohn Miller, C.J. Morgan and Cliff Stokes all played significant minutes for Iowa State on Saturday – after none of the three have played much at all all season long prior to the contest. Were they great? No. We've already covered Oklahoma's offensive field day but the Cyclones did force two turnovers in the loss and with what I thought was an outstanding performance by Jeremiah George (in place of Knott) and all of the sudden, I'm feeling a lot better about last year's back seven (the front four is another story).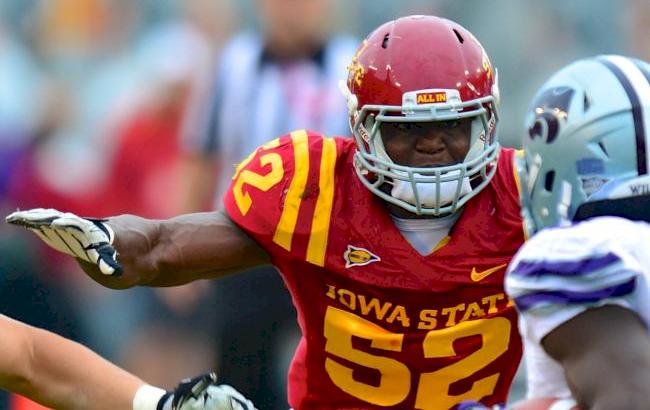 THREE DOWN
Wide receivers – By no means have Iowa State's wide receivers been good over the last few years – but I don't remember the group dropping passes at this rate at any time since Paul Rhaods got to town. It seemed like any time Iowa State had an opportunity to extend a drive in the first half, somebody would drop a pass. It wasn't all Aaron Horne this week either. Josh Lenz dropped one. Jarvis West was guilty. It was the whole group.
Let's look ahead for a moment in regards to the wide receiver position.
The good news is that a guy like Quenton Bundrage has gotten better and better the later we get into 2012. Jarvis West has emerged into Iowa State top playmaker in a Percy Harvin type role on offense. These are all good things.
The bad news is that we still haven't seen the likes of Tad Ecby and Ja'Quarius Daniels. I find it a bit concerning that these guys aren't earning playing time in practice over a group that is visibly struggling. 
Yards per play – The Sooners averaged 7.0 yards per play in this one. It's really, really difficult to win a football game when the opposition is moving the ball so easily.
For comparison's sake, Iowa State averaged 4.5 yards per play.
Due to Oklahoma's dominating ball control in this one, the Sooners won the time of possession battle 36:11 to 23:49.  
GAME BALL
Durrell Givens – The man they call "Pig" is having a heck of a junior season.
Givens entered Saturday's game ranked first in the nation in fumble recoveries. Givens picked Landry Jones off twice on Saturday. He now has three interceptions on the season and eight total takeaways.
Those picks were critical in Iowa State being within striking distance at the half though.
Givens recorded 10 tackles in the loss.
HELMET STICKERS
Kirby Van Der Kamp – Iowa State's punter dropped three inside of the Oklahoma 20-yard line. Van Der Kamp has pinned 24 of his 55 punts inside the 20 this season.
Edwin Arceo – What a turnaround for Iowa State's walk-on kicker. It wasn't too long ago when Iowa State fans were fearful (and rightfully so) of missed PAT's. Arceo has turned things around though (knocking on wood). He's now gone three straight weeks without missing a kick of any kind. Arceo nailed a career-high 51-yard field goal in the second quarter.
Jarvis West – The sophomore scored his fourth touchdown in two weeks in the third quarter via a 19-yard run. It was a beautiful end-around play call by offensive coordinator Courtney Messingham, who has visibly tried to incorporate the explosive West into Iowa State's offense over the last two weeks. West ended the day with STATS but more importantly is a legitimate threat for the opposition to account for throughout the rest of the season. 
Steele Jantz – I've already written a lot about his day. He took a step forward in my opinion. At the very least, this performance gives Jantz a lot to build on for next week's road trip against a soft Texas defense. There's no quarterback controversy to distract him this week either.
Shontrelle Johnson – Had a similar game to Steele Jantz in my opinion…Nothing fancy but better. The junior running back accounted for only 28 yards and a touchdown on seven carries…But that's 4.0 yards per carry, including a 19-yard run. It's far from what Iowa State is wanting out of the running back position but still, Johnson has looked better in over the last two weeks than the entire month prior. I think he's getting closer to being the player he was before last season's neck injury. Johnson also recorded 33 receiving yards in the loss.
Quenton Bundrage – The redshirt freshman led Iowa State in receiving with four catches for 44 yards. The performance was far from eye-popping but I like what I've seen from Bundrage over the last few weeks. He's coming into his own and makes me feel better about Iowa State's future at this position.
Deon Broomfield – For toughing it out. So much attention has been given to Jake Knott (and rightfully so) over the last week for being tough. But keep in mind that Broomfield has been playing with a cast on his right arm. He's playing through some pain too. Broomfield accounted for three tackles and a pass break-up on the day.
Cleyon Laing – This senior defensive tackle had five tackles and a hurry in what might have been his best game of the season.
Cliff Stokes – After Jansen Watson went down in the first quarter, Rhoads was forced to go to his bench and junior Cliff Stokes. The Sooners picked on the JUCO newcomer and that's part of the reason why he had 15 tackles (second on the team) in this one. I'm giving him a helmet sticker though for experiencing his first real Big 12 playing time against a heck of a passing offense. It's not an easy situation for a newcomer. 
Jeremiah George – He set a career-high with 17 tackles in the loss. George's previous high was nine. George will have a lot on his shoulders next season and is showing promise in being able to carry the load.