What: Iowa State (0-0) vs. Southern (0-0)
When: Friday, Nov. 9, 7 p.m.
Where: Hilton Coliseum
TV: Cyclones.tv
Rebound.
Something tells me that you're going to hear, read and talk with your buddies a lot about this early on in the 2012-13 Iowa State men's basketball season. You see Fred Hoiberg and the new look Royce White-less Cyclones want to play faster this season. This up-tempo style is nearly impossible to achieve when you're getting beat on the boards. We had this same conversation at this time last year you know? That's one reason why Iowa State struggled during the first half of last season. When the Cyclones started winning consistently, they were out-rebounding the opposition on a nightly basis. Iowa State finished 2011-12 as the Big 12's fourth best rebounding team at 36.7 per game.
It's hard to nitpick much from a 90-57 exhibition win but Minnesota State actually out-rebounded Iowa State 11-10 in the first half of Sunday's contest. Now there's no need to panic. Weird things happen in exhibition games all of the time. But hitting the glass has been a focal point for Hoiberg's staff in prepping the Cyclones for Friday night's season-opener vs. Southern.
One man who didn't struggle on the glass was junior Melvin Ejim, who recorded Iowa State's only double-double in the game with 11 points and 12 rebounds.
"I really thought that we turned the game around when we put Melvin in at the 3-spot in that exhibition game and he went in there and got like eight defensive rebounds in a row which allowed some run-outs on our end and got some fast-break baskets," said Hoiberg before Wednesday's practice. "He's got great timing. He's got good instincts. He does a good job of boxing out."
Ejim is the Big 12's leading returning rebounder. He averaged 6.6 boards per season as a sophomore.
Fans can also expect more activity on the glass from senior Will Clyburn, who averaged 17.1 points and 7.8 rebounds per contest two seasons ago at Utah. His nine point, three rebound performance vs. Minnesota State was a bit of a fluke.
"He only had two defensive and one offensive and that's just not good enough for him," said Hoiberg. "I think he had some butterflies out there and he just didn't get himself involved. He's a guy who has to go in there and get tip dunks. He's got to lead us down on the fast-break. He's such a versatile player that can score in so many different ways. He just didn't get as involved as we would have liked."
As was the case with point-forward Royce White a season ago, Clyburn will be heavily involved in Iowa State's offense after snagging a defensive board.
"If he gets that rebound on that defensive end, he's bringing the ball down and initiating our offense," said Hoiberg. "That's one way that he can get involved – through effort."
"I'm not concerned about Will at all. He's very gifted."
Dorsey-Walker will redshirt
Freshman guard Sherron Dorsey-Walker (pictured below) announced the world that he will redshirt the upcoming season via his Twitter feed on Tuesday night. Hoiberg confirmed the news during Wednesday's media session. 
"We had a very good talk with Sherron. He is okay with it," said Hoiberg. "He is going to work extremely hard, get great reps and really work on his body this year. He's got a tremendous future. He has a very high ceiling. He's going to have five great years here for us at Iowa State."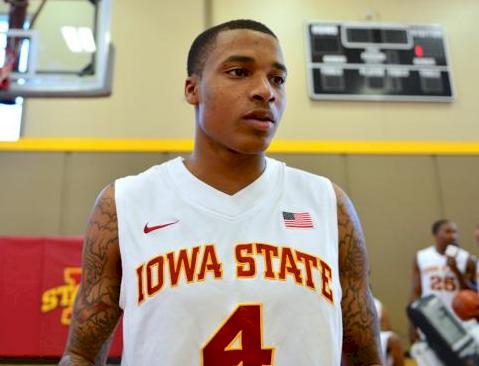 Breaking down the Jaguars 
As I broke down in my non-conference schedule preview earlier this week, Southern just might be the best low-major opponent that the Cyclones will see in the months of November and December 
While the SWAC coaches technically picked the Jaguars to finished second in the league, a handful of preseason publications have Southern winning this league.
You might note that Mississippi Valley State won the SWAC a year ago. That team gave Iowa State the scare of its life on New Year's Eve. The Cyclones escaped that contest with a 67-65 win.
"The team that won it last year, Mississippi Valley State, we obviously struggled very much with. I expect a great challenge," said Hoiberg of Southern.
The Jags are led by senior All-SWAC guard Derick Beltran, who averaged 13.2 points per game last season. 
"Those guards are really, really good. One of them scores the heck out of it. That point guard is extremely solid," said Hoiberg. "They've got some transfers in that we've done some research on. Their starting center is 6-9, 250 and he's skilled. It's going to be a very good opening test for us."
Jameel Grace is that point guard that Hoiberg mentioned. He averaged 9.6 points and 3.5 rebounds a season ago.
In another roster note for Southern, remember the late Manute Bol of the NBA, who stood 7-feet-7 tall? His son, Madut Bol, plays for Southern. He's 6-9.
Southern finished 2011-12 with a 17-14 record, which was really remarkable considering the program went 4-26 with an RPI of 344 the season before.
Prediction
Saying that Southern might be the best low-major Iowa State will see all season isn't just my way of trying to stir up interest for this game. It's legit. But at the same time, this is a low-major basketball team that we're talking about here. 
Iowa State is 18-0 in program history vs. SWAC teams. 
I think we'll see an inspired performance by Will Clyburn and point guard Korie Lucious, who both looked a bit rusty on Sunday after not playing a game in over a year. By all means, this one should not be close at the end of the night. 
The Pick
Iowa State 84, Southern 59