AMES — A lot was said about this Iowa State football team after last week's 31-10 loss to Oklahoma State. When it came to the fan base, Cyclone football was like America and politics. Everybody had an opinion. 
In fact, this past week has been one of the most bizarre ones that I remember since I began covering the Cyclones back in 2004.
Some reasons for that feeling were but are not limited to: A three-man quarterback controversy in late October (that just doesn't happen very often and when it does, it's never a good thing). A week-long mystery about whether Iowa State's best player – Jake Knott – would be on the field or not due to a dinged up shoulder. Pressure. One giant headache over how the Cyclones could out-score one of America's most explosive offenses.
A must-win? 
No problem.
Iowa State's 35-21 Homecoming victory over Baylor was convincing. It was exciting. And with the re-emergence of Steele Jantz as a Big 12 quarterback, the Cyclones are one game away from bowl eligibility and most importantly, a real threat to win every game on the rest of its schedule.
Here's your recap. 
THREE UP
Quarterback play – This is why Paul Rhoads and his staff are paid to coach and why we do whatever it is that we do. Or maybe the coaches just went with a guy and he happened to have the hot hand…Whatever. It worked. 
Heading into Saturday, Steele Jantz had been an extremely talented turnover liability. Jared Barnett was a game manager that completed 35-of-75 passes over the last two weeks. Many, including myself, even wondered if it was time for Rhoads to go to redshirt freshman Sam Richardson.
Rhoads, his offensive coordinator Courtney Messingham and whoever made the call to go with Jantz absolutely nailed it.
More on this in a minute…
Rush defense – If you hang out on our website regularly and tune into our radio programs, this was a hot topic all week long. Sure – in order to beat Baylor, Iowa State's offense was going to have to snap out of its recent funk.  But only one time in Baylor's last 10 games had the Bears scored under 45 points. That was a couple of weeks ago against TCU. The Horned Frogs held Baylor to 106 rushing yards in that game. As a result, Nick Florence threw four interceptions. Baylor turned the football over six times in that contest. You see Baylor's ability to run the football is critical to its passing game. Iowa State held Baylor to 115 yards on the ground, only 21 points while forcing four turnovers along the way. Note that the Bears entered Saturday averaging 48 points per game. Wally "The Wizard" Burnham struck again folks.
Resiliency – Think about Rhoads' first three and a half years in Ames for a minute. When fans and media alike get down on his program (and it always happens), the Cyclones always seem to turn things around when many least expect it. 
Baylor is not Kansas State but Iowa State did what Iowa State needed to do on Saturday. Mission accomplished. 
THREE DOWN
Cyril Richardson – This is the Baylor offensive lineman who not so politely placed his knee in the groin of Iowa State's Brandon Jensen in the fourth quarter. Okay Cyril. Hand over your man-card. That was not cool man. Richardson was rightfully ejected from the game after that move. 
Aaron Horne –
Baylor's defense – I think we can all agree that Baylor's offense is really, really good right? 
In a way, it's sad that the Bears are 0-4 in the Big 12. It's proof as to how bad their defense has been so far. Having said that, I'm not taking anything away from Iowa State. The Cyclones did what they had to do, got back on track and according to some, saved the season. Still, it isn't hard to see why Baylor's defense was ranked 120th in America heading into this weekend. Is it actually the worst defense in college football? Probably not. But it's not a good one and playing in the Big 12 only exploits that even more on a weekly basis. 
GAME BALL
Note: I've never done this before but I'm handing out three game balls from this win. All three men were very deserving and I couldn't pick one. Sue me. 
Jake Knott – Insert your favorite Chuck Norris joke here and replace it with "Jake Knott." He's Iowa State's Iron Man. 
"Tough as nails," is how Rhoad described No. 20 after the game. 
Knott had the rumor mill buzzing all week long. Would he play or would he not? Well duh. You all should have known that if this warrior was physically cleared, he'd be out there. Knott didn't only take every snap, he was good on every snap recording 11 tackles along the way. 
After the game, Knott told the Cyclone Radio Network that he'd take his injury day-by-day so stay tuned.  
Steele Jantz – My Cyclone Radio Network colleague and former Iowa State All-American Ben Bruns said it best after the game. 
"This was by far the best game of Steele Jantz's career," said Bruns.
No doubt about it. Jantz completed 36-of-52 pass attempts but keep in mind that Iowa State's wide receivers dropped eight passes (according to my very unofficial tally) in the game. Jantz tallied 435 total yards in the game – 381 of those via the pass and 54 on the ground. Tack on five passing touchdowns (which tied a Todd Bandhauer record – @ Texas in 1998) and the fact that Jantz tied Austen Arnaud's Iowa State record for 36 completions in a game and it is impossible to argue Bruns' point.
If (and that's a huge if folks) Jantz can play like that for the rest of the season, there's no reason at all why Iowa State can't get to at least seven wins.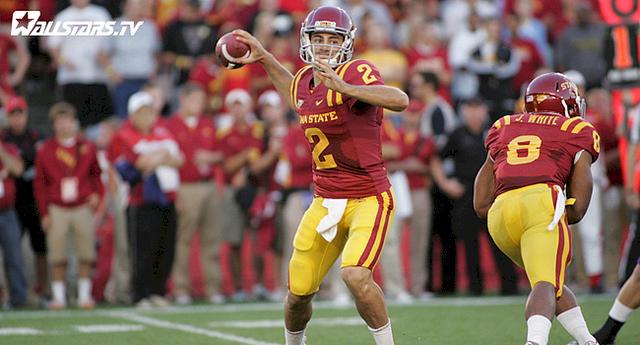 Jarvis West – I've been hyping this sophomore ever since Tom Herman told me that he would have done anything to have been able to play West as a true freshman back in 2010. Iowa State would have that season but a fall camp ankle injury forced Paul Rhoads to redshirt the 5-foot-7 wide receiver.
Finally, Jarvis West caught his first career touchdown pass on Saturday night. And second. And third. A hat trick!
In a game in which Iowa State dropped eight passes (according to my unofficial tally) in the first half alone, West couldn't do anything wrong and it was great to see him burst out of his shell. Now let's hope that there is more to come…
HELMET STICKERS
Chris Young – Not only did Young catch seven passes for 61 yards in the game, he caught some tough balls too. 
Albert Gary – Caught his first touchdown pass of the year, while setting season highs in catches (five) and yards (76).
Ernst Brun – The junior tight end's one-handed 29-yard reception at end of the first half was huge. Brun caught six passes for 76 yards in the win and 18 receptions on the season.
Jerome Tiller – His stats won't do much for you but Tiller's trickery pass attempt in the second quarter was right on the money. Due to iffy wide receiver play and good Baylor defense, Tiller finished the night 0-for-1 in pass attempts. However, this former quarterback can still throw!
Shontrelle Johnson – "The Rabbit" has struggled all season long but looked better vs. Baylor in my opinion. Johnson averaged 4.6 yards per carry and netted 73 yards in the win.
James White – He was listed as questionable heading into this one. White averaged 4.2 yards per carry on 10 attempts, racking up 42 yards along the way. I'll give him a sticker for toughing one out and probably playing in some pain.
Jeff Woody – He's Iowa State's version of Cris Carter…Vikings fans know what I'm talking about. All he does is…"Catch touchdowns." Woody caught his second touchdown pass in two weeks for Iowa State. That's very helmet sticker worthy.
Defensive line – For holding Baylor to 115 rushing yards and putting pressure on Florence all night long. 
Durrell Givens – A man who always seems to be in the right place at the right time. Givens recovered two fumbles in the win and has recovered five on the season. Givens had five tackles and forced a fumble on the night too.
A.J. Klein – This senior led Iowa State in tackles with 13 on the night. Klein became the 15thCyclone to record more than 300 tackles in his career. He's now 14th on Iowa State's career chart with 311.
Jeremy Reeves – Sure – Baylor's Terrance Williams amassed 190 receiving yards on the night but Reeves kept him out of the endzone. Reeves had nine tackles in the win.
Deon Broomfield – Had four tackles and a game-clinching interception. 
Jacques Washington & Jansen Watson – I've mentioned everybody else on Iowa State's defense. These guys did their parts too!