What: Iowa State (4-1, 1-1) vs. No. 6 Kansas State (5-0, 2-0)
When: Saturday, Oct. 13 at 11 a.m.
Where: Jack Trice Stadium
TV: FX
Today's game preview is brought to you by our good friends at Fareway. CLICK HERE for creative tailgating ideas and recipes from www.Fareway.com.
In a Big 12 Conference that is known for its high-flying offenses and gaudy statistics, Kansas State and Iowa State seem to offer up something different than the rest. Let's go with old school football as a description. Neither program is flashy on offense. Both teams are more than solid on the defensive end.
These two football programs and universities have quite a bit in common. 
The biggest characteristic that the Iowa State and Kansas State football programs share is the fact that both are perennial underdogs. After winning 10 games a year ago, some "experts" picked the Wildcats to finish as low as sixth in the league this season. Despite a fast 4-1 start, some are still predicting that Iowa State won't qualify for a bowl game.
When you wear cardinal, gold or purple, it's hard to get recognized in a league with the Texas and Oklahoma schools. 
Kansas State is the nation's sixth ranked team and the Wildcats aren't even a touchdown favorite for Saturday's game at Jack Trice Stadium. After a quarterback change and a 14-point road triumph over TCU, the Cyclones are hungry to capitalize on a mammoth opportunity. Vegas seems to have caught on. 
The weather forecast looks ugly for Saturday and that seems about right. Get ready for some old school, smash mouth football Cyclone Nation. Get ready for Farmageddon. 
Kansas State will win if…
….The Wildcats do what they do? What exactly is that?
Paul Rhoads often times uses a phrase that defines Bill Snyder's program very accurately.
"The number one secret to winning games is not to lose them first," Rhoads likes to preach. That's what Rhoads wants his Iowa State program to be some day. The Cyclones aren't there yet, but Kansas State is. 
"Bill Snyder and the Kansas State Wildcats do that week in and week out and have proved very successful in the process of accomplishing that," said Rhoads.
If I can steal some statistics from Brent Blum's column earlier in the week, here is evidence of Kansas State "not losing" football games.
"The Wildcats have turned the ball over three times in five games," wrote Blum. "They have allowed a mere two sacks and have been penalized a mind-bogglingly low nine times."
That's all proof that Kansas State is as well-coached of a football team as there is in college football. Period. And it all starts with senior quarterback Collin Klein, who has compiled a 16-4 record as a starter in Manhattan.
"Bill Snyder does an exceptional job of coaching his offensive football team in decision making and the fundamentals of the game," said Rhoads. "His quarterbacks understand how to protect the football. When to throw it – when not to throw it and so forth. Their ball carriers protect the ball."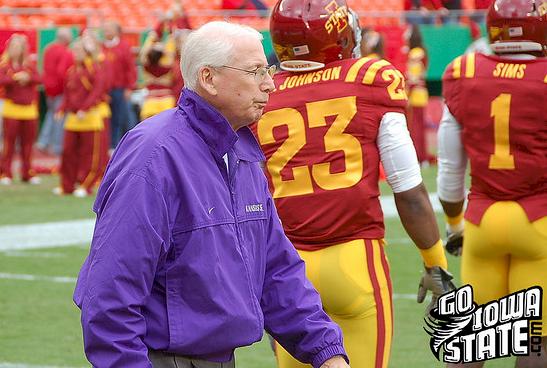 Klein, a man who many (myself included) consider to be a legitimate Heisman Trophy candidate, has accounted for 14 touchdowns (seven on the ground, seven on the air) this season. He's thrown for 887 yards while rushing for 428. At 6-foot-5, 226-pounds, Klein is a big, bad man.
"He's a very smart football player. He's a very strong football player," said Rhoads.  "Quarterback run game creates an extra gap in your defense. You're outnumbered so to speak. You've got a guy who is very patient in a situation where he already has you out-leveraged or out-numbered. He finds a way to have success. He presents a challenge for our football team."
Time after time this week, Rhoads boasted about Klein's patience as a quarterback.
"The patience that he execute plays with, it's uncanny," said Rhoads. "You sit there and you watch how long it takes a play to develop. Whether if it's on TV or game film, it's like somebody is going to show up here and make a tackle for a two-yard game. They just don't. They don't show up. He waits. He has great vision. He lets it expose itself. He gets it. In running an offense that way, they put themselves in so many manageable down and distance situations where you get on your heels as a defensive football team because it feels like you can't ever get off of the field and stop them. He's the reason for that."
Here's the good news for Iowa State. This Cyclone defense that just happens to have two All-American candidates in Jake Knott and A.J. Klein at linebacker on its roster, welcomes a big man running at them. In fact, they prefer it.
"We kind of like the guys who come right at us," said Knott. "We feel like it's easier than a guy who is 150 pounds and shifty or something. It's one of those things: man against man and strength against strength."
The point is, if Kansas State does what it normally does – that's not make mistakes – the Wildcats will win on Saturday. Because that's what they do. Win. 
Quotable: Iowa State defensive back Deon Broomfield on Kansas State running back John Hubert
"He's very underrated. I don't know why he's not getting the hype that other running backs are getting. It's no surprise. We knew last year that he was a great running back. Having him and Klein in the backfield will be a hard test."
Quotable: Jake Knott on Kansas State
"You can tell that they don't necessarily try to beat you with speed or anything like that by just calling a play and saying to go beat a guy in space. They challenge you as a defender trying to read everything because they figure out the weaknesses that the coverage or a run fit may have. They'll wait for it, wait for and then try to go to that play."
Iowa State will win if…
…The Cyclones don't allow Kansas State to lull them to sleep.
This is the goal of Kansas State's defense (and offense for that matter). They bait you into making mistakes. Just ask Kansas quarterback Dayne Crist, who threw three interceptions in a loss last week to the Wildcats.
Dink and dunk. Dink and dunk. Be patient. Don't make that big mistake. Iowa State's sophomore quarterback Jared Barnett is about to be put to the ultimate test. 
Here's an interesting aspect of this football game to think about.
Iowa State's offense generally is at its best when the jet-tempo is working right? However, Kansas State is 11-3 (dating back to last year) when it wins the time of possession battle. Having said that, eight of Paul Rhoads' 10 conference wins at Iowa State have come when the Cyclones won the time of possession battle (if you're wondering, last week's win at TCU and the Kansas win from 2010 make up the two wins for Iowa State without winning TOP).
The numbers don't lie Ball control will be CRITICAL in this one.
Key Match-Up: Iowa State's front-seven vs. Kansas State's run game
When you combine Klein and Brown, Kansas State's backfield is a nightmare to defend. Sure, Knott, A.J. Klein and Jeremiah George will be important for Iowa State on Saturday but the play of the defensive line just might decide the football game.
If Iowa State's defensive line can have its way against a good Kansas State offensive line, the chances of the Wildcats committing an uncharacteristic turnover increase dramatically, as do the chances of a Cyclone upset.
Do note that Kansas State is currently the nation's 9th-ranked rushing offense at just over 263 yards per game. 
3 Keys to a Cyclone Victory:
Patience – Kansas State's defense doesn't give up many big plays. The Cyclones need to be patient as an offense and not force the issue, which could result in a silly mistake.
3rd Downs –This goes hand-in-hand with our first key. I see a lot of 3rd and shorts in this game on both sides of the football. Who wins the 3rd down battle on both sides of the ball? That will be a big stat at the end of this one.
Luck – A ball or two bouncing your way never hurts when playing a top 10 opponent right? 
Magic Number:
This week's is 4.75. That's the average margin of victory for Kansas State in its four-game winning streak over the Cyclones. That number shrinks to 3.6 during the Paul Rhoads era. Point is, it's always a doozie when these two programs get together. 
Prediction:
I've got nothing but respect for Bill Snyder and Kansas State. I'm 100 percent on this purple bandwagon. Having said that, I still think that this is a two-loss program in the Big 12 when the end of the year arrives. 
Go back to that magic number of 4.75. Iowa State has lost four straight to Kansas State but none were what I'd consider to be convincing victories. Does what comes around, really go around in life? Maybe. Maybe not. All I know is that Kansas State hasn't played a game in Ames since 2007. Iowa State has been right there in all four recent losses to the Wildcats. If there's a progam in college football that Rhoads' crew is due to knock off, it's this one. 
In front of one of the largest crowd in Iowa State history, give me the Cyclones to once again force the college football world to pay attention to what's going on in Ames, while upsetting a top 10 team along the way. 
The Pick: 
Iowa State 27, Kansas State 20