Today's game preview is brought to you by our good friends at Fareway. CLICK HERE for creative tailgating ideas and recipes from www.Fareway.com.


What: Iowa State (4-2, 1-2) @ Oklahoma State (3-2, 1-1)
Where: Boone Pickens Stadium in Stillwater
When: Saturday, Oct. 13 at 11 a.m.
TV/Radio: FX – Cyclone Radio Network
When Iowa State and Oklahoma State meet up on Saturday morning in Stillwater, the contest will feature one of, if not the Big 12's best defense and what is statistically the nation's No. 1 offense in America at this point in the season.
That should be the hot topic of conversation leading up to the 47th meeting between the Cyclones and the Cowboys.
It's not. Iowa State's lackluster offensive performance in last weekend's 27-21 loss to No. 4 Kansas State has been the talk of our forums all week long – as was the case after a loss to Texas Tech three weeks ago.
Will the Cyclones snap out of this offensive coma on Saturday? If so, will the defense be able to slow down Mike Gundy's high-powered offense?
Here's your preview.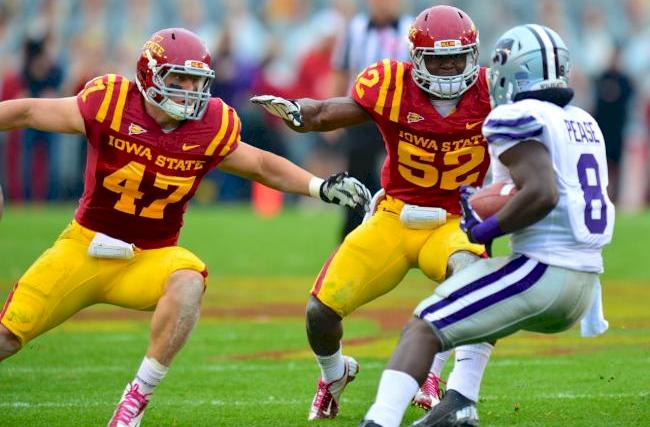 Oklahoma State will win if…
…The Cowboys outscore the Cyclones.
Talk about football 101 right?!?!
Correct…But you get my point. The Cowboys aren't known for a stifling defense. They never have been and as long as Gundy (who is now 45 by the way) is leading that program, they probably never will be. And that's okay when you're putting up 601 yards per game (as Oklahoma State is at this point in the season). 
Score more points than the other team – regardless of how high that number gets. That's the way that Oklahoma State looks at things. 
"They also have such a great coaching scheme that they have developed over the years," said Iowa State's All-Big 12 linebacker Jake Knott. "They are extremely difficult to defend against. To be successful, you have to seize every opportunity that you have whether if it's a turnover or a 3rddown stop."
This is a different Oklahoma State offense than the one Cyclone fans saw in last year's historic double-overtime upset in Ames. Gone are Brandon Weeden and Justin Blackmon. Here are a couple of young quarterbacks in freshman Wes Lunt and sophomore J.W. Walsh.
Which Cowboy will get the start against the Cyclones? That's currently up in the air as Lunt is still recovering from a knee injury that he suffered in week three. Walsh is 1-1 as a starter, losing to Texas and winning last week at Kansas.
"Both quarterbacks are very talented players," said Iowa State head coach Paul Rhoads. "They've proven that by how their numbers have remained what they are. We recruited Walsh hard and were disappointed when he committed to Oklahoma State because we thought we had a shot at him. We know how good he is and the other guy had beat him out to start the season so that tells you how talented he is."
For the sake of comparision, here's a look at each man's stats so far in 2012:
Wes Lunt: 51-for-75, 588 yards, 4 TD's & 3 INT's
J.W. Walsh: 70-for-107, 2052 yards, 9 TD's & 3 INT's with 2 rushing TD's
Quarterbacks are important everywhere but especially from within Oklahoma State's offense. Jake Knott explains… 
"They have a lot of plays that are based on the quarterback's read. If they make a good read, there is no way you can win basically. They will do one play that I specifically remember where they read the MIKE linebacker on a draw-read. The running back will just wait back there and if the MIKE linebacker comes to stop the run, he'll just throw it to the third wide receiver who the MIKE would have to cover. So either way, if the quarterback reads it right, the MIKE is wrong. You either have an open gap or a wide-open wide receiver. It's a thing that a lot of teams find difficult to do because you don't have a quarterback that has that type of experience who can make those types of decisions."
After hearing Knott break down Oklahoma State's scheme in detail, it's easy to understand how the Cowboy offense was such a well-oiled machine like we saw a year ago under the leadership of a mature leader like Weeden. It also indicate why the Cowboys have turned the football over nine times this season under inexperienced leadership. 
Don't forget about Oklahoma State's all-league running back Joseph Randle. 
"He's extremely explosive as you can see by all of the long runs that he ends up breaking. He's a powerful runner," said Knott. "As a linebacker, he's the guy that you don't really like. You like the guy who you know is going to try to juke you out or run you over. With him, you don't really know what you're going to get."
Randle, who is currently Oklahoma State's 13th all-time leading rusher, has complied 614 yards and six touchdowns on the ground this season. It is noteworthy that Randle was held to under 100 yards for the first time this season last weekend against Kansas.
LINK: A great read on what exactly it is that makes Oklahoma State's offense so difficult to defend via Grantland.com.
Had a bad day…
As gaudy as Oklahoma State's offensive numbers are on the season, you can't ignore what happened last week in Lawrence either. Oklahoma State's 20-14 win over the Jayhawks marked the first time in 22 games where the Cowboys did not reach 30 points. Oklahoma State only mustered up 371 yards of total offense in the contest too. However, the game was suspended due to weather for over an hour late in the first quarter. Regardless, the Cowboys didn't look like the Cowboys. Was it a fluke or a sign of things to come?
Quotable: Mike Gundy on playing the "revenge card" after last year's upset
"I don't think that it goes unnoticed. I think most of that is overrated. I can't imagine that some players might not reflect back on that. They have to go out and play a sound football game. They have to be in the right spot and adjust based on whatever position they are in, offense or defense. If you get caught up in that then you won't play very well."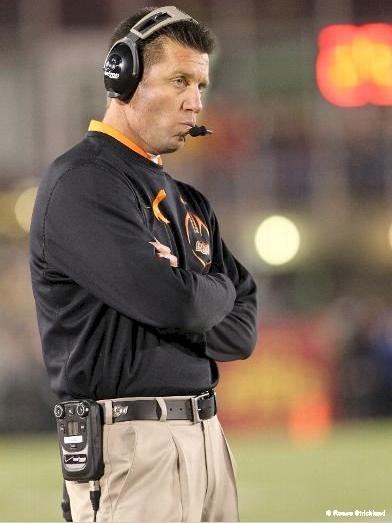 Iowa State will win if…
…Two things…
If its offense comes to life and the defense isn't completely gassed from being on the field over 40 minutes last week.
Let's focus on the offense though – a group that Iowa State believes is a small thing here and there from gelling into an efficient unit for the second half of the season.
"I feel like we are really close," said sophomore quarterback Jared Barnett. "We have to get our timing down, making sure that me and my receivers are on point and on the right page at the same time. We really have to get that running game open so that we can open down the field a little bit."
Should the offense snap out of it, a few things will have to happen. First of all, the run game has to improve. The Cyclones haven't had a 100-yard rusher since a week one win over Tulsa. Iowa State is currently the Big 12's last ranked rushing team at 143 yards per game on the ground. Iowa State will also have to give the opposition a reason to not load the box – much like what went down in Fort Worth two weeks ago when Barnett connected with Josh Lenz for a 51-yard touchdown pass on the opening drive.
Regardless, Iowa State will be ready to play. They generally always are. 
"If they are going to load the box we are going to have to load the box as well and have more blockers in there," said Barnett. "If they want to send eight guys we are going to have to make sure we can combat that with an extra tight end or even a receiver blocking the edge."
For more on Iowa State's struggling offense and how the Cyclones can turn things around, I encourage you to check out the following links:
*** Brent Blum on how to keep this season from turning into 2005 all over again. 
*** Kirk Haaland on time, tempo and touchdowns.
Key Match-Up: Iowa State's offensive line vs. OSU's defensive line
Iowa State's offensive line isn't the only reason that this offense has had its issues in the first six games of the season but we all know that everything in football starts up front. A dominating performance by this group would go a long way for all areas of the offense. If the line can give Barnett some time, he should have an opportunity to pick up some serious yardage though the air against a 73rd ranked OSU pass defense.
3 Keys to a Cyclone Victory 
Turnover margin – This goes both ways. With Oklahoma State's inexperience at quarterback, this Cyclone defense should be able to gather a few takeaways. Oklahoma State is currently ranked 104th nationally in turnover margin, turning it over nine times compared to only four takeaways.
Defensive line penetration – This goes hand-in-hand with key No. 1. The linebackers can only do so much. Iowa State's defensive line needs to have an upper hand on Oklahoma State's offensive line, get in the backfield and force those young quarterbacks to make quick decisions. That will be tough to do though as over the last five years, Oklahoma State has only allowed 63 sacks, the third fewest in college football. 
Running game – It's been the topic of conversation all week. The Cyclones have to figure out a way to run the football effectively.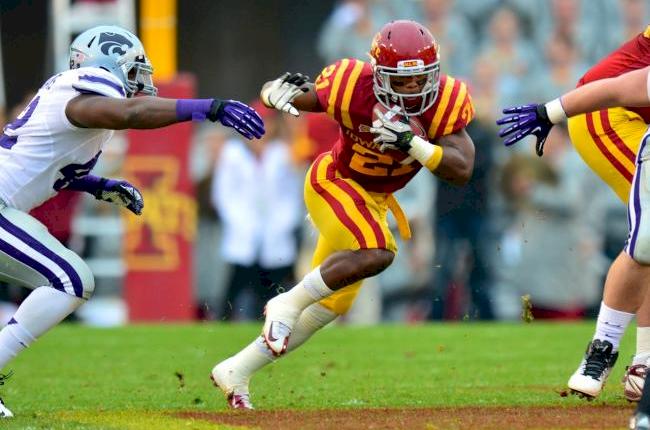 Magic Number: 
This week's is 100.  
The following stat comes via our columnist Brent Blum:
Iowa State is 0-6 during the Paul Rhoads era when rushing for under 100 yards in a game.
Notebook:
*** It's Homecoming this week in Stillwater. The Cowboys are 48-35-7 all-time in Homecoming games. The Cowboys lead the all-time series vs. Iowa State 25-18-3.
*** Mike Gundy is looking to make some history on Saturday. If Oklahoma State wins the game, Gundy will become the all-time winnings coach in the history of Cowboy football. Gundy is 62-32 in his seven seasons in Stillwater right now.
*** Oklahoma State is averaging 48.6 points per game. That's the third most in college football. 
*** This game will feature two of the top punters in college football. Iowa State's Kirby Van Der Kamp has pinned 17 of his 36 punts inside the 20-yard line. Oklahoma State's Quinn Sharp averaged 53 yards per punt in his five kicks last week against Kansas. Not bad…
Prediction
Here's what I think…
I think that Oklahoma State's stats are inflated due to games against Savannah State and Louisiana-Lafayette early on. Don't get me wrong. I've got a ton of respect for this offense. Gundy has proven that his program is to the point where he really can just plug guys in and still be successful. However, that turnover margin statistic is troubling if you're a Cowboy fan. That offense relies so much on quarterback play. If it's Lunt or Walsh, neither have a ton of experience. Walsh only led the Cowboys to 20 points against Kansas last week and Lunt is a true freshman who hasn't played in nearly a month. Combine that with Iowa State's salty defense and it could be a long day for Oklahoma State fans.
Having said that, how much gas is left in the tank for what I believe to be an elite Iowa State defense? Chances are, plenty, but I also don't think I'm crazy for being at least a little paranoid.
The offense has to do something – anything this week if Iowa State will emerge from Stillwater with a 5-2 record.
I think that we'll see a little bit of everything on Saturday. You know that Paul Rhoads will have his team ready to play. I think that the offense will produce more than it did in the two losses this season. But this game is in Stillwater and Oklahoma State has a lot to play for (as does Iowa State of course). There's the whole revenge factor (that players and coaches have been downplaying all week in public but I guarantee that's not the case behind the scenes) and after that scare in Lawrence, I can only assume that the Cowboys were very coachable in practice this week.
My objective opinion is to go with the home team here so that's what I'll do. But you all know as well as me that this Iowa State program that plays well on the road should at the very least put a scare in Oklahoma State.
The Pick
Oklahoma State 28, Iowa State 27