Former Iowa State great Ben Bruns summed up Iowa State's 38-23 season opening win over Tulsa best on Saturday evening's postgame show.  
"Iowa State made Tulsa look pedestrian," said the former All-American offensive lineman.
I love Bruns' analysis of Iowa State football. He, along with my Cyclone Reaction co-host Jack Whitver, have the rare ability to cover their former school, be optimistic about their former school but at the same time, be very realistic about their former school.
But good or bad, Bruns always tells it like it is. I really respect that. 
Sure – Tulsa made it a game midway through the fourth quarter but remember, this is Iowa State football. You didn't actually expect to be able to relax with the good folks in your section throughout the entire fourth quarter did you? That's not how the Cyclones roll! You should know that by now…
As expected, the first quarter was a rocky one. This happens quite often in openers. The guys get too amped up and are sloppy because of it. A poor effort by Iowa State's kickoff team gave Tulsa some good field position and a veteran Golden Hurricane offense took advantage of that. But after getting down 16-7 at the end of the first, the 2012 Cyclones cruised. As Bruns put it, they dominated.
It wasn't perfect. Games rarely are. Season openers never are. But in front of the largest home opening crowd in Iowa State football history, the underdog Cyclones picked up a two-touchdown victory over a team that will probably win Conference USA. 
Here's the report card. 
GAME BALL
Shontrelle Johnson – Consider where Iowa State's junior running back was last January. The 2011 season had just come to an end and we found ourselves asking if "The Rabbit" would ever see the field again. 
In his first game back, Johnson averaged 6.7 yards per carry while tallying 120 yards and a touchdown in the win. There's no doubt that Shontrelle is back like the saying says, he really is better than ever.
"I don't often recognize individuals in the locker room but it was great to see him back and we did welcome him back in the locker room after the game," said Paul Rhoads. "He's a special player. He runs the ball violently and runs the ball with great passion. He's a weapon for our football team."
Johnson played on a whole other level on Saturday. He was a level above the rest of the running backs on the field (for both teams). He was a level above where he was at before injuring his neck vs. Texas last season.
I've been saying this for weeks and Saturday's game only confirmed my confidence that Johnson will lead Iowa State in every major rushing category at the end of the season.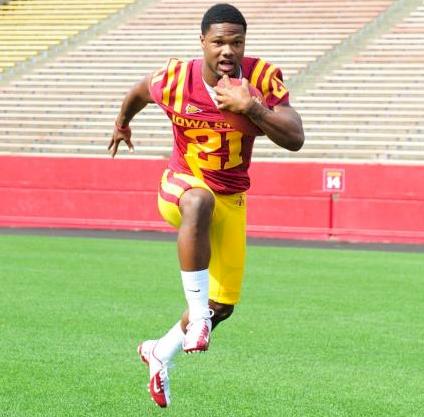 THREE UP
Courtney Messingham – I actually pondered giving Iowa State's new offensive coordinator the game ball…
I thought that Messingham called a brilliant football game vs. Tulsa, specifically in the second quarter.
Iowa State ran the football 45 times in the victory. Iowa State attempted 45 passing attempts as well. Balance is a lovely thing. Of course quarterback accuracy always makes an offensive coordinator in a spread offense look good too. We'll get to that in a moment…
Penalties –The official box score says that Iowa State committed four of them for 23 yards. However, that's counting a delay of game penalty that Paul Rhoads purposely took in the fourth quarter. So really, Iowa State only committed three penalties for 18 yards in its season opener. In last year's opener vs. Northern Iowa, the Cyclones committed eight penalties for 81 yards.
Defensive Line – Iowa State's defensive line is a fascinating group. It isn't the most talented bunch in the world. In fact individually, these are mostly average Big 12 football players. However as a group, it might not be that bad after all.
According to my very unofficial and amateur calculations, Iowa State went 11 deep on the defensive line in Saturday's win. In the first quarter, the group didn't look so hot. But it got better and better the longer that the game went on. I watched the fourth quarter from the field and it was obvious to me that the Cyclones looked much more fresh than Tulsa at that point in the contest. 
Not depth…Quality depth. That's the key. The Henry Simon's, Cory Morrissey's and Rony Nelson's of the world all made an impact on the game.
Having 11 guys in your rotation doesn't mean much. It's when you can put 11 guys in a rotation and they are all a factor in one way or another. That's what's important. I think this group can do that consistently if it stays healthy. After all, young guys like Morrissey and David Irving will only get better with time. I had my doubts heading into the season but I'm much closer to being a believer after that performance.
THREE DOWN
First Quarter – Tulsa had a 16-7 lead heading into the second period but to be honest, I never really felt like Iowa State was going to lose this football game. A sloppy first quarter really was only half of the first quarter. It began with a Tulsa safety with 6:39 to play in the period. That gave the Golden Hurricane superb field position. Tulsa, like good football teams do, took advantage of Iowa State's special teams meltdowns, scored two touchdowns and was in control of the game.
But as I mentioned in the Messingham segment above, Iowa State's second quarter was borderline brilliant. From the play calling to the execution (on both sides of the football) to darn near every aspect of the football game, Iowa State was perfect during that 15 minutes.
Injuries – Some good and bad news here. Good because there isn't an injury that Iowa State suffered on Saturday that should keep anybody out of next week's game at Iowa. 
Bad because a decent number of impact guys got dinged up. The men I'm talking about are Jeff Woody, Ethan Tuftee, Jeremy Reeves and Chris Young.
Big play in fourth – When Trey Watts busted a 77-yard run open with just over 10 minutes to play, 50 thousand fanatics inside of Jack Trice Stadium thought, "Here we go again."
It was just a tease. Like I alluded to in the intro, Iowa State will never make it easy folks. The Cyclones were just keeping you honest.  
HELMET STICKERS
A lot of these today…
Steele Jantz – It's funny that I've plowed through 1,000 words already in this column without mentioning Steele Jantz's name. If I had two game balls to hand out (which I guess I could since you know, this is MY postgame column), Jantz would have received the other. Steele's 32-for-45 performance for 281 yards, two touchdowns and a score on the ground were what fans wanted to see on Saturday. But some things that Jantz did well don't show up in the box score.
"I saw a lot of things out of Steele Jantz today and I think a lot of people in Jack Trice Stadium saw the same thing," said Rhoads. "I saw a very composed quarterback. I saw a guy who had the look in his eye on the sideline who ran the ball very well and I thought threw the ball better than he did in camp with deeper stuff."
One example that comes to my mind is a third down play late in the fourth quarter where Jantz was force to roll out of the pocket. At this point (it was a one possession game) I was thinking, "Don't do it. Don't do it. Don't do it. Don't do it." And he didn't. I think that last year, Steele Jantz would have forced that football. This year, he took the safe play, didn't get the first down but most importantly, didn't turn the football over. 
A punt isn't always a bad thing you know…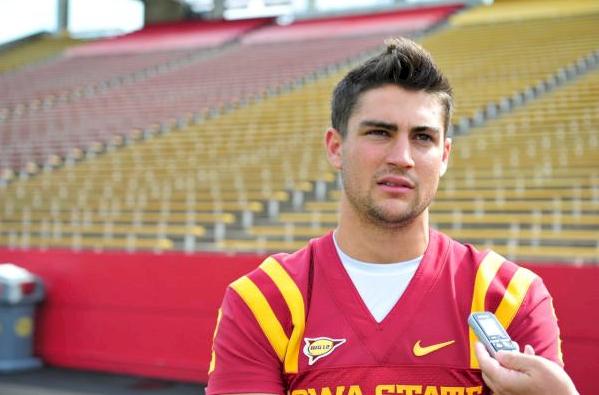 James White – Don't think that my love for Shontrelle Johnson means that I'm down on James White. That isn't the case at all. White's 10 carries for 54 yards and a touchdown were a beautiful change of pace vs. Tulsa.
Ernst Brun – The junior caught Iowa State's first touchdown reception by a tight end since 2010 in the second quarter. Brun was more of a physical blocker than I thought he'd be too. 
Josh Lenz – I've heard John Walters praising Lenz as a potential All-Big 12 player in 2012 for a few weeks now. I think that the Godfather might be onto something…
Lenz caught eight passes for 96 yards and a 43 yard touchdown reception in the win to lead the Cyclones.
Chris Young – Why is this guy starting we asked on Monday?
That's why. Seven catches for 73 yards for Chris Young turned a few heads. It's noteworthy that Young only caught six passes in all of last year.
Kirby Van Der Kamp – I guess I don't fancy myself as a "punting expert," but there can't be too many guys better than KVDK in the country can there? Van Der Kamp kicked the ball nine times for an average of 43 yards on Saturday. Pinning Tulsa inside the 20 five times was critical though.
Edwin Arceo – If an Iowa State kicker doesn't miss a kick in a game, he'll always get a helmet sticker from me. Edwin Arceo made a 30-yard field goal at the end of the first half and was perfect on PAT's in the win.
Offensive Line – You all get helmet stickers gentlemen. Don't spend them all in one place.
I'll point out a few guys specifically though. When Ethan Tuftee went down in the first quarter, the line looked a heck of a lot worse when he was out of the game. Just saying.
Carter Bykowski is a man. Tom Farniok is a future pro.
Defensive Line – I've already gushed about these guys in "Three Up." It might be a stretch to give all 11 of them helmet stickers but it's the depth that makes so many of them effective. Willie Scott and Jake McDonough led all defensive linemen with three tackles. It's not like any one guy set the world on fire here. It's a group thing.
Jake Knott – I wonder how many helmet stickers this guy has racked up over the years…Knott led the Cyclones with 11 tackles and a critical forced fumble.
A.J. Klein – He's pretty good too. Seven tackles for No. 47 was tied for second on the team with…
Deon Broomfield –…A man who I've heard nothing but great things about all camp long. Broomfield showed us why by recording seven tackles and a game-clinching interception late in the fourth.
Jeremiah George – He didn't have a "look at me" type of game, but George's six tackles confirmed what most of us knew entering Saturday. That's the fact that Iowa State will play more of a base 4-3 defense in 2012 because George's athleticism gives them the option to do so.
Durrell Givens – Not much of a drop off from Ter'Ran Benton here in my opinion…"Pig" had five tackles, a fumble recover and an INT on Saturday.
Jacques Washington – Four tackles and more importantly, two pass break-ups for the junior.
Jansen Watson – Two pass break-ups in his debut as a starter…
Did I get carried away with the helmet stickers? Maybe. But I actually feel like I could have handed out more. It was the most impressive opening game win by an Iowa State team that I've seen in a long while.