AMES — Ho humm.
That's about all I can come up with for a lead after Iowa State's 37-3 beat down of Western Illinois on Saturday night.
It was a game in which it's impossible to be upset with the outcome. Sure – Iowa State probably could have dropped 60 points (or more) on the Fighting Leathernecks but the Cyclones dug deep into their bench and manhandled an inferior opponent. That's what heavy favorites are supposed to do.
Not one rational human being in attendance ever felt that Western Illinois had a chance to beat, better yet even compete with Iowa State in that football game. Iowa State's mammoth offensive line gave Steele Jantz what seemed like hours to throw the football. Western Illinois quarterback Josh Hudson was constantly running for his life on the other side of the ball (he'll be sore on Sunday). 
Physically, the Leathernecks were an undercard featherweight fighter up going up against Evander Holyfield in his prime.  
Iowa State physically dominated Western Illinois from the opening kick in a way that you just haven't seen many Cyclone teams do throughout the course of history.  
Offensively, the Cyclones turned the ball over too many times (more on this later) but at the end of the day, Iowa State football has been on the wrong side of a 37-3 score way too many times. When you win a game by 34 points and know that you didn't even come close to playing your best football, that's a good sign for your program.
For the second season in a row, Iowa State is 3-0 heading into Big 12 Conference play.
Life is good.
Game Ball
Kirby Van Der Kamp – Iowa State's offense racked up 504 yards of total offense in this one but I'm giving Saturday night's game ball to the punter. Yep. You read that correctly. The punter.
Kirby Van Der Kamp…COME ON DOWN…
In a night in which no one guy really stood out on defense and the offense was hot and cold, Van Der Kamp was brilliant once again.
Van Der Kamp has punted the ball 19 times this season. Fourteen of those have been pinned inside of the 20-yard line. Not one of Van Der Kamp's kicks has been returned.
This guy has been unbelievable and is a major reason that the Cyclones are 3-0.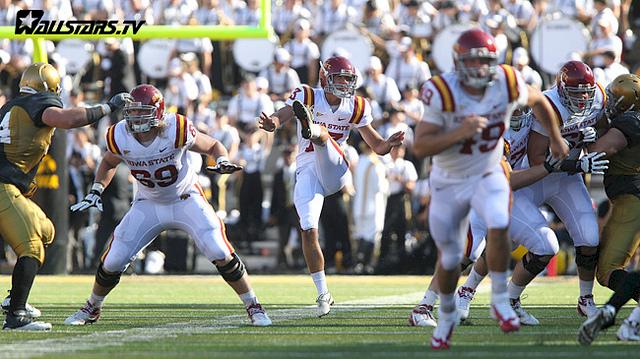 Three Up
Defensive domination – Western Illinois got its field goal when Iowa State's first-string defense was off of the field. In face, a handful of guys from the three-deep were in at that point in time.
Iowa State has only given up nine points in its last two games. Look for the Cyclones to be a top 20 scoring defense nationally after this performance.
A few more impressive defensive statistics from Saturday night:
— Western Illinois was 2-for-16 on third down.
— Western Illinois' 178 yards of total offense was the lowest outbput by an Iowa State opponent since Northern Iowa tallied 99 yards in 2004.
— Western Illinois ran the ball 38 times and only averaged 2.7 yards per carry.
— Western Illinois punter Pat Smith punted the ball 11 times in the game.
— Iowa State has now held consecutive opponents without a touchdown for the first time since the season finale in 1964, a 0-0 tie at Arizona and the season opener in 1965, a 21-0 win over Drake.
Attendance – Officially, 55,783 fans were in attendance for Saturday night's rout. That's the fourth largest crowd in Iowa State history…For WESTERN ILLINOIS. That might be the most impressive statistic to come out of this football game.
Young talent – This is why games like Western Illinois are so valuable to have on your schedule. While a few casual fans might have taken off to the parking lot to have a cold one when things got out of hand, the diehards stuck around to see the Cyclones of the future. Guys like DeVondrick Nealy and Rob Standard shined offensively. Quietly, young members of the Iowa State secondary such as Kenneth Lynn and Sam Richardson showed promise. Redshirt freshman quarterback Sam Richardson even showed us a few nifty moves with his legs.
When young guys take the field for the first time, things can go one of two ways. Good or bad. Not one of these youngsters disappointed anybody in the route.
Paul Rhoads constantly talks about team morale and getting young guys playing time is good for everybody.  
Three Down
Turnovers – Here's a wild stat for you. In its last two games, Iowa State has turned the football over seven times compared to two by its opposition. Yet, Iowa State is 2-0 in those two contests.
The Cyclones committed three turnovers (to zero by WIU) in Saturday's win but when you out-gain your opponent by 326 yards, it's a stat that doesn't really show up on the scoreboard.
To put on my Captain Obvious hat for a moment, that obviously can't happen in the Big 12.
Penalties — Iowa State only committed seven penalties for 58 yards in its first two games this season. The Cyclones committed seven penalties for 75 yards on Saturday night.
Western Illinois – I hate to pile on, but that's a team that just isn't very good.
Helmet Stickers 
Steele Jantz – He's got to quit turning the football over. That's already been established. But give credit where it is due. After completing just over 50 percent of his passes a season ago, Jantz has completed just over 70 percent of his passes through three games in 2012. If you eliminate a fumble and interception on Saturday night, Jantz was fantastic. No. 2 completed 19-of-26 passes for 209 yards and three touchdowns. That's very helmet sticker worthy. 
James White – The junior running back got in the end zone via a 56-yard touchdown run early in the first quarter. White's carries were limited after that but even so, he racked up 72 yards on the ground and 24 through the air as well.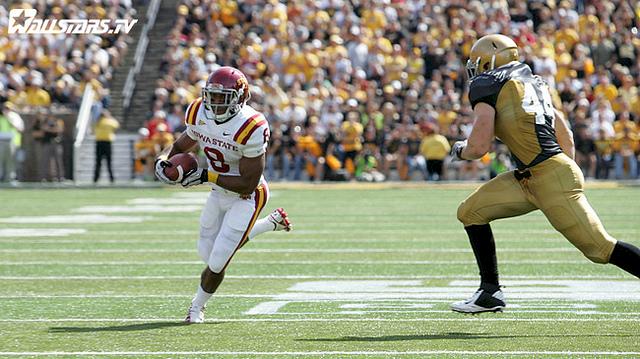 Jeff Woody – This guy gets a helmet sticker for being on the field. It was great to see the big man back in action. 
Chris Young – I gave the senior wide receiver serious consideration for the "game ball" award. Young matched a career high with seven receptions while setting a career high 86 receiving yards in the game. All of the sudden, Young sort of looks like a go to guy for Steele Jantz. Oh yeah. He caught two touchdown passes too. 
Jerome Tiller – He looks like a verteran at the wide receiver position. Believe it or not, former quarterback Jerome Tiller has only caught two fewer passes than Josh Lenz at this point in the season. Tiller tacked on four to his season total of nine Saturday with 41 yards as well.
Aaron Horne – Another wide receiver…This senior caught his second career touchdown pass in the third quarter.
Edwin Areco – Call me crazy, but I was actually hoping that Iowa State would keep it out of the end zone late in the third quarter so that Rhoads would be forced to send kicker Edwin Arceo out for a long field goal attempt. I wanted to see how the junior walk-on would respond to last week's missed PAT at Iowa. Frazzled? Nope. Not a bit. He buried a 49-yarder and looked good doing it.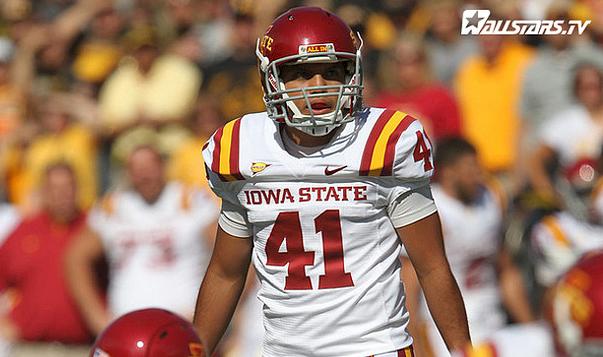 DeVondrick Nealy – Wow. Just wow. The redshirt freshman was better than I thought he'd be. Nealy entered the game in the third quarter and ran for 44 yards in his first four carries. Nealy ended the night with 70 yards on nine carries, averaging 7.8 yards per carry. He actually carried the ball more than any other Cyclone on Saturday night and might have earned himself some additional playing time in the future.
Rob Standard – He appears to be a good one as well. Iowa State's other redshirt freshman tailback scored the first touchdown of his career in the victory. Standard ran the ball seven times for 30 yards.
Jeremiah George – Not only is he best interview on the team, Jeremiah George a heck of a football player too. The junior linebacker almost won my "game ball" award but will have to settle for a helmet sticker instead. George led Iowa State in tackles with nine. 
Jansen Watson – Another junior on Iowa State's defense…Watson recorded five tackles in the win and showed more of that physicality that we've heard so much about.
Jake Knott & A.J. Klein – Iowa State's starting defense didn't play much at all in the second half. However, I feel like linebackers Jake Knott and A.J. Klein still deserve helmet stickers. Why not right? Knott had five tackles in the win. Klein added four to his tally on the season. Tackle numbers will be significantly down at the end of the season for both of these men but that's a good thing for the team as a whole.
Walter Woods & Cleyon Laing – Both of these veteran interior defensive linemen recorded sacks in the win.
The rest of the defensive line — They all get helmet stickers!  
The offensive line – They were good too…
Gage Schaeffer – Props to this walk-on for standing out on special teams. This guy can hit!