IOWA CITY — Let's get this straight right now Fanatics. There is no such thing as an ugly win in Iowa City – or anywhere outside of Ames, Iowa for that matter. You dig?
Iowa State and Iowa came out of the gates on Saturday and looked like the 2000 St. Louis Rams in their first offensive possessions. The Cyclones effortlessly drove 75 yards to score via a five-yard Aaron Horne touchdown reception. The Hawkeyes answered quickly by conducting a long drive of their own and settling for a 23-yard Mike Meyer field goal.  
By all means, we appeared to be on the verge of 2011's Cy-Hawk game, version 2.0.
In his Cyclone Radio Network post game interview with Eric Heft, Paul Rhoads called Iowa State's 9-6 squeaker one of the ugliest and most beautiful wins his program has produced over the last four years.
The three-point victory full of bad turnvers and a missed PAT looked more like the Nebraska win of 2009 than anything – minus the eight forced turnovers of course. That's the crazy thing about Iowa State's second straight victory over its in-state rival. The Cyclones went into a hostile environment, lost the turnover battle 4-2 (three of those turnovers went down in the red zone by the way) and still managed to walk out with the new and improved Cy-Hawk Trophy in hand. 
Just like the Nebraska win, a dominating defense bailed an inept offense out time after time. But unlike the shocker in Lincoln, the turnover statistics from Saturday show that the Cyclones shouldn't have won the game.
Iowa State's defense that's full of grinders on the defensive line, a swarming secondary and a couple of All-Americans at linebacker said otherwise. 
That's where I'll begin with my postgame awards.
Game Ball – The Defense
Everybody gets a game ball for this one.
After he rushed for 150 yards last week against Northern Illinois, the Cyclones held Hawkeye tailback Damon Bullock to only 53 yards on 22 carries. Iowa quarterback James Vandenberg completed only 20 of his 42 pass attempts.
Iowa dropped a lot of passes but many of those errors were forced by a confident Cyclone secondary.
And what about Jake Knott's game clinching interception late in the fourth quarter? A good football player would have knocked that ball down. A great football player finished the job, forced the turnover and watched his offense take the field to get set in the victory formation.
For the first time since 2005, Iowa State didn't allow the Hawkeyes to score a touchdown in the lowest scoring Cy-Hawk game since 1988.   
Three Up
Looking ahead – As my Cyclone Reaction co-host Jack Whitver astutely pointed out after the game, Western Illinois couldn't land on Iowa State's schedule at a more perfect time. With all due respect to next week's FCS opponent (that has started the season 2-0 by the way), Iowa State has an opportunity to gain a lot of confidence leading into its bye week and eventually the start of a grueling Big 12 slate.
Look beyond the next two weeks and you'll see that Texas Tech will come to Ames on Sept. 29. Of course this is hypothetical and we're getting way ahead of ourselves but a 4-0 start to 2012 isn't crazy to think about at all.
We've already touched on the fact that Saturday's win might not have been filled with glamour but just imagine if Iowa State would have lost after committing three red zone turnovers? I might have just shut CF down for a few days. Yikes… 
Instant replay – It hasn't treated Iowa State very well over the years but on Saturday, instant replay went off and did something like this….AND TOTALLY REDEEMED ITSELF (Dumb & Dumber reference for those who are lost at this point).
The Big 12 officiating crew reversed a called Iowa touchdown on the field with around four minutes to go in the third quarter that would have given the Hawkeyes a one point lead (assuming that Iowa would have made the PAT of course). At that point in the game, Iowa State's offense had done next to nothing in the second half. That could have been the deciding score. But the ball was placed on the three-yard line and Iowa State's defense produced one of the gutsiest goal line stands you'll ever see.
Thank you instant replay. You're a peach.
Secondary – I love this group.
Do yourself a favor next Saturday. Just watch Jacques Washington for a series. Don't take your eyes off of No. 10. Watch the way that he moves and positions himself. Watch the way that he coaches up his teammates. Watch the swagger that he brings to Iowa State's defense as a whole.
Washington, who had six tackles and an interception in the win, is the quarterback of Iowa State's secondary, a secondary that makes up for its lack of size with grit and plain nastiness.
Even on a second quarter play when junior Jansen Watson plainly got beat, No. 2 didn't give up. He laid the wood to an Iowa receiver to force an incompletion. That's just one example from Saturday's win.
Durrell Givens (who led the Cyclones with nine tackles – he's also pictured below) is a legitimate Big 12 strong safety. Deon Broomfield has emerged as a nickel back who you wish could be on the field more than he already is. I love Iowa State's corners and the depth is there.
We saw on Saturday that if Iowa State's defensive line can pressure a quarterback, this group can take care of business in a physical way.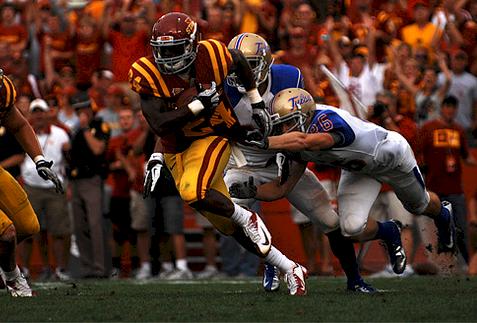 Three Down
Quarterback confidence – At one point in the first half, Steele Jantz's passing line was 10-for-10. Jantz ended the game 24-for-36 with two red zone interceptions and a zone-read fumble that was probably his fault. The mistakes looked a lot like Steele Jantz from 2011 – not the poised game manager from week ones win over Tulsa. 
Again though, this is just another reason why Western Illinois couldn't pop up on the schedule in a more perfect place. By no means should fans be panicing about Jantz at this point in the season. There's a lot of teaching that can be done from the Iowa game tape. Jantz will have an opportunity to get that confidence back next Saturday night against an FCS defense. Iowa State fans need to hope for that too because the guy we saw in the first quarter at Kinnick Stadium yesterday looked extremely sharp.
Red zone offense – Iowa State ended the game by going 2-for-5 in the red zone with the three turnovers. Teams with red zone stat lines like that just don't win games very often, especially ones on the road. 
Kicking situation – After Iowa State drove 75-yards on its opening drive and punched one in the end zone, walk-on junior kicker Edwin Arceo missed the PAT. It was a harsh reminder that Cyclone fans can't ever relax when the kicking team marches onto the field.
Even though that first drive was a thing of beauty, the missed PAT was awfully deflating. The momentum of the game switched back to Iowa before the Hawkeyes even had the football. I'd like to think that this position is locked down for Iowa State going forward and heading into this weekend, I did truly believe that. It's simply impossible to not have doubts after the missed PAT though.
In Arceo's defense, the junior barley missed a 57-yard field goal at the end of the first half. It was a heck of an effort. 
Helmet Stickers
Kirby Van Der Kamp – He just might be the Big 12's Special Teams Player of the Week two weeks in a row. Van Der Kamp punted the ball six times on Saturday and pinned the Hawkeyes inside the 20 on five of them. In fact, my Cyclone Reaction co-host Jack Whtiver said that Van Der Kamp was his player of the game.
Jake Knott – As Ian Smith wrote in this piece, Knott has produced the two single biggest plays of the young season for the Cyclones. Knott ended the day with six tackles and of course, the interception 
Jacques Washington – I already raved about this guy.
Durrell Givens – Led the team in tackles and really doesn't appear to be much of a drop off at all to Ter'Ran Benton from last season.
A.J. Klein – Another big game from No. 47. Klein had eight tackles in the win and  was critical in several pass coverage situations as well.
Jake McDonough – Four tackles, one for a loss and McDonough was James Vandenberg's worst nightmare there for a good chunk of the game. McDonough might not put up gaudy stats but he's playing like an All-Big 12 defensive tackle right now.
Rest of the defensive line – McDonough stood out but these guys were all good. Roosevelt Maggitt looks better than he did pre-injury. Henry Simon continues to impress. If this group improves throughout the year the way that it did in 2011, we're all in for a treat.
Deon Broomfield – He didn't get credit for a tackle in the win but Broomfield delivered some big hits on Iowa wide receivers.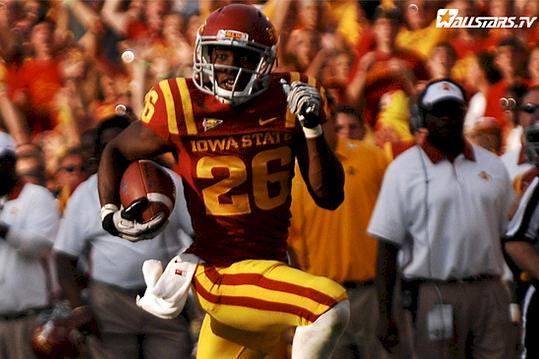 Jeremy Reeves – Had a fantastic day from a coverage standpoint…
Jerome Tiller – This former quarterback caught three balls for 33 yards in the win. In fact, he might have even looked like Iowa State's best receiver on Saturday. 
Aaron Horne – Believe it or not, Horne's five-yard touchdown reception in the first quarter was the first of his career. Horne led all Iowa State wide receivers with six receptions for 73 yards.
James White – The junior running back led all Cyclones in receptions with seven for 65 yards. White ran the ball 13 times for 42 yards too.
The offensive line – Despite Iowa State's poor rushing performance, Iowa State's offensive line protected Steele Jantz all day long. This group gets high marks through the first two weeks of the season.