Believe it or not, a quarter of the 2012 Iowa State football regular season is already behind us. Oh how time flies when you're 3-0 right?
Being that Iowa State's bye week is upon us, I thought this would be a perfect time to really dig deep inside the numbers and take a look at where the Cyclones are at as a team, individually and more within the scope of college football and the Big 12 Conference.
Starting with…
The Good
Throughout the first three weeks of the college football season, Iowa State's defense has been one of the best in America and the numbers prove it.
Total Defense: The Cyclones are currently ranked 16th nationally in total defense, giving up only an average of 280 yards per game. That number ranks Iowa State fourth in the Big 12 behind Texas Tech, TCU and Oklahoma. However, I think it is fair to argue that Iowa State has played the toughest schedule of any of the teams above them within the league.
Scoring Defense: The big one…Iowa State is currently ranked 13th nationally in scoring defense, giving up only 10.67 points per game. That too is good for fourth in the Big 12, behind the same teams listed above.
Note: That TCU and Oklahoma have only played two games while Iowa State and Texas Tech have played three. The Horned Frogs of TCU have yet to give up a touchdown in two games against Grambling St. and Kansas.
Pass Defense: Iowa State is currently ranked 33rd in rush defense (fourth in the Big 12) and 21st against the pass (fourth in the Big 12). However, the Cyclones are currently ranked eighth nationally in pass efficiency defense. Iowa State opponents are only completing 48.2 percent of their passes on the season. For the sake of comparison, Iowa State opponents completed 56.7 percent of their passes in 2011.
3rd Down Defense: The opposition is 15-for-55 against the Cyclones on 3rd down so far this season. That's a percentage of 27.3 percent, good for third in the Big 12.
NOTE: To the skeptics out there who will say, "Well Iowa State hasn't played anybody. Of course the stats will look this way." – This is college football. Most teams haven't played anybody. A guy can actually make a fair argument too that Iowa State's schedule up to now has been tougher than most, especially say TCU (who has played Grambling St. and Kansas) and Texas Tech (Northwestern St., Texas State & New Mexico) who are ranked ahead of the Cyclones in most defensive categories in the Big 12.
Another NOTE: Now let's keep it real. The thought of these defensive numbers staying where they are throughout Big 12 is a tad unrealistic too. The Big 12 is the best offensive league in college football so judging its defenses based solely off of numbers doesn't give you an accurate reading at any point in the season. 
More good…
Yards Per Play: Iowa State is averaging 5.3 yards per play compared to 4.0 by the opposition. In 2011, the opposition averaged 5.7 to Iowa State's 4.9. Like many of the stats above, this is one that will likely level out when Big 12 offenses arrive on the schedule.
Tulsa's Offense: Proof that Iowa State's schedule hasn't been "Cupcake City," to steal a line from the great Dick Vitale. Tulsa, who Iowa State beat 38-23 on Sept. 1, is currently ranked 18th nationally in total offense at an average of 525 yards per game. Iowa State held the Golden Hurricane to 358 yards in that meeting.
Linebackers: He is who we thought he would be. Jeremiah George has definitely decreased the workload for Jake Knott and A.J. Klein so far this season. In fact, all three of Iowa State's linebackers currently rank in the top 13 in tackles in the Big 12. Knott is tied for ninth with 22. George is 12th with 20 and Klein is at 13th with 19.
Depth at WR: Five Cyclones (Chris Young, Aaron Horne, Josh Lenz, Jerome Tiller & Jarvis West) have caught nine or more passes through three games.
Chris Young: I'm willing to wager that back in July, most of you reading this wouldn't have picked senior Chris Young to be at the top of Iowa State's receptions chart (tied with Horne) through the first three games of the season.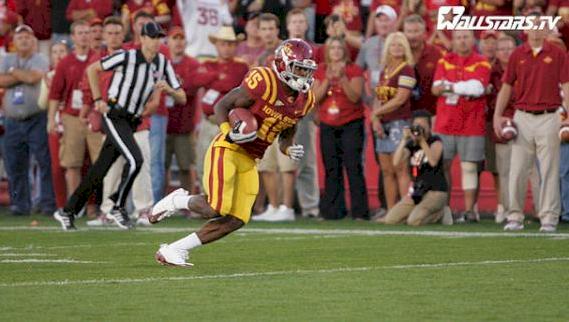 Completion Percentage: Steele Jantz has completed 70.1 percent of his passes so far. That's up from 53.3 percent a year ago. 
Van Der Kamp: Iowa State's junior punter Kirby Van Der Kamp has pinned the opposition inside the 20 yardline 13 times in three games. That is tops in the Big 12 by a long shot, with two punters (Oklahoma's Tress Way and Kansas' Ron Doherty) knocking it inside the 20 six times a piece.
Punt Return: Aaron Horne is currently the nation's seventh ranked punt returner, averaging 21.75 yards per return. That same ranks Iowa State 10th as a team as a punt return unit.
Pass Protection: The Iowa State offensive line is only giving up 1.33 sacks per game on the season. That ranks it 38th nationally in sacks allowed.
The Bad
Turnover Margin: This is more of an offensive issue but at the same time, the defense doesn't go without fault for this statistic. Iowa State has committed eight turnovers so far in 2012 compared to its five takeaways. That turnover margin is good enough 94th (a tie) nationally at this point in time.
Four of those turnovers have been via interceptions by quarterback Steele Jantz. Jantz also fumbled against Western Illinois. Jared Barnett threw a pick against Western Illinois. There was the zone-read issue in Iowa City. Shontrelle Johnson has fumbled once as well. 
Iowa State finished the 2011 season ranked 111th in turnover margin so this continues to be an issue for Paul Rhoads' program.
Breakout WR's: In the "good" section above, I touched on Iowa State having five receivers with nine catches or more. Even so, a "go to," playmaking wide receiver has really yet to emerge on this team through three games. Not one Cyclone is listed in ranked in the Big 12's top 10 wide outs in receiving yards per game.
Rush Offense: I expected more out of the gate from Iowa State's rushing attack that is currently ranked 58th in the nation at 175 yards per game – a number that puts the Cyclones at dead last in the Big 12. 
Shontrelle Johnson and James White have each accounted for exactly 176 rushing yards on the year, however Johnson has carried the ball five more times than White.
Having said that, Iowa State has played a tougher schedule than most teams in the Big 12. Only four Big 12 schools (Iowa State included) have thrown the football more than 100 times on the season.
Don't be surprised to see the rushing offense stat level out over the next few weeks when Big 12 teams are forced to throw more. I also expect Iowa State's rushing attack to only improve as the season goes on, when its depth will become even more apparent.
Red Zone Offense: Iowa State is ninth in the Big 12 when it comes to red zone offense. The Cyclones have converted on 10-of-14 trips inside the 20. That's a mark of 71.4 percent. Eight of those trips have resulted in touchdowns. 
Red Zone Defense: Iowa State opponents are 6-for-6 in the red zone this year against the Cyclones. However, it's hard to complain about a defense that has only let the opposition in the red zone six times in three games, and only allowing TD's on three of those trips.