To build or not to build? For years, that has been the question.
The Bergstrom Indoor and the Sukup Practice Facilities are fantastic. Those buildings along with Jack Trice Stadium's mammoth scoreboard/jukebox/big screen TV (whatever you want to call it) have taken Iowa State athletics to a new level in the "facilities arms race" that we always hear so much about.
A new football-only facility that is scheduled to be completed later this fall will only do more of the same.
But that's not what is on my mind (or yours) when it comes to the Iowa State football facilities conversation. You see ever since my friend Andy Fales from WHO-TV 13 delivered this intriguing "What's Bugging Andy" piece on Soundoff eight days ago, bowling in Jack Trice Stadium's south end zone has been the hot topic here at Cyclone Fanatic. 
You all have your opinions – passionate ones at that. Most of you want that dadgum thing bowled in and you want it bowled in right now!!!! (Yes – I just went there with the four exclamation points.)
I can't say that I blame you.There's no denying that it would bring more of a "big time" feel to JTS. Fales' comparison of Jack Trice Stadium to an old pick-up truck is spot on. In fact, it's hard to argue with any point that Andy brought up in his commentary. 
But after reading thread after thread about this topic over the last week, month, year, etc., I feel the need to chime in on a topic that I usually lay low on. 
Let's play a little game called "Then and Now" shall we?
Think back to the fall of 2005. That's when Jamie Pollard took over as Iowa State's athletic director. Here's my recollection as to how things were then within Iowa State athletics, along with where the department is at now.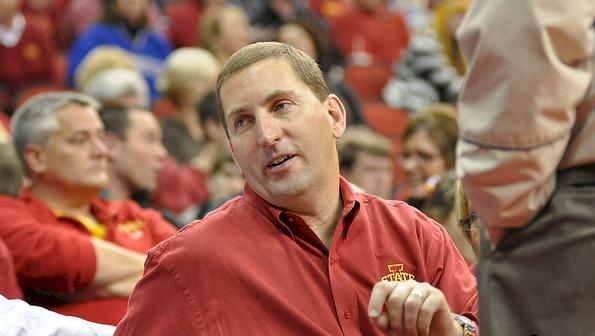 — Then: Just before Pollard's arrival, I remember only 40,626 fans showing up for Iowa State's November 27, 2004 home game against Missouri with a trip to the Big 12 Championship game on the line. That my friends was pathetic, embarrassing, (insert any word you want right here). 
Now: In 2011, Iowa State shattered every football ticket record there was to break. A few weeks ago when lowly Western Illinois came to town, the fourth largest crowd (55,783) showed up. Heck, I wouldn't be shocked if another record is broken this Saturday night. Stay tuned. 
— Then: Men's basketball was in a state of turmoil fresh off of the Larry Eustachy debacle. Wayne Morgan did take the Cyclones to an NCAA Tournament in his second season but Pollard didn't see long-term success on the horizon after watching Morgan's third team underachieve during the 2005-06 campaign.
Now: We all know where this program is at now under some guy named Fred Hoiberg.
— Then: In 2004, Iowa State's volleyball program went 1-19 in the Big 12. A whopping average of 766 fans attended each home contest that season.
Now: In 2011, Iowa State went 25-6 overall and ranked15th nationally in attendance (2,225 per match) when all was said and done. 
— Then and now: The women's basketball program was never broke. Pollard never tried to fix it. He just gave Bill Fennelly a well-deserved lifetime contract.
— Then: Iowa State finished 2005-06 ranked 97th in the Learfield Sports Directors Cup, which by definition, "honors institutions maintaining a broad-based program, achieving success in many sports, both men's and women's."
Now: Iowa State finished 46thin the 2011-12 Director's Cup final standings. 
— Pollard hasn't batted 1.000 since arriving in Ames. Gene Chizik and Greg McDermott didn't exactly work out as you all well know. Wrestling isn't what I'd call hitting on all cylinders in the present day but it's hard to blame Cael Sanderson's departure to Penn State on Pollard.
The point is that Rome wasn't built in a day. Neither are geography-challenged football powerhouses that lack a winning tradition.
But if you examine all the facts up above (along with a lot more that I didn't have time to get into today), it's safe to say that Pollard hasn't exactly led Iowa State in the wrong direction up to now. He doesn't deserve all of the credit, but give credit where it is due. Upon his arrival in Ames, the man obviously had a plan. The one thing I've learned throughout my years of covering Pollard is that he's always 20 steps ahead of the average man. He has a vision.
When it comes to bowling in the end zone, it isn't as easy as just making the decision and saying, "It'll be up next year folks."
Throughout the course of time, Iowa State has always been cash-strapped. That's probably going to always be the case too. Iowa State isn't Texas. But with an influx of new Big 12 money on its way, ticket sales going through the roof and wait for it….WINNING (hello Charlie Sheen), things appear to be looking up. We might just be at the beginning of a golden era in Iowa State athletics history. 
So just be patient with the end zone. Pollard has proven time after time that he is no idiot. He's a man with an impressive economics background and I truly believe that this project will get done when the time is right for Iowa State – all thanks to Pollard's leadership. 
On Iowa State/Big 12 Football
— Want content related to Saturday's showdown at Jack Trice Stadium between a battle of unbeatens, Iowa State and Texas Tech? Be patient my friend. There's plenty coming your way this week. Just a quick hit for you until then though…
This is an odd football game is it not? Texas Tech is a team that nobody really knows anything about – regardless of what they tell you. Do the gaudy numbers (Texas Tech is currently ranked first in total defense and second in total offense) that the Red Raiders put up in wins over Northwestern State, Texas State and New Mexico really mean anything?
I'm not sure if they should or not. It's hard telling what kind of a team that Iowa State is going to go up against this weekend. My guess is that the Red Raiders aren't as good as stats would lead you to believe. But I also think that they are better than last year. So maybe somewhere in between?
A few notes from the Big 12 on Saturday…
— Baylor. Ohhhh Baylor. The Bears are prett good offensively right? Yeah. Even without RG3, Art Briles' crew is currently ranked sixth nationally in total offense after Friday night's 47-42 shootout win at Louisiana-Monroe. But after three games this season, guess where the Bears are ranked defensively? If you guessed 133th at just over 492 yards per game, you're correct. Yucky. 
— One more Baylor note for you…I'm starting to really like Nick Florence as a quarterback. RG3's replacement completed 67 percent of his passes in that win while chucking for 351 yards and four touchdowns. But he runs better than I thought he would. He's not RG3. Nobody is. But Nick Florence just might be the most underrated quarterback in the Big 12 along with Texas Tech's Seth Doege.
— I've written this before. I'll write it again. TCU is very, very beatable. 
— Some good news…Tulsa is legit. Despite the fact that quarterback Cody Green completed only 13-of-37 passes (35 percent) on Saturday night, the Golden Hurricane beat a very sound Fresno State team 27-26. At least one of Iowa State's non-conference opponents is carrying its weight.
— Back to the Big 12…After four weeks of play, here's my opinion on whose stock is up and down within the league. 
Oklahoma – Obviously down. The Sooners entered the season with national title aspirations and didn't get out of September without a loss.
Texas – Up. Way up. Ole Miss isn't Alabama but doing what the Horns did in a road game versus an SEC opponent was impressive.
Oklahoma State – Down. Arizona is a decent football team but two wins over Savannah State and Louisiana-Lafayette have shown me nothing. OSU's defense gave up 59 points and 501 yards against the only legitimate opponent that it has faced. The Cowboy offense is still ranked No. 1 in America and with this defense, things will need to stay that way if Mike Gundy wants to compete for a Big 12 title. 
Kansas State – Up. How many times to I have to tell you all not to doubt Bill Snyder?
Kansas – Down. (facepalm)
TCU – Even Steven. The 3-0 start was expected but with playing 15 true freshmen and having already lost their starting running back for the season, I see some major depth problems on the horizon for Gary Patterson during his first Big 12 season. It's too bad that Iowa State doesn't get the Horned Frogs later in the season. 
Baylor – Just a tad down. I didn't think Baylor's defense would perform this badly in the non-conference. 
Texas Tech – Up. With the stats that this bunch has put up, this is the obvious answer. But go play somebody. We'll learn a lot about this crew on Saturday night.
Iowa State – Up and in my objective opinion, the Cyclones are without question the most underrated team in the Big 12.
West Virginia – Even. A lot like TCU. A few impressive wins over irrelevant opponents don't tell me much but we know that Dana Holgerson's offense is legit. Talk to me in week 10 though. 
More on the Big 12…
— Iowa State sent out a Big 12 notebook on Sunday night to media. I thought I'd share some of these eye-popping league statistics with you all today:
·      The Big 12 has the top five teams in the FBS' toughest schedule rankings and every Big 12 team is ranked in the top 15.


·      The Big 12 has a team that leads the nation in scoring offense (Oklahoma State), scoring defense (Texas Tech), total offense (Oklahoma State is No. 1, Texas Tech is No. 2) and total defense (Texas Tech is No. 1).


·      Seven Big 12 quarterbacks are in the top 20 for pass efficiency, holding the top three rankings and five of the top seven.


Total offensive yards per game (all games)

Big 12 (32 games):  503.53 ypg

PAC 12 (44 games): 429.50 ypg

ACC (47 games):  420.66 ypg

SEC (55 games):  420.04 ypg

Big East (29 games): 413.00 ypg

Big 10 (46 games):  411.50 ypg


Total yards allowed per game (all games)

Big East (29 games):  330.31 ypg

Big 10 (46 games): 331.78 ypg

SEC (55 games):  333.24 ypg

Big 12 (32 games):  338.31 ypg

ACC (47 games):  357.89 ypg

PAC 12 (44 games): 378.75 ypg


Points scored per game (all games)

Big 12:  41.5 ppg

SEC:  33.3 ppg

ACC:  33.2 ppg

PAC 12: 31.6 ppg

Big 10:  29.9 ppg

Big East: 27.7 ppg


Of the six major conferences, the Big 12 is averaging (all games)…

Most yards per offensive play (6.80)

Most offensive plays per game (74.0)

Most pass completions per game (23.7)
Fewest punts per game (3.2)

Fewest turnovers per game (1.47)