By Chris Williams, CycloneFanatic.com PublisherFollow Chris on Twitter @ChrisMWilliams  
Shane Burnham is one of the true up and comers in the college football coaching fraternity. Iowa State's fiery defensive tackles coach is one of the most intense members on Paul Rhoads' coaching staff. CycloneFanatic.com recently caught up with him to discuss a variety of topics.
From recruiting, to Iowa State's 2012 defensive line, to the future of that line and his childhood as Wally Burnham's son, we cover it all in this exclusive one-on-one conversation with Shane Burnham.
———————————————————————————————————————–
CF: It's pretty much common knowledge anymore that defensive tackle is the hardest position to recruit in college football. Why exactly is that?
SB: It's one of those deals when you try to find the athleticism that you want in that size of a body…You can go shake a tree in Florida and you're going to drop out a ton of slot receivers and even some big slot receivers. Those kids are walking around everywhere. When you come up here in the Midwest and shake a tree and offensive linemen are going to fall out. That's the same for several positions. But defensive line and quarterback, when you shake that tree, not many guys fall out. They become extremely picked over. To find that athleticism and the size that you need now because offensive lines are so big. When you talk about 300-pounders back in the mid-90's, a 300-pound offensive lineman was somewhat out of line. Now, if you're less than 300-pounds as an offensive lineman you're looked upon like 'what's wrong with him?' There are bigger bodies on the offensive line. They're all getting longer. Bill (Bleil – Iowa State's offensive line coach) has a bunch of 6-foot-6 and 6-foot-7 tackles. They are big kids so when you go to defensive end, it's darn near impossible for that kid to get around the edge without getting swallowed up. The inside guys, you look at Hayworth Hicks last year at 330-pounds. Ethan Tuftee is 325. If we get an athletic 275-pound defensive tackle, right off the jump he is giving up 50 or 60 pounds. As those guys have gotten bigger, you've had to respond by finding guys of like size and who are now more athletic. There just aren't that many body types, being the way that God made us. It's like the NBA. There are 15 guys on a roster or whatever it is. Half of those guys won't ever even get in a game. It's just hard to find.
CF: It makes life especially more challenging when you're recruiting at a school like Iowa State compared to Florida or Alabama. What is it that you look for in trying to uncover a gem?
SB: What we've got to find – a perfect example for us. We need to go find a big athlete who is undersized who we feel has growth potential – who can grow without losing his athleticism. Collin Bevins is here at Iowa State as a perfect example. He's a guy who we think is extremely athletic but is not a ready made inside guy. A redshirt developmental year and a year after that and in two years, that guy is going to have grown into that. We're going to have to take kids and build them and not have the illusion that we're going to find a kid that you might find at Alabama. We're going to find a kid like Collin Bevins and Mitchell Meyers, another example. He's an undersized defensive tackle who we feel because of his structure, both of those kids coming in here at 250 today as true freshmen, they bring a ton of athleticism and we feel have the potential to get to 290-pounds and maintain that. That's the key for us. We either have to find a kid who is two inches too short that is ready made physically and say 'he's a great football player. Let's take him. Who cares about two inches?' At the same time, we can't have an entire team of those body types. We have to find the body types that give us some length like guys like Bevins and Meyers and hope that we were right with our projections and that they maintain their athletic ability.
CF: In preparing for this interview, I looked back at the 2009 roster when you guys got to town. You had five, maybe six guys who could play in the Big 12 and maybe three or four who actually should have been. In your mind, how much progress has his program made on the defensive line in three years?
SB: I think that the difference is now that we are longer and we are bigger. If you go back to 2009, I had Nick Frere at three-technique and he was a very productive player and Austin Alburtis. If you just put those guys on a scale, height and weight of what we'll play this year with Jake McDonough and Cleyon Laing with body type alone, it's about the same weight but I bet both of my kids are three inches longer. We've added length and I think they are every bit as athletic as those guys. There is a reason there are weight classes in boxing. You know what I mean? There is a reason that they don't let the welterweight go fight the heavyweight. At some point, size does matter. What we've done now is we've gotten bigger, longer and we're just as heavy and just as athletic. We've naturally evolved with our front two.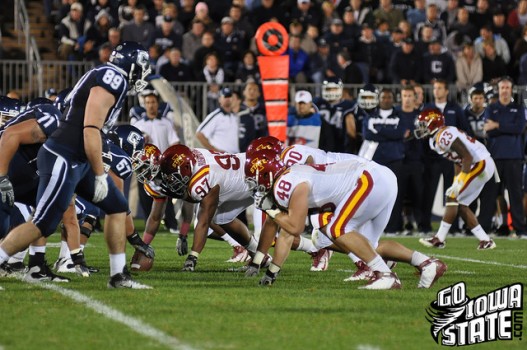 We've got more quality depth. Our first year we had Bailey Johnson coming off of an injury. My fourth guy that year was Stephen Ruempolhamer, a true sophomore who had been on campus for a year. That was my fourth guy in who played a lot of snaps! Now, Brandon Jensen will be with his third year in the program and he won't play as many snaps as 'Dutch' played as a true sophomore. We have a guy who is in his third year in our program who we feel really good about who won't play as many snaps in his third year as Dutch did in his second. What I'm saying is that we've gotten bigger as a whole and we have more depth now. I feel good with Ben Durbin being here. I feel like he adds a body that can give me 10 to 30 snaps a game. Brandon Jensen as a third-year redshirt sophomore should be ready. You needed to play him last year but he wasn't ready. You don't play in the Big 12 as a redshirt freshman unless you're a freak. In the trenches, that's a tough place to be.
CF: Something that Jack Whitver and I talked a lot about late last year on the postgame show was the fact that you guys were rotating 10 and 11 guys on the defensive line at the end of the season. All of the sudden, a guy like Patrick Neal took half the snaps but was twice as productive. Is that a way that a guy like Jake McDonough and others can be more productive in 2012?
SB: I think so. Playing defensive line is the most physically demanding spot on the field.  There is never a play off. You can be a backside corner and the ball goes away and you pedal and the ball is gone and that's it. You can play offensive line and you can kick-slide past some things and stay in front of a guy. That's a lot easier than trying to get around a guy. For these guys, it is all out effort for six or seven snaps. There is no way…We need to know who we are and who we are not. We are not the most talented group in the Big 12. We never will be. What we have to do, and what we were able to do last year that helped at times is the more that we roll Jake McDonough and Cleyon Laing, they'll be a lot better when they are fresh playing their 45th snap in the fourth quarter than they are if they have to go play like what Nate Frere did at 70 snaps. By the end of the fourth quarter, Nate wasn't going to be anywhere near as productive as he could have been on fresh legs. And I think as an defensive line, not that we have six Lombardi winners, but when you're rolling guys in there who are fresh, that should allow us to be better by not fatiguing our guys. Jake McDonough and Cleyon Laing will become a less effective player on snap 50 than at snap 45. So yeah, I think we'll be able to roll six guys, I know that I can roll six guys and feel comfortable.
CF: We talked about Collin Bevins (pictured below) earlier. He's was a stud wrestler in high school. If you talk to him, its easy to sense that wrestler's mentality. You've got quite a few of those wrestler's in the program now. Do you like that mentality on the defensive line?
SB: That wrestling craze and us recruiting all of these wrestlers is new to me. I like the work ethic that comes with those guys. Whether it's from wrestling or it's from being born that way, the word 'prick' is one of my favorite words. I was a guy when I grew up who played to the echo of the whistle. If you ran 20 yards and the guy was going down and you had a chance to throw yourself on the pile, that's how you played the game of football. I think that some guys are born that way and some guys you have to kick in the butt to get them there. I want guys who play to the end of the whistle. I want guys who understand that nice guys don't always win in this game. To me inside or anywhere in the game of football, that's something that there is no way around. Who is going to be the most physical guy? That's a mindset that I'm going to be more physical. A guy like Collin? I love that. I want my guys to play on the edge. That is my desire. I want guys who are trying to inflict as much punishment, not injury or pain, but punishment on the opposing player. I love that. I love guys who play with a chip on their shoulder. I was a short little linebacker and the only way that I had a chance to play was to play full speed and on the edge. That's what I want my guys to do. I don't think that we have that yet but we're trying to instill that in them. Jake Lattimer was a guy who did that for us and Patrick Neal.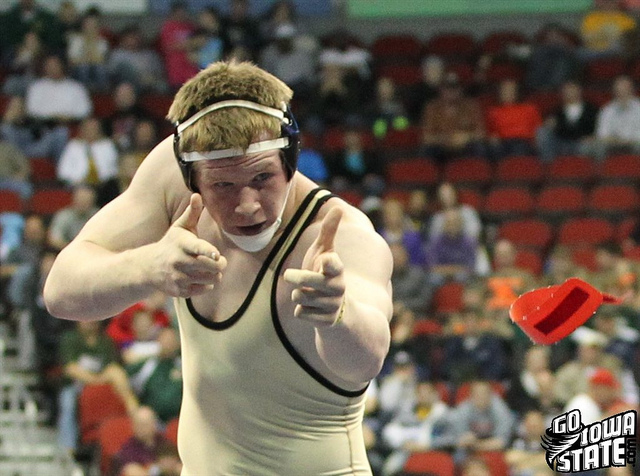 CF: Everybody has written about you coaching with your dad here at Iowa State. I'm curious about what it is like being a kid when your dad is coaching for Bobby Bowden. You have to have some pretty cool stories right?
SB: Everybody wanted to be my friend. Really, it was a time that when we got to Florida State, they hadn't made that run yet. We got there in 1984 and they were like 7-4. The next year they were 8-3. And then all of the sudden 9-2 and I think in 1987 which was like our third or fourth year, they went on an unbelievable streak that I don't think will ever be matched. It was like 10 wins or something like that for 14 straight seasons. I don't think personally that you'll ever see that again in college football with the way that it is built. There were so many great players. I could name a thousand of the. There are guys who you have heard of like Deion Sanders or Derrick Brooks or Terrell Buckley or Charlie Ward. They were the who's who of college football and they were winning big. But for me, it was like being a kid in a candy store. I wanted to be around those guys and as a boy, I loved football so it was awesome. I was at every scrimmage that I could be at in the summer. I'd go with him at 7 o'clock in the morning to the meetings and then to practice. I'd go to the dorm at lunchtime and sleep on one of the guys couches. When you're in eighth, seventh or sixth grade hanging out in the dorm room with Casey Weldon or Brad Johnson, two Heisman Trophy finalists, you think you've died and gone to heaven. Then on top of that just being on some of the bowl trips and going to the Orange Bowl, the Sugar Bowl, the Fiesta Bowl twice. Some of that stuff that I just got to tag around for. It was really fortunate. My brother, he's older than me so they were moving and didn't have that kind of stability and that kind of success yet.
The feeling that you get around Iowa State basketball and football right now, that love, that momentum that you start to see, that's what it was when we first got to Florida State. That's really what it was like. Just think about Florida State. Before Bobby, it had no stability. Nothing. When they started doing this, it was unheard of. It'd be like if it started happening here. Can you imagine what it would be like? It was just crazy but it was the most fun you can have.
As far as being a coach's kid, somebody asked me this the other day, the hours, I didn't know the difference. I thought that everybody's father went to work at seven and came home at 11. All that you know is what you know.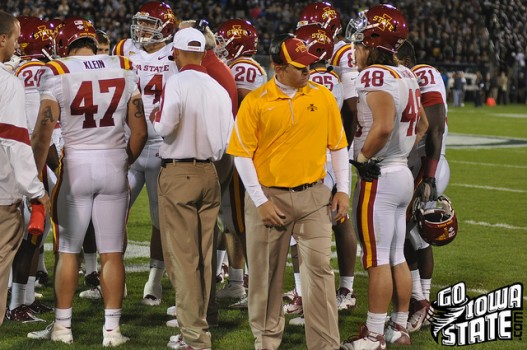 CF: When did you know that you wanted to be a coach?
SB: I probably always knew even though I didn't know. It was early, somewhere in middle school. I couldn't get enough football. I was one of those kids who when football practice was the next day, I'd be in my uniform the night before. I just couldn't get enough of it. I thought that this was what I wanted to do. Plus I had the fortune of being around Florida State. I didn't realize that you could get fired. I didn't understand. I saw the work but I remembered the Saturday's. I didn't know all of the hard work. But I knew I would always coach. I tried to get away for a year and sold pharmaceuticals. It was miserable. I just couldn't get excited about it. Every morning I would wake up and wait until 5 o'clock to get here. As you know, we work so many hours. Sometimes I think, 'man it'd be nice to have a day off,' but I never really feel like I'm at work when I'm at work. But it's hard on the family. It's really hard when you have kids but I know it can work. I've seen it be done. I've seen families manage the job and work it out with kids.