By Chris Williams, CycloneFanatic.com Publisher Follow Chris on Twitter @ChrisMWilliams
A lot of people have said a lot of things about Royce White over the last year.
In fact, in a recent interview with Cyclones.com, White referred to himself as a "misfit."
Is Royce White a misfit? Or is he just misunderstood?
On Wednesday night at the Des Moines YMCA Capital City League, I had the opportunity to speak with White. In this CycloneFanatic.com exclusive, White and I discuss his game's development over the summer, his growth as a human being, his team's upcoming trip to Itally, the 2011-12 Cyclones and a whole lot more.
CF: We've seen you put up a handful of triple-doubles over the last few weeks. Your numbers have been interesting to say the least. What were your goals heading into this summer's Capital City League play?
RW: Just to play hard and work on my game but at the same time, win every game. The style of play I play is how I play. I've matured. I didn't always used to play this way. Over the years and after sitting out some and watching how the game goes, I feel like any team I am playing on, this is the best way to upgrade chemistry to have a chance to win.
CF: We've seen a lot of double-digit assist nights out of you. Is that really Royce White and not just some guy who is playing some pickup ball in the summer?
RW: I think that it is important for everybody to be involved in the game. Continuity, chemistry and flow are things that win games down the stretch. Even though we have lost some games here, we've only lost by a couple of points. We have been right there in every game as to where some teams have been blown out by 20 or more points. I think that if you stay consistent and take good shots, you'll have a chance to win every night.
CF: Let's pretend that Royce White from two years ago would play in this league. What would that have been like?
RW: I would have probably come out and tried to score every time I touched it. I would have passed once the double-team had already started instead of before it got there. My whole mindset was different two years ago when I was 18. I was more about impressing the people in the stands and impressing the people who were evaluating my game. Now I care about winning.
CF: What changed exactly?
RW: A lot of things. A lot of different things. People in my life.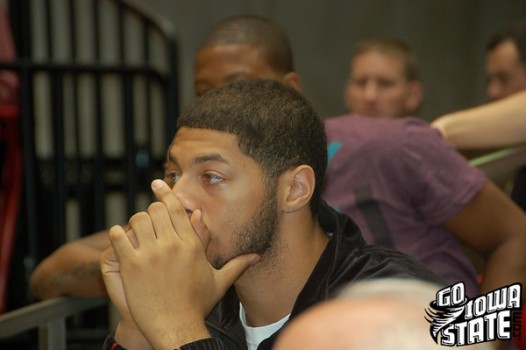 CF: How would you evaluate how your Iowa State teammates have performed in the league this summer?
RW: I think it has been great. We'll start practicing some next week in preparation for Italy. I'm excited to see how it is when we are really practicing and getting into some game time offense and stuff like that. From what I've seen, I'm excited. I've never been on a team that has this much talent on it except when I was in high school playing on the Nike circuit. That was a fun time because any given night, somebody could break out and have a big night. Everybody was able to contribute. Playing like that is fun and the sky is the limit.
CF: Are you excited for Italy?
RW: Too excited.
CF: Have you ever been anywhere like that before?
RW: I have been to Mexico and Canada but this is my first time across the water.
CF: One guy who I wanted to get your take on is Tavon Sledge. How would you describe his game to somebody who has never seen him play?
RW: Explosive. Fast. He's really in control for somebody who is fast. A lot of times when you see guys who are really quick, they sometimes get out of control. He does a great job of being quick, staying under control and switching from slow to quick, changing pace and changing direction. He is a New York guard. He's a ball handler. He's tough.  When I watch him out here, his jump shot seems to be improving. Sky is the limit for him too.
CF: A lot of people know about you and Chris Allen. Not a lot of people know much about Tyrus McGee, Tavon and some of the others. Do you feel like when the preseason rankings come out, you guys might be slighted a little bit because of that?
RW: I feel like the way we evaluate what a good basketball team is going to be is not good right now. That's how you see two teams in the championship like you did last year. We are more built on talent and potential when it comes to pre-ranking people instead of production and what people have already done. So in that sense, I guess maybe we wouldn't be ranked towards the top. I haven't put any numbers up but at the same time, guys like Chris Allen, Chris Babb and Scott Christopherson are seasoned. They have a big body of work. It will be interesting to see but we don't care one way or another.
CF: I read a recent interview of yours where you used the word "misfits" describing how many people view you and your teammates. Does stuff like that give you even more motivation?
RW: I view this season as a personal vendetta for me to achieve greatness in a sense of team, chemistry and I want to win a championship. An NCAA championship. I want to do that. My senior year in high school, my goal was to go undefeated. We did it. From that, I think that when I set my mind to something and with my teammates, if we all buy into what the coaches put forth, we can do anything. Teams like VCU prove it.