By Chris Williams, CycloneFanatic.com PublisherFollow Chris on Twitter @ChrisMWilliams 
Iowa State's fall football camp is nearly a month away.
For the first time in the Paul Rhoads era in Ames, Courtney Messingham will be Iowa State's offensive coordinator/quarterbacks coach when camp rolls around. For thoughts on his quarterback competition, young wide receivers, the tight end spot and more, enjoy this exclusive CycloneFanatic.com interview with Iowa State's new offensive coordinator, Courtney Messingham.
——————————————————————————————————————————–
CF: You've now had quite a bit of time to digest what happened in the spring. With fall camp being about a month away, where have Jared Barnett and Steele Jantz improved the most from the Pinstripe Bowl up until now?
CM: I really think as much as anything that Steele has improved by totally knowing the offense and being able to get it out of his hand to a check down guy, rather than coming up to the line and thinking okay, 'I'm going to throw a fade over there.' Now he's able to check it when the fade isn't open and bam, he knows where he's going from that second and third read standpoint. As a junior college guy coming in, even though he's not your traditional junior college guy, it still was a new system and it still was a system where there was a lot on their plate as QB's. You've got to be able to run in our system and you've also got to be able to know what you're doing in the throwing game.
Barnett, I've always felt in my time here watching him even though I wasn't coaching him that his knowledge of football is a huge asset for him. That's one of the things that he has always brought to the table. That's making sure that the offensive line knows what they're doing. Making sure that tailback standing back there with you knows what he is doing. Understanding the route combinations and how they fit as far as where the receivers fit into the scheme, being able to coach it and that stuff even though he is a player. That's one of the things that Barnett has always done a great job of – making sure that guys understand what they do and that's why they believe in him so much. They trust him.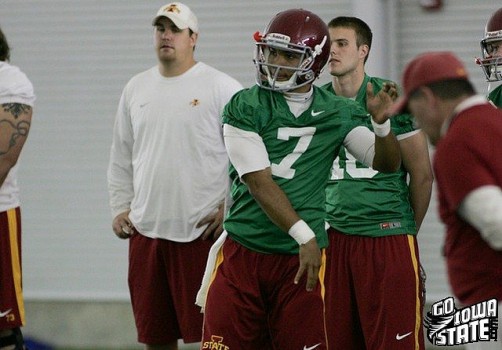 CF: Let's touch on Sam Richardson and what you've seen of him. He's had a redshirt year and now a spring. What does he bring to the table that might make him a factor in fall camp?
CM: He's a guy who I think when we recruited him, we knew he could figure out a way to win. I think that he only lost one game in two and a half years of high school as a starter. They got knocked off in the playoffs but during the regular season, he only lost one game as a starter. That's one of the things that you see when he is out there. He makes plays. I'm not saying that there aren't times where you say, 'You can't take a sack there Sam. You just can't take a sack at that point in a drive,' and those types of things. Yet, he seems to make up for it. He believes in himself. The guys around him believe in him. As a freshman this year in our spring game, I was really impressed with a two-minute drive that he had where he took a sack in a two-minute drive that you can't, but he didn't worry about it. He got back on the saddle, drove them down the field and had a touchdown drive in a two-minute setting. I got excited that he was able to do that.
CF: Do you guys have some sort of a date in mind as to when you want to make the big quarterback decision or is the competition going to dictate when that decision is made?
CM: We'll just kind of let it ride. I think that every day, you kind of grade and evaluate them every day. You have scrimmage days. You kind of let those days add up and those practices add up. At some point if we feel like it is necessary, we'll make a decision. My biggest concern has always been the entire offense. If they feel comfortable with both guys then I am not nervous about making a decision right now. If I start feeling like the entire offense is losing confidence in one or the other or they don't feel comfortable with both or either being the starter, then you've got to make it a little bit quicker. But as long as the guys around them play to their best ability, then I'm fine with letting the thing ride as long as we need to to make a good decision.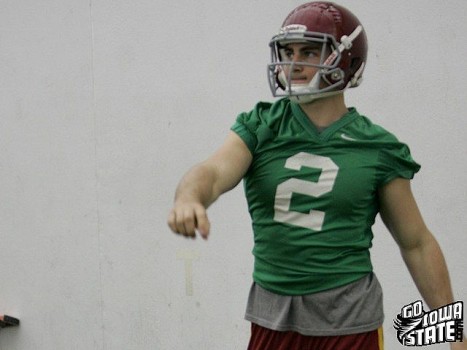 CF: When I look up and down at your depth chart especially at running back and wide receiver, I see just a ton of options. When you add quarterback into the mix, is it safe to say that this will be the most competitive fall camp during the Paul Rhoads era at Iowa State?
CM: I think it will be the most competitive camp. I think that there is a lot of competition at each position. The key will still end up being, when you get to game day, whoever gets that opportunity at receiver or tailback or quarterback, that they take full advantage of it and make plays. Just catching a hitch and getting tackled as a wide receiver doesn't do a whole lot for me. We have a bunch of guys who can catch that hitch but I want to see guys who can catch that hitch and then get me 10 more or maybe get me a touchdown. That's the same thing at the running back position and the tight end position. We feel like we have really good competition at those spots but now they have to transfer that competition from making plays in practice to making plays on game day.
CF: Let's talk about your three freshman wide receivers. It seems to me like the size that they bring to the team really evens out your wide receivers – as they all appear to have different strengths. Is this accurate and if so, is it something that you guys strategically did on the recruiting trail?
CM: The biggest thing that I think we do when we are recruiting is one, you can only take so many Jarvis West sized guys. Jarvis and Aaron Horne and those guys are quick and a lot of things happen because of that but you can't have all of your weapons that size. If you look at a Ja'Quarius Daniels and Tad Ecby and those are bigger body guys. Guys who can still run but are bigger and thicker looking athletes in general. When you're going through that recruiting process, you're always looking for a guy who makes a lot of plays and brings that athleticism to the team but you also have to look at what size are they? Do they fit in with what your recruiting classes have been in the past? We feel like we have been fortunate over the last couple of years from a receivers standpoint bringing in some really good players.
CF: At tight end, Ernst Brun is now in the equation. Ricky Howard is healthy again. You just have more bodies there than you did a season ago. Do you guys have a part of the game plan where you want to get the tight end position more involved or is that something that has to just develop based off of personnel on its own?
CM: It will develop on its own from the standpoint of if they make more plays, then they obviously warrant getting the ball thrown to them more. If they make plays, we'll make them the first option. With Collin Franklin, he became that first option. I think Austen Arnaud would tell you that it is pretty easy for big bodied tight end to become your security blanket also. You start to think, 'Yeah I'll throw over there cause I know that big ole boy will catch it.' That's what these guys have to prove to the quarterbacks is if you can't find a guy who is open, just throw the thing to me and I'll get you five or six more after and we'll move the chains and they'll feel good about themselves. I think that's one of the things that the tight end position needs to do, is become that security blanket for the quarterback.
CF: Fall camp is just about a month away. It's now your offense for the first time as coordinator. When you sit down with your team for the first time on day one, what is your overall message going to be to the group as a whole?
CM: The one thing we have talked about from the very start is prepare for success. When the first day of camp comes, be ready to go. When the first day of scrimmages comes, be ready to go. Know your assignment. Prepare yourself to be successful. When that first game gets here and we're getting ready for Tulsa and that whistle blows and it has kicked off, you have prepared yourself to take advantage of the opportunity that you are going to be given and basically believe that every single day, you are prepared to be successful. Be it in life or whatever. Take full advantage of the opportunity. That's what we are going to talk about.