By Chris Williams, CycloneFanatic.com PublisherFollow Chris on Twitter @ChrisMWilliams
It's that time of year again. Preseason college football magazines are on news stands now and I picked up two of them over the weekend. Lindy's and Phil Steele's annuals were the first to arrive this season. As I do each and every summer, I'll recap what you need to know from each of these from and Iowa State standpoint. I'll start today with Lindy's.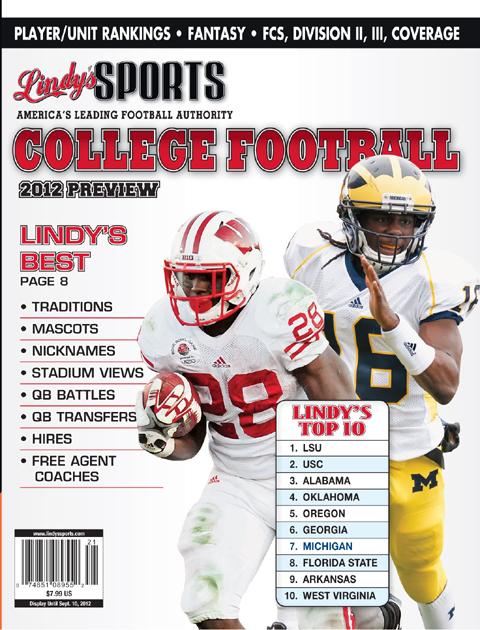 OVERALL: Lindy's picked Iowa State (58th overall) to place ninth in the Big 12 ahead of only Kansas. Here's the complete order that the magazine predicted for the Big 12 Conference.
1) Oklahoma
2) West Virginia
3) TCU
4) Oklahoma State
5) Texas
6) Kansas State
7) Texas Tech
8 ) Baylor
9) Iowa State
10) Kansas
I wasn't surprised to see Iowa State at ninth, but Texas Tech being slotted a head of Baylor forced me to do a bit of a double-take.
BIG ONES: Lindy's listed Iowa State's non-conference games against Tulsa and Iowa as "Big Ones" in its look at the conference's biggest games of the season. None of Iowa State's nine conference games were included in this list.
LINEBACKERS: Jake Knott and A.J. Klein were both selected as preseason All-Big 12 linebackers by the annual. Expect the pair of seniors to receive this honor by pretty much every magazine to come out this summer. In addition to that, Klein is listed as a second-team All-American.
– Klein is ranked the nation's second-best inside linebacker. Knott was tabbed as the nation's seventh-best outside linebacker.
– Iowa State's linebacking core as a whole is ranked second in the country only behind Georgia.
– It is noteworthy however that neither Cyclone was listed in Lindy's "Top 10 NFL Talent" list involving Big 12 players.
JOTTINGS: 
— Lindy's labeled defensive end Cory Morrissey as Iowa State's "top newcomer" for next season, which is interesting due to the fact that there's a decent chance that he could end up redshirting.
— Lindy's ranked Iowa State's recruiting class dead last in the Big 12. I don't remember Iowa State ever being better than eighth or ninth in these rankings so I wouldn't lose any sleep over it.
— Lindy's listed the following as Iowa State's "primary strengths" heading into the season: Linebackers, along with depth at running back and wide receiver. Iowa State's weaknesses according to the publication are: Defensive line, offensive line and field goal kicking.
— Looking ahead at Iowa State's non-conference schedule, Lindy's ranked Tulsa 66th overall and second in Conference USA's West Division. Meanwhile, the publication tabbed Iowa at 41st overall and fifth in the Big Ten's Legends Division. Meanwhile, Western Illinios was not ranked in Lindy's FCS Top 25.