With warm weather approaching, it is important to take care of your yard. Nobody does it better than A+ Lawn and Landscape. Call A+ today at 515-289-2020 and get your first treatment for FREE! A+ Lawn and Landscape is the exclusive sponsor of Cyclone Fanatic's spring football coverage.
AMES — True freshmen typically don't play for the Cyclones very often.
However when you look at Iowa State's depth chart leading up to this Saturday's Cyclone Gridiron Club Spring Game, you see three starting linebackers – none of whom ever got that extra year to grow during their time in Ames.
Coincidentally enough, the proverbial "light" came on for Jeremiah George, Jevohn Miller and Jared Brackens at the same point of their careers – the spring before their junior seasons.
"Those three particular guys it has all been going into their junior season because the light goes on at different times for different players," explained Iowa State head coach Paul Rhoads. "Jeremy Reeves you know was playing as a freshman and Jake (Knott), A.J. (Klein) and Josh (Lenz) and those guys, the light did come on earlier for those guys and they played better at an early age."
This comes with good and bad news for Iowa State. The good is that successful college football programs don't rebuild, they reload. While depth is still an issue (it always has been though), Iowa State's starters at linebacker appear to be up for the immediate challenge after what by all means has been a fantastic spring.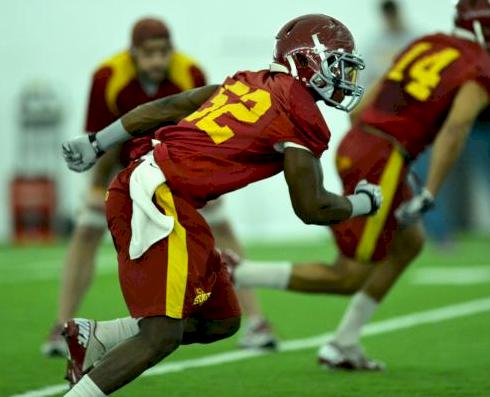 But from a big picture perspective, having to play these three guys as true freshmen years ago is a little bit frustrating today. After all, George only recorded four tackles in his freshmen and sophomore years, combined. Brackens, a former safety, has played mostly special teams during his career so far and recorded 14 tackles along the way. Miller snagged 24 tackles during his first two seasons, but played more last year after Jake Knott went down with an injury.
At the time, Iowa State needed these guys for depth reasons so playing them as true freshmen made total sense. But…
"I know this, with all three of those guys I wish that we had the redshirt left," said Rhoads.
And that is why Rhoads and his defensive coaching staff will do everything possible to allow Alton Meeks, a freshman linebacker who graduated high school early and is practicing this spring, to sit out 2013. 
"With Alton we are already talking about trying to find a way to maybe to redshirt him this fall," said Rhoads. "But then his light could go on next year as a redshirt freshman if we accomplish that." 
What's in the past is in the past though and the fact that the coaching staff just might have an option to redshirt Meeks is a sign of progress. Iowa State's program is at a different place than it was when Jake Knott and A.J. Klein were freshmen. 
"The one thing I know I am happy about is the light has gone on and we have three first team linebackers that are having good springs and really playing productively both on normal practice days and scrimmage days," said Rhoads. 
This trio of linebackers certainly has a lot to live up to. The Killer K's might be the best linebacking duo in Iowa State history. But as spring football is winding down, linebacker (at least the three starters) is much less of a concern than it was two months ago, which is positive news for what will be a young defense in 2013.