By Chris Williams and Brent Blum of CycloneFanatic.comFollow the guys on Twitter @ChrisMWilliams and @BrentBlum 
CycloneFanatic.com's Chris Williams and Brent Blum debate numerous topics relevant to Iowa State athletics, the Big 12 and whatever else is happening in the world. Enjoy a special edition Memorial Day Weekend debate. 
Williams: Memorial Day Weekend…It's a celebration of summer. It's a time to reflect on our nation's heroes and those who have passed before us. It's a time where families get together to enjoy each other, spend time outdoors and of course, bicker because that's what human beings do. In honor of this, how about a Memorial Day Weekend debate?
You up for this Mr. Brent Blum? If your debating skills are anything like your golf game (soft), I should be just fine in coming out on top.
I want to begin this fine piece of journalism by discussing the column that I wrote earlier in the week reacting to Phil Steele's All-Big 12 teams. After writing over 1,000 words, I knew that just mentioning Steele Jantz and not Jared Barnett as a potential All-Big 12 player would get the fanatics all riled up.
In fact, I nearly didn't even include Jantz in the article just to avoid doing so. But if I'm not giving my honest opinion, what's the point in writing anything right?
Full disclosure – I have no clue who the quarterback will be on Sept. 1 against Tulsa. I truly believe it's a 50-50 race (no disrespect to Sam Richardson intended). Both guys do different things well and both bring positives along with negatives to the table. My reasoning for mentioning Jantz is because I truly feel that if Steele wins the starting job and somehow keeps it for 12 games that he'll put up some crazy numbers. If he starts 12 games for Iowa State, it's because Steele Jantz is the Steele Jantz that we saw during those extremely bright moments last season. The second that the Steele Jantz we saw against Missouri appears, Jared Barnett will get his chance.
His ceiling is high. Jantz has the ability to put up All-Big 12 type of numbers. Even if Barnett starts 12 games and leads Iowa State to a bowl game, I'm not sure that he'd have the stats to get him into consideration at the end of the season. You have to do some gaudy things at Iowa State to get that kind of respect from the media. Barnett is a fantastic leader but from what we've seen so far, not a flashy football player. And that's okay. When I talk to Jared Barnett, he reminds me of a young Austen Arnaud. And that's a good thing too, considering this very company hired Austen to a full-time position out of college.
Point is – Jantz has the higher ceiling but that doesn't mean that he's the right guy for the job. Flash isn't always better than steadiness. Fall camp will determine who will get the nod against Tulsa, but there's the reasoning for my column earlier this week.
Thoughts?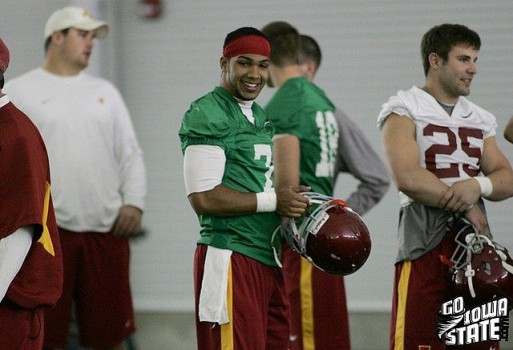 Blum: Quickly this needs to be addressed. You taking a shot at my golf game is like the Pacers Lance Stephenson calling out LeBron. To quote LeBron, "Lance Stephenson? You want a quote about Lance Stephenson? I'm not even going to give him the time." Beware of Dexter Pittman shots to throat CW. He's watching you.
This Steele Jantz – Jared Barnett convo has the shelf life of a canned good, it has the potential to last for a WHILE. That was a very calculated move on your part to mention Jantz and I definitely see your logic behind it. All Cyclone fans can agree that Steele has the potential to create more "Holy ****" plays. He has a stronger arm than JB, not to mention a flair for the dramatic. That said Ryan Leaf had a bigger cannon than Drew Brees. Arm strength isn't everything.
Let's not forget Barnett put up monster numbers during Iowa State's three game winning streak. He led the Cyclones to an average of 500 yards of total offense for three consecutive conference games (Texas Tech, Kansas, Oklahoma State). That has never happened before in Cyclone football history. Barnett passed for 376 yards and ran for 84 yards in the shocker against Oklahoma State. He is the only quarterback in the nation that passed for over 375 and ran for over 75 in the same game last year. So he has put up big game numbers just like Steele has, albeit in less flashy fashion. If you project those three games over an entire season, you are talking Heisman level stats. But we all know that would be foolish.
Barnett really struggled over the final three games (less than 50 percent completion), so it's tough to project where his median really is. That's what makes this quarterback competition so intriguing. There is no concrete answer and to be honest I'm not sure there ever will be. Yes, Paul Rhoads will name a starter in August, but the other will be lurking in the minds of the fans and the coaches.
Crazy to think the home opener is just a shade under 100 days away, am I wrong to sharpie in a bowl trip for the end of December? Or should I be cautious and just use pencil?
Williams: Last thing on the quarterbacks before I move onto your question, I wouldn't be surprised at all if Jantz and Barnett end up basically splitting snaps next season. What's so interesting about this competition is the fact that both guys have totally different strengths and weaknesses. I like Jantz a lot as an athlete and for all of the reasons that you mentioned above. But as far as intangibles go, I like Barnett. Both men bring different things to the table. Paul Rhoads and Courtney Messingham have options. Options are a very good thing. Competition generally leads to success. You get the point.
Using the old Sharpie for a bowl game trick huh? I'd be careful Blum. After all, this still is Big 12 football we're talking about here. It took an improbable upset in each of Rhoads' bowl seasons at Iowa State to qualify for one. Having said that, this is the best team he's had since becoming the head coach at Iowa State. There's really no doubt in my mind about that.
Over the course of time, depth has always been a concern at Iowa State. What happens if a key player gets injured? You can say that with any team, but when Oklahoma has a guy go down, another 4-star recruit is ready to jump in. Development is the key. Rhoads has this program moving in the right direction from that standpoint too. Across the board, Iowa State has depth – or more than we're used to seeing at least.
But I'd stick with a pencil for your bowl projections. As Dan Hawkins once said, "It's division one football! It's the Big 12!"
You just never know.
Onto my favorite topic to debate. REALIGNMENT. What's your take Blum? Are you looking forward to watching the Big 12 raid the ACC or do you want to stay at 10?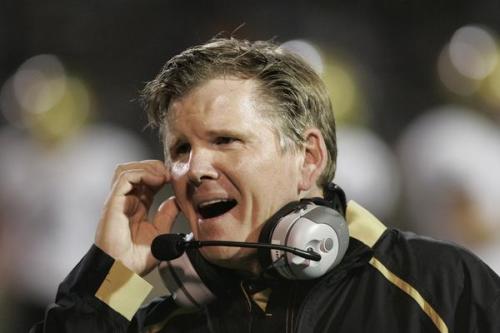 Blum: I just realized college football has now gone almost a year and a half without Dan Hawkins as a coach! I miss that man. Go play intramurals brother!
My quick thoughts on a bowl game possibility. Iowa State will likely be favored in these games:
Tulsa, Western Illinois, and Texas Tech. They will likely be underdogs: @Iowa, @TCU, @OSU, vs. OU, @ Texas.
And these games are a pick'em at this point: vs. KSU, vs. Baylor, @KU, vs. West Virginia. You are right, maybe I got a little Sharpie happy, it will still take a very good season to be playing in the post-season. This is going to be a very entertaining year with a lot of dramatic moments. Last year, six of Iowa State's 13 games were decided in the final four minutes or overtime. Iowa State won five of those six. And needed them all to become bowl eligible. Hopefully karma stays on their side in 2012.
Now to the billion dollar elephant in the room. Our old friend realignment. It appears Iowa State is in great standing. As Jamie Pollard has said, "Two years ago people were jumping off the Big 12 island, now they are fighting to get on." This is comforting and a lot more enjoyable than the last few go rounds where Iowa State was on the brink of BCS extinction. Now we can truly appreciate the realignment fiasco for what is is: a circus. I say we make this extra dramatic and have the ACC athletic directors, along with the Louisville and Cincinnati AD's get on some Malaysian getaway, perhaps add a guest appearance from Notre Dames AD, bring Jeff Probst along and let's turn this thing into "Bowlsby's Survivor Island." Imagine the TV networks bidding on that thing?
In all seriousness, I really like the current 10 team format. As I have written before, the 12 team split conference structure felt like living in a house with a bunch of distant cousins. Yes, they were good folks, but there was never a consistent familiarity. Playing everybody last year was awesome. I actually had an interest in watching a random Texas Tech – Baylor game because it impacted Iowa State.
That said, if you have the ability to grab Florida State and one of their big money ACC brethren like Clemson, or the big donkey in the room, Notre Dame, you have to do that. The extra cache and cash those schools could generate would mean Iowa State is financially stable for a long time, i.e. hold onto Rhoads, Hoiberg, Fennelly with no worry of financial constraints. Can you imagine a conference double-header of Texas-Notre Dame followed by Oklahoma-Florida State? That's best case scenario, but the networks would hurdle over themselves like they were Lolo Jones.
So long answer short: I like 10 unless you go big with Florida State and/or Notre Dame. Adding ONLY a Louisville and Clemson is not worth it. Plus I'm guessing a trip to Tallahassee in October wouldn't be a bad deal. I can be selfish right?
Williams: I still think that you're underestimating Iowa State's schedule. You think that Kansas State and West Virginia are picks at this point? Athlon just tabbed the Mountaineers as the nation's 12th ranked team in its preseason poll. The Wildcats weren't ranked by the publication, but will be by many when you combine Collin Klein and Bill Snyder's defense. Both are winnable games for Iowa State. The Cyclones are due vs. Kansas State. Getting West Virginia in November is a good thing. But picks? I'd bet you a pretty penny that the Clones would be dogs in both games if they were to be played tomorrow.
Having said all of that, gun to my head in late May, I still like Iowa State to go bowling.
As far as realignment goes, I've read so many about this topic over the last three years that I feel like I could write a book about it. I agree with a lot of what you wrote. If you're going to add schools, it has to make sense. Florida State and Virginia Tech make a lot more sense than Louisville and Cincinnati.
I joked about writing a book earlier, but a book about the history of the Big 12 Conference would be a fascinating piece. What went on behind the scenes? Who saved the league? Who were the key villains? Somebody could make some money.
I just remember when the though that the Big 12 would only have 10 teams would be this major weakness.
Now, with so much room to grow, a new commish and a lucrative TV deal, it's a strength.
You're right Brent. The Cyclones are sitting pretty.
To wrap this thing up, what are you doing for Memorial Day? Any big plans?
Blum: You are right, I may be underestimating my guy Dana Holgorsen, dude is a cool cat. He is an Iowa native and doesn't mind an occasional trip to the Casino – Prairie Meadows better be ready on Thanksgiving weekend. West Virginia returns essentially their entire offense that was one of the best in the nation and scored about 465 points on Clemson in the Orange Bowl. I actually think they can finish in the top two of the Big 12 if things break right. But the Clones get them at home in a late November game – gonna be a fracas.
Collin Klein is still around?! That guy is definitely a member of the Jess Settles 12 year graduation program. He may be as old as Snyder.
A book on realignment would be the CycloneFanatic version of 50 Shades of Grey. Think about all of the characters that have been developed and the actors that could fill the roles.
You have the evil architect: Big 10's Jim Delaney. (Starring Ed Harris)
The crazy circus promoter: Pac 12's Larry Scott. (Kevin James)
The Scorned Old Ballcoach: Tom Osborne (Jon Voight)
The Big Money Boss: Texas' DeLoss Dodds (Robert Deniro)
The Bumbling Yes Man: Dan Beebe (John C. Reilly in his Step Brothers mode.)
The Intrepid Journalist: Chip Brown (Ryan Gosling–for the ladies)
The irrational waffling fan-base: Texas A&M (Starring the Texas A&M fans–no acting coaching needed.)
And of course Fake Dan Beebe stars as himself in a supporting role and Kate Upton and Brooklyn Decker have roles just because. I'd pay $20 to go see that in 3-D tomorrow. That would be way more entertaining than watching Will Smith blow up aliens for the 12th time in his career.
Pretty quiet Memorial Day Weekend in the Blum household – may get on the lake and perhaps swing the golf clubs a few times. I may even flip on the Indy 500, but I can honestly not name one driver in the race. What has happened to your IndyCars CW?! Even Danica is jumping ship. Enjoy the weekend my friend!
Williams: Can't name one driver in the Indy 500? Are you even an American? It's ironic that I just wrote that when half of the drivers in the race aren't from the States. I'm back home in Clarinda for the first part of the weekend spending time with friends and family. Sunday I'll wake up bright and early to watch F-1's Grand Prix of Monaco. Then the Indianapolis 500 will throw the green flag at noon, with NASCAR's Coke 600 to follow. It's the biggest weekend of the year in motor sports!
That's a good note to end on. Happy Memorial Day everybody. On behalf of my friend Brent Blum, we'll catch you on the flip-side!