By Chris Williams, CycloneFanatic.com PublisherFollow Chris on Twitter @ChrisMWilliams  
Chris Williams' Monday Musings are now being brought to you by Adam Gray Insurance – a Nationwide Insurance agent based out of Johnston. Did you just graduate from college? Everybody needs insurance. Why not support a Cyclone Fanatic? Give Adam Gray a call today at 515-299-0536. 

Let's take a trip down memory lane to Oct. 8, 2011. Iowa State's then-junior linebacker Jake Knott dislocated his already injured shoulder at a game in Waco, Texas. Knott (who I often times refer to as Iowa State's Chuck Norris) popped it back into place on his own. This happened not once, but two times in the same game. Knott led Iowa State with 18 tackles in that 49-26 loss to the Baylor Bears.
He's recorded 268 tackles in three seasons at Iowa State. Note that 245 of those stops have come over the last two years.
Jake Knott will be tabbed as a preseason first-team All-Big 12 linebacker in nearly every summer magazine you read. Yet, I still feel like he's being undervalued by many, which might be happening due to the emergence of his bash brother, A.J. Klein as a fellow stud a season ago. Few folks outside of central Iowa realize just exactly how dinged up Knott was a season ago. Paul Rhoads wisely elected to give Knott the spring off. Unlike last year, Knott's health should be at 100 percent when fall camp begins in August. If that turns out to be the case and Knott can avoid the injury bug, the best could be yet to come for No. 20.
— I actually feel like quite a few fans are undervaluing sophomore quarterback Jared Barnett as well.
Last week, I mentioned senior quarterback Steele Jantz as a guy to watch regarding All-Big 12 honors at the rest of the season. This caused quite the reaction here on our forums and even local sports talk radio as well. CLICK HERE to read my reasoning into this blurb.
Whichever quarterback you're pulling for to be the starter this fall, don't disregard what Barnett did during his redshirt freshman campaign.
Iowa State's offense was awful in a 52-17 loss to Missouri on Oct. 15. That 17 first down performance was one of the worst losses in the Paul Rhoads era in Ames. After not recording a first down in the first three series' vs. Texas A&M the next week, Rhoads went to the bullpen. Barnett immediately led Iowa State on an 83-yard touchdown drive. Suddenly, one quarterback change resulted in renewed hope for the rest of the season.
Over the next three weeks, Barnett, who was mature beyond his years, went on to lead Iowa State to a 41-7 road rout of Texas Tech, a humble home victory vs. Kansas and of course, the upset over Oklahoma State that shocked college football (note that Barnett recorded 460 total yards in the win vs. OSU).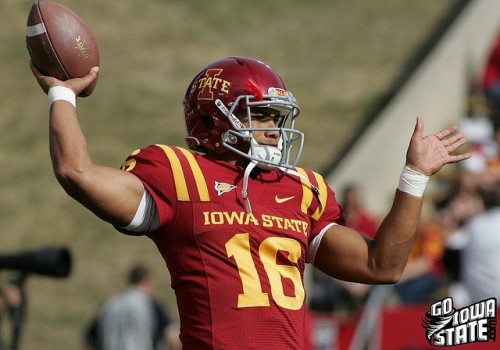 Did Barnett struggle throughout the final three games of the season vs. Oklahoma, Kansas State and Rutgers (where he eventually got benched)? Absolutely. He looked like a freshman.
I've written before that I believe Jantz has a higher physical ceiling for next season than Barnett does and I really do believe that to be the case. But wins are what mater. To think that Barnett has nothing to offer to the 2012 Cyclones is crazy and to dispute my own theory, a guy's ceiling can't get much higher than orchestrating the biggest win in school history. Barnett did that last season. Not Jantz.
This competition appears to be dead even as August approaches.
Last year, Rhoads had two quarterbacks to choose from. Neither of them had a lick of experience. Now, really for the first time since he arrived in Ames, Rhoads has options. Another heated quarterback competition isn't an ideal situation, but it's better than what faced this Iowa State program 365 days ago.
QUICK HITS…
— The University of Florida accepted a basketball commitment from South Carolina transfer Damontre Harris over the weekend. Why is this relevant to Iowa State? Because the Gators currently have offers out to Jarrod Uthoff and Dorion Finney-Smith, both of whom Iowa State is actively recruiting. Chances are that the Gators might still attempt to find room if Finney-Smith wants to be a Gator. But Uthoff's list might have just shrunk by a school. Stay tuned.
— The people who matter within the Big 12 Conference will get together for its annual spring meetings beginning tomorrow in Kansas City. According to the Kansas City Star's Blair Kerkhoff, a football playoff, television money and of course expansion will be this week's hot topics. 
— "The Wal-Martization of College Football." Here's a fascinating read by one of my favorite national columnists, Chadd Scott.