By Chris Williams, CycloneFanatic.com PublisherFollow Chris on Twitter @ChrisMWilliams
AMES — Life without Leonard Johnson and Ter'Ran Benton might not be so bad after all.
Iowa State entered spring football with holes at cornerback and strong safety but entering this final week of practice, head coach Paul Rhoads is encouraged by the guys gunning for the positions.
Senior Durrell Givens has made the switch from free to strong safety with ease and a handful of young cornerbacks have shown potential to be quality Big 12 players.
"I think overall, when I say that just because of depth and numbers, we can be a better secondary in 2012 than we were in 2011 because of the numbers," said Rhoads. "Any time that you can run four corners out there on the field or multiple safeties or keep guys fresher, you've got a chance to play better."
In addition to Jeremy Reeves and Jansen Watson who both played last year, freshmen Kenneth Lynn and Sam Richardson will be factors, along with junior college transfer Clifford Stokes.
"These guys have produced plays, whether it be PBU's or interceptions this spring. I see more of that ability," said Rhoads. "Some guys are great cover guys but can't ever make an interception. Some guys have the knack for just finding the ball at the right time and just picking it off."
There's a good chance that when Sept. 3's season opener vs. Tulsa comes around, fans will see a cornerback-by-committee type of situation from Iowa State.
"We're going to put young guys and inexperienced guys on the field at that cornerback position but that doesn't scare me heading towards 2012," said Rhoads.
Rhoads noted that Stokes is a guy who has shown that knack for intercepting the football.
LINK: My take on the Iowa State's quarterback competition…. 
RUNNING BACKS REPORT: Rhoads knows what he has in redshirt freshman DeVondrick Nealy (pictured below). He's still waiting to fully see it though.
"DeVondrick is really capable of being explosive. Capable," said Rhoads. "Haven't seen enough of him this spring where he's made people miss and turned a blocked six-yard run into a 60-yard run. Made a couple of nice cuts on Saturday and he's another guy as he gets more confident and comfortable, becomes a faster player. I would like to see that in the next four days to a higher level."
Rhoads went on to say that there was no question that Nealy, along with fellow freshman Rob Standard would be in a position to step in and play next season.
Neither will likely be Iowa State's featured back in 2012, but Nealy is okay with that.
"In the game on Saturday, our last scrimmage, I really didn't score that many times but it isn't all about scoring," said Nealy. "It's about setting up runs for another player. (Jeff) Woody had like three touchdowns (Woody actually scored four times) or something like that. That's more important to me than scoring."
Knowing the plays and running with the football isn't Nealy's problem when it comes to becoming a complete running back.
"It's more pass protection, to make sure that I'm blocking the right person and getting the right blocks when the blitzes come," said Nealy.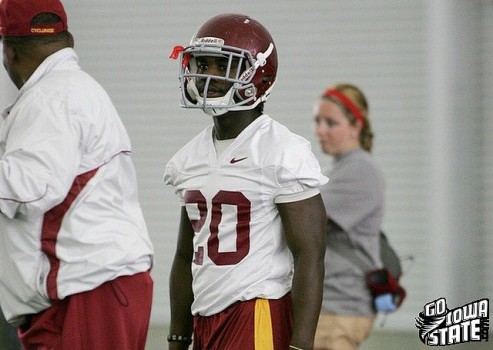 SHANE BURNHAM PROMOTION: Shane Burnham is Iowa State's new special teams coordinator. Courtney Messingham filled this role throughout the last three seasons. Rhoads made this announcement on Tuesday and also said that wide receivers coach Todd Sturdy will be in charge of the punt and kick return teams.
INJURY UPDATES: Wide receivers Chris Young and Ja'Quarius Daniels are back and practicing with the team at 100 percent.
Senior defensive end Roosevelt Maggitt is back to doing drills full-time but will be a 50-50 decision for Saturday's spring game.
Rhoads announced two new injuries at his Tuesday press conference. Senior right tackle Brayden Burris will miss Saturday's scrimmage due to a sprained ankle and sophomore guard Shaban Dika has torn his ACL. Dika was expected to push Jacob Gannon for the starting right guard spot.