By Chris Williams, CycloneFanatic.com PublisherFollow Chris on Twitter @ChrisMWilliams
I'm going to start this week's musings off with a topic that I probably should have tackled a couple of weeks ago. It's old news by now. It's the "Big Four Classic" that will take place this December in Des Moines' beautiful Wells Fargo Arena.
The concept of getting Iowa State, Iowa, Northern Iowa and Drake all in the same building on the same day is brilliant. It sounds like a heck of a lot of fun and one big party for the fans. The colors of each school will litter downtown Des Moines. Trash talking and school spirit will be abundant on Dec. 15, 2012. On the surface, this is a phenomenal way to promote the sport of basketball in the state that we all love.
In the prior months to learning of this announcement, just like you, I had heard the rumors. In the way that the way I had built this event up in my mind, it got me pretty jacked up for this change in the way that we are about to do things here in Iowa. It seemed fresh. It sounded unique. It had all sorts of potential. The hoops junkie in me was boiling over with excitement…
That's until I heard the actual details of this Big Four Classic. So next year at Wells Fargo Arena it's Iowa vs. Northern Iowa and Iowa State vs. Drake….
What about Iowa State vs. Northern Iowa? Iowa vs. Drake? No? Nothing….?
While I fully understand that the landscape of college athletics is changing in front of our very eyes (and that certain adjustments do have to be made) on a daily basis, I just can't get behind this from an Iowa State perspective. When you wipe that allegiance out of the picture, as an Iowan, I hate it.
Let's face it. In the state of Iowa, exciting non-conference college basketball is hard to come by. I don't blame Iowa State and Iowa for not attempting to schedule the North Carolina's of the world on a yearly basis either. You need those automatic W's. The Lipscomb's and Northern Colorado's need to be on the schedule. But in a world where Western Carolina and Mississippi Valley State (among others) are the norm, fans actually get up for Drake and Northern Iowa, even if it does mean a potential non-conference loss to a mid-major opponent.
That's a whole other argument to this. It's the Iowa State fan who was upset after last November's loss to Drake. Like clockwork, the "why do we even play these guys" threads erupted on our message board. "We've got nothing to gain by playing Drake and Northern Iowa."
In essence, those arguments are correct. Regardless of what the matchups look like for that given year, it never (ever) looks good (ever) for Iowa State to lose to Northern Iowa or Drake. Ironically, this year's Iowa State team (that went to the second round of the NCAA Tournament) lost to both mid-majors.
So now that this extra game on the schedule has freed up, what do you do with if you're Iowa State or Iowa?
Honestly, I really don't care. Schedule Akron, NJIT or Duke (the only annual game I could really get behind is vs. Nebraska).
As a fan of the sport, I'd still rather see both schools play the Bulldogs and the Panthers. Maybe I'm being a bit too old school here, but that's tradition! Annually, I don't take in too many Iowa non-conference games in November and December, but when the Hawks are playing Drake or Northern Iowa, it's appointment television in the Williams house. That's what I've done since I remember watching sports with my dad and late grandmother (the biggest and most knowledgeable sports fan I've ever met) back when I was a kid. It's what I know. When the four Iowa teams are playing each other in any combination at any location, you watch!
I was hoping to see a two day Big Four Classic featuring the Cyclones and the Hawks vs. the Panthers and the Bulldogs. Two days, four games with Iowa State vs. Iowa being played on campus. I would have supported that 100 percent. But that doesn't help the big schools. In fact, it hurts them. Instead of getting either Drake or Northern Iowa at home, you get them both on a neutral court. That's taking one home game (and the gate) away from your program and going into treacherous waters against both mid-majors instead of only one.
And also, would fans really support a two-day event? I have my doubts.
For the record, maybe Iowa State will still play Northern Iowa next year. In all fairness, the schedule has not been released yet. Perhaps that is in the works? Perhaps, but I highly, highly doubt it.
I'll also add that I still think that this event will be neat. In theory, the very outline that I described earlier will likely still exist. Fans of all four schools will invade the capital city and I'm sure that the atmosphere will be top-notch.
But Iowa State should play Northern Iowa every year in basketball. You mean to tell me that in two years, Iowa State won't play Drake, a division one school that is located 30 miles south of Ames? There's something not right about that.
As I noted earlier, the landscape of college athletics is constantly changing. It's not all bad either. Because of how things are today, I get to run a cool website like this for a living. The big money that comes with being in a high-major conference is allowing Iowa State to do neat things like build the new football-only facility among other facility upgrades.
But some things in sports, like all of those in-state rivalries, are sacred. I'll miss them next fall.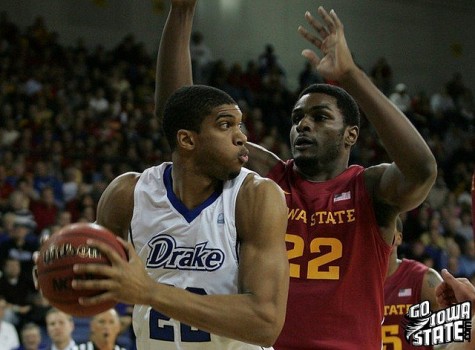 ON HOOPS RECRUITING
— What a week for Jarrod Uthoff! Iowa's 2011 Mr. Basketball went from being a fairly unknown redshirt at Wisconsin to the flavor of the week on national sports talk radio.
I spoke with Uthoff yesterday afternoon and the young man appears to be taking everything in stride. His spirits were up and he seemed to be excited about the next step in his journey as a basketball player and young man.
Oh Bo Ryan…How would you have liked to have been a fly on the wall in Wisconsin's marketing department when Ryan went on ESPN Radio's Mike and Mike in the Morning and blew a gasket last week?
About five years ago, a good friend and mentor once taught me that when you get emotional, it's important to just step away from the keyboard.
Here's a friendly tip for Bo Ryan: When you're all fired up, stay off America's most popular sports talk show. Not only did Ryan come off as a bitter man, he committed the ultimate no-no in throwing that "you never played the game" junk at Mike Greenberg. No Bo, he hasn't played the at the level that you coach. And I can only guess that you've probably never hosted a three-hour long national radio show and managed to keep it interesting either right?
Different strokes. Different folks. I was good at English and Social Studies in school. My wife was good at Math and Science. That's why I'm a journalist and she's a vet. That's life Bo.
Just because the guy hasn't been in a locker room doesn't mean that he can't have a legitimate opinion about your sport.
Moving on, here's why I support Uthoff, and all college basketball transfers for that matter. (Before going there, I'll also state that I fully realize that not all of these young men have the best intentions while transferring.) I just think back to when I was a freshman in college. I don't believe that there has been a year in my life where I learned more about myself (and grown) than the one from my senior year of high school to the end of my freshman year in college. Being out on your own changes a person. Sometimes it's for the worse. Often times it is for the better. The point is that during this year, sometimes your priorities change.
Placing handcuffs on a kid a year out of living with mom and dad seems wrong to me. But that's just me.
Anyway, CLICK HERE to read the update that I posted on Uthoff late last night. He's visiting Creighton today and will be in Ames next week. It sounds like Marquette, Boston College and Virginia could all be factors as well.
— Speaking of transfers, it sounds like Trent Lockett is going to be in Ames at some point this week. That's the tentative plan based off of what I'm hearing (but keep in mind that these things are very fluid and can change at any minute). Lockett visited Marquette last week and didn't commit. Don't get your hopes up, but that's a positive sign for Iowa State.
ONE RANDOM…
— For those of you who are diehards when it comes to this website (thank you very much for that), you should know by now that I have NEVER been sold on former Texas A&M quarterback Ryan Tannehill. Talented? Yes. Any character issues? Not that I know of. NFL quarterback? Maybe, but not worthy of a top 10 draft pick in my opinion.
Arnaud will bite my head off if he reads this but it's the same argument I've used since we hashed this topic out weekly in our podcasts dating back to last summer. This guy didn't become a quarterback until his was a junior in college! Why? Wouldn't that top 5 pick/NFL talent have stood out before that if he was a future Pro Bowler? (Insert your Tom Brady argument here.)
Andrew Luck was destined to be a NFL quarterback from the day that he was born. Robert Griffin III is one of the most incredible athletes in the world and being a Big 12 guy, I've seen him take his lumps, work his butt off and improve upon his weaknesses for the last four years at Baylor. Those guys going one and two makes sense. But for a franchise to trade a bunch of picks to move up and take Ryan Tannehill at three seems like a giant mistake to me.
Just like I said last summer, give me Brandon Weeden over Ryan Tannehill. But that's just me. I'm just a hack blogger in Ames, Iowa.
And that seems like a great note to end this on today. Thanks for reading everybody. Have a great week!