By Chris Williams, CycloneFanatic.com PublisherFollow Chris on Twitter @ChrisMWilliams
Monday, Musings….So good to me. Monday, Musings, you're all I thought you would be….
I threw that not-so creative intro into this column especially for our older fanatics online right now. Though you might not always understand our hip slang, you're always welcome here at CycloneFanatic.com.
It is time to get serious. Over the last week, I've compiled some hard-hitting thoughts on everything from Iowa State basketball recruiting to the College World Series to the Big Country Bash. I'm also going through a pre mid-life crisis and need your help. Stay tuned.
On Iowa State basketball…

— Fred Hoiberg is following the master plan. The transfers were phase one. Hoiberg expects to win with guys like Royce White, Chris Allen, Korie Lucious and Will Clyburn (among others) over the next few seasons. With some W's on his resume, quality high school talent will actually consider Iowa State in college decisions.
Nkereuwem Okoro and Georges Niang have already signed up for the class of 2012.
Last week, Iowa State offered a couple of top 50 type talents in 2013. Will the staff land any of these guys? Who knows?
My point is that they are trying. From day one, it has been evident that Hoiberg isn't going to settle for being a middle of the pack Big 12 school. From the day that guys like Royce White and Chris Allen stepped on campus, Hoiberg proved that he want to hit the jackpot.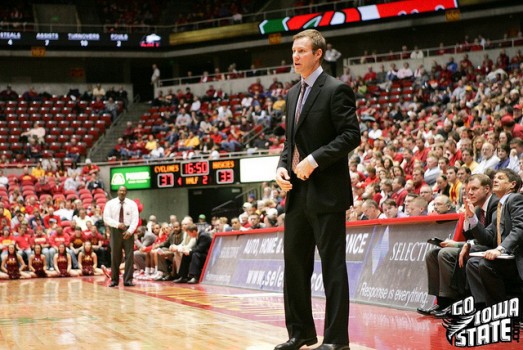 — Speaking of transfers, one person who would know told me last week that Will Clyburn has the brightest NBA future of any Cyclone on the current roster.
— Another Clyburn note: The former Utah Ute went 8-of-11 from 3-point range last night in YMCA Capital City League play. That's dirty.
— My friend Brent Blum put it best on Twitter last night when he wrote about Iowa State players putting up "NBA Jam numbers" in the Des Moines YMCA Capital City League this summer. Royce White has been a triple-double machine. It hasn't been uncommon for Melvin Ejim to score 40 points and rip down 20 rebounds in the same game. While all of those numbers are impressive and flashy to boot, I feel like one guy has been getting overlooked not only this summer, but for the entire last year. That's junior Chris Babb.
On Sunday night, Babb dropped 25 points, seven rebounds and five assists. That's been a pretty regular stat line for Babb this summer. He's not flashy, but Chris Babb can ball. Don't forget about him as you get ready for the 2011-12 season.
On last week at the Des Moines Register…
— My heart aches for former Des Moines Register sports columnist Sean Keeler who was among 13 local employees who were laid off, fired or whatever you want to call it last week. While most of you will remember Sean for a negative column or two that he wrote about the Cyclones, I'll remember him as a guy who treated me like one of the boys when I was 20-years old, wet between the ears and trying to learn what this sports writing thing was all about.
Despite what many of you might think, Keeler is a good guy. He's an extremely talented one too.
— I think that there are quite a few misconceptions floating around out there regarding this situation. You don't have to believe me with this take because I know it will be impossible to get through to some, but Sean Keeler wasn't anti-Iowa State. He wasn't pro-Hawk. Sean didn't care. He covered the hot story. If the Hawks were winning, chances are, he'd be there. Sean followed Drake basketball throughout its NCAA Tournament season in 2008. Again, you don't have to believe me. But Sean Keeler is as objective as they come.
— I've talked to a lot of people out there who think that Keeler and sports reporter Dan Johnson were let go by folks who actually work in Des Moines. That simply isn't the case. This move came from the head honchos in suits somewhere else in America.
*** LIKE Cyclone Fanatic on Facebook Today ***
RANDOMS…
— I attended the North Carolina vs. Vanderbilt game last Wednesday night at the College World Series in Omaha. Before I touch on the baseball, I'd like to offer up condolences for all of my friends in western Iowa who are being terrorized by flood waters right now. If you haven't been paying attention, it is an awful scene on that side of the state. Entire towns are literally being wiped out. Saying a prayer for our brothers near the Missouri River wouldn't hurt tonight.
Back to baseball. The brand spanking new TD Ameritrade Park is fantastic. Without a doubt, it is a major league caliber ballpark. I enjoyed that aspect of my visit to Omaha. However, it did severely lack the old Rosenblatt Stadium atmosphere. I'm not even sure if that is the correct way to put it. TD Ameritrade lacked the Rosenblatt neighborhood atmosphere.
Rosenblatt's tailgating had a college football type of feel to it. At TD Ameritrade, it feels more like an NFL tailgate. Does that make any sense?
Regardless, the College World Series will grow into its new neighborhood and this new park/location will be much better off for the city in the long run. There's no doubt in my mind about that.
— Harsh reality slapped me in the face yesterday. While lounging at the Big Country Bash, for the first time in my life, I found myself thinking, "those damn kids." I'm getting old. I turn 27 on Wednesday. My wife and I are moving to a house in Bondurant (can't beat having cornfield in your backyard folks) and this transitional period of my life is just about to end. Don't get me wrong. I'm happy about this and I'll be a better human being because of it. But again, when I had the urge to tell those 22-year old drunk girls how stupid they were acting at about 1 p.m. yesterday, I could already envision the gray hairs popping out of my head.
— I will never go back to the Big Country Bash. Talk about an unorganized cluster.
You'd think that this type of event would be right in my wheelhouse right?
The concept to this day is fantastic. Line up a handful of popular country acts, provide a massive concert at an affordable price and enjoy a day of awesome music.
That was impossible to do at the Big Country Bash. After sitting in traffic for nearly two hours while working my way into the show, an intoxicated woman nearly vomited on my lawn chair (that was sitting what looked like a mile away from the stage). The sound stunk. There were way too many people packed into way too small of an area and to nobody's control, the weather didn't exactly cooperate. The best move I made all day was leaving early. I drove out of Des Moines' Water Works Park without a delay, just after Dierks Bentley took the stage. When severe storms ripped through central Iowa at around nine Sunday night, I doubt those other poor souls were as lucky.