By Chris Williams, CycloneFanatic.com PublisherFollow Chris on Twitter @ChrisMWilliams
Happy Monday Cyclone Nation!
Who's excited for the upcoming week in Iowa State athletics?
I'm jacked.
Get ready for a big, busy week.
The men's and women's basketball teams will both travel to Drake tomorrow and the football team has a massive opportunity ahead of it on Friday night against second-ranked Oklahoma State on ESPN.
It's a busy week but one that I'm really looking forward to tackling.
Paul Rhoads and Fred Hoiberg will both hold press conferences later today. Expect a healthy amount of coverage from those meetings later on today.
Here are a few things that are on my mind…
ON IOWA STATE FOOTBALL…
— This just in…Oklahoma State is really, REALLY good. But you already knew that.
The theme of the Iowa State's football program under Paul Rhoads has been and always will be "all in."
From where I sit, the Cyclones might as well go all in this Friday night against one of the best teams in America. I'm talking Boise State 2007 Fiesta Bowl all in. Flea-flickers, onside kicks, fake punts, etc. Hell, I'd be cool with a little Fumblerooski action come Friday night.
All in baby. All in.
— That's all fine and dandy but at some point, the Cyclones are going to have to stop Oklahoma State's ridiculous offense. After Saturday's 66-6 thumping of a depleted Texas Tech team, Oklahoma State's offense is ranked third in America and second in scoring offense.
From an Iowa State perspective, I'd much rather play Oklahoma State after pasting the Red Raiders by 60 as opposed to the two former Big 12 South rivals having a close game last weekend. Maybe, just maybe, the Cowboys won't be very interested in their trip to Ames, Iowa this weekend. Having said that, I highly doubt that will be the case. Something tells me that Oklahoma State's 28-year old Heisman Trophy candidate quarterback Brandon Weeden isn't going to let that happen.
— As most of you know by now, I'm a big Minnesota Vikings fan. All I want for Christmas is Oklahoma State wide receiver Justin Blackmon to be wearing purple next season. The dude is a freak. Blackmon has racked up 1,142 receiving yards and 14 touchdowns already this season. To me, he looks like a spitting imagine of Terrell Owens in his prime.
— I posted this on Twitter earlier today, but here's another shout out to my friend Kyle Porter, publisher of PistolsFiringBlog.com.I'd encourage you all to follow Kyle on Twitter this week @pistolsguy. I really enjoy his work. We'll be sharing some content later this week. 
— Just a reminder on our Cyclone Fanatic Radio schedule for the upcoming week. Tron Smith, Austen Arnaud and I will broadcast the CycloneFanatic.com Call-In Show live from Kippy's Place in Elkhart 0n Thursday night from 7 to 8 on Des Moines' Sports Station, 1460 KXNO and KXNO.com. Then on Friday, the CycloneFanatic.com/Wilson Toyota of Ames Pregame Show will take place from 4 to 5 on KXNO and KXNO.com.
ON IOWA STATE BASKETBALL…
— I picked Iowa State to beat Lehigh by eight on Saturday. The Cyclone won by nine, but that number doesn't do much justice to the thumping that it actually was. I came away from the exhibition win underwhelmed. I walked out of Hilton Coliseum at 6 p.m. on Saturday impressed. If Royce White can demand that kind of attention in the paint all season long, there will be games when Iowa State's shooters make 15 threes per game.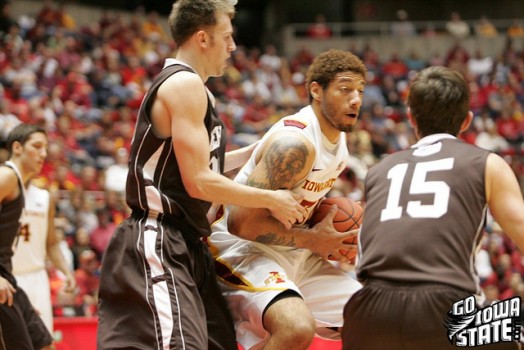 — I was really happy for Royce White, the person on Saturday afternoon. As Chris Babb was quoted saying in the Ames Tribune last week, Royce is like that guy from the Dos Equis commercials. He's the most interesting man in the world. There's a lot of truth to that. For more on this, CLICK HERE for a great read courtesy of my friend Bobby La Gesse at the Ames Tribune on Royce White, the person.
— Going into Saturday, I knew that White had a 25 and 11 game in him. His performance wasn't a surprise. To me, Anthony Booker's 10 point performance off of the bench was the biggest surprise of game one. Booker brought energy to the Cyclones when Fred Hoiberg' Energizer Bunny, Melvin Ejim was in foul trouble. Well done "Book."
— I'll write a lot about tomorrow's game at Drake later on today. In case you missed it though, the Bulldogs beat Upper Iowa 83-58 on Saturday.
— Northern Iowa went on the road and spanked Old Dominion 63-46 on Saturday. Color me impressed. That's a REALLY nice non-conference win for Ben Jacobson's crew. Iowa State's date with the Panthers on Nov. 30 might be a little more difficult than I had envisioned it to be a few weeks ago…
Speaking of Northern Iowa, the Panthers will take on St. Mary's tonight at midnight, in part of ESPN's college basketball marathon. Tuesday is one of my favorite sports days of the year!